Agency says role of ICICI Bank CEO Bakshi, Kamath & six others should be probed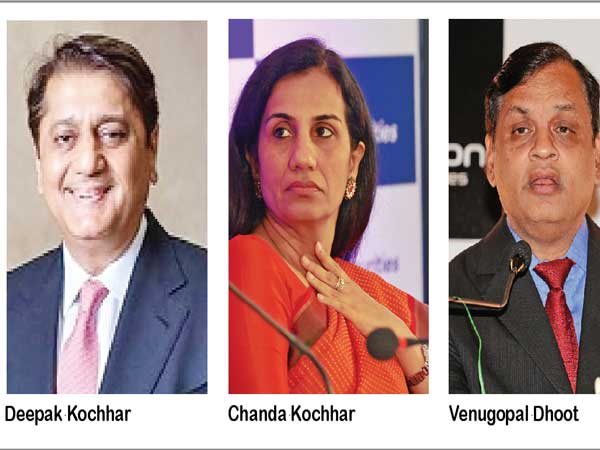 CBI files FIR against Kochhars, Dhoot over Videocon loan issue
The Central Bureau of Investigation (CBI) has booked Chanda Kochhar, former chief of ICICI Bank, and her husband Deepak Kochhar for alleged cheating and corruption in sanctioning loans to companies of Venugopal Dhoot, managing director of Videocon Group that have caused a loss of Rs 1,730 crore to the bank.
The First Information Report registered on late Tuesday night also said the role of other top ICICI Bank officials, including Sandeep Bakshi (now the MD and CEO), K Ramkumar, Sonjoy Chatterjee, N S Kannan, Zarin Daruwala, Rajiv Sabharwal, K V Kamath and Homi Khusrokhan should also be probed as they were part of various loan sanctioning committees in the bank.
"These loans have turned NPA resulting in wrongful loss to ICICI Bank and wrongful gain to the borrowers and accused persons. The role of these senior officers of the sanctioning committee may also be investigated," said the FIR, a copy of which is with Financial Chronicle.
The FIR says that Kochhar received "illegal gratification" through her husband Deepak Kochhar from Dhoot for sanctioning various loans to the latter's companies that have not turned non-performing.
Besides Kochhar, her husband and Dhoot, the FIR names also names companies of Dhoot namely Videocon International Electronics Ltd, Videocon Industries Ltd, and Deepak Kochhar's company namely NuPower Renewables Pvt Ltd, Supreme Energy Pvt Ltd, other unknown private persons and unknown public servants.
The CBI also carried out searches at headquarters of Videocon Group in Mumbai and Aurangabad. The agency had registered a preliminary enquiry on the allegations that Rs 3,250 crore worth of loans were sanctioned by the bank to companies associated with the Videocon group in violation of the laid-down norms. The FIR alleged that Rs 64 crore was invested by Dhoot through one of the companies, Supreme Energy, founded by him, which was alleged as quid pro quo in the complaint that triggered the preliminary enquiry.
The agency said that Videocon was given loans after Kochhar took charge as MD-CEO of ICICI Bank on May 1, 2009. Between June 2009 and October 2011, ICICI Bank sanctioned six high-value loans to various Videocon companies to the tune of Rs 1,575 crore which have turned non-performing assets (NPA). She herself was on the sanctioning committee deciding two loans--Rs 300 crore to Videocon International Electronics on August 26, 2009 and Rs 750 crore to Videocon Industries on October 31.
The agency during preliminary investigation grilled Deepak Kochhar's brother Rajiv Kochhar and at least six other people associated with Dhoot and Kochhar in connection with the case. The CBI is likely to summon all the accused in the case, including Chanda Kochhar in connection with the case.
A whistleblower had first flagged Kochhar's alleged impropriety and conflict of interest in a letter to the prime minister and the finance minister. However the bank had initially termed the charges as "malicious and unfounded rumours" but after relentless public and regulatory pressure, the lender appointed Justice Srikrishna to carry out an independent probe in the matter. His report is still awaited. The said amount was part of a loan of Rs 40,000 crore, which Videocon received from a consortium of 20 banks led by State Bank of India.
Kochhar had quit ICICI Bank on Otober 4, 2018.