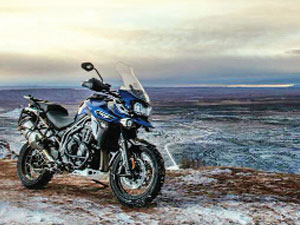 Bajaj ties up with Triumph to make bikes at Chakan
Bajaj Auto, India's fourth biggest two-wheeler maker by sales, on Tuesday announced a partnership with UK's Triumph Motorcycles to jointly make mid-capacity motorcycles for Indian and global markets.
The mid-capacity bikes comprise those in the range of 250cc to 750cc engine to be jointly developed by Bajaj and Triumph. But these new mid-capacity bikes would be sold under the badge of Triumph both in India and globally.
Bajaj will make this new range of locally developed Triumph bikes at its Chakan facility, near Pune, where it has been producing Austrian KTM brand bikes for India and the global markets.
"The mid-range bikes will be sold under the Triumph brand in India and globally," S Ravikumar, president, business development and assurance at Bajaj Auto, told Financial Chronicle without divulging details.
"This is a great partnership and we are excited about it. This alliance provides an opportunity for both the brands," Vimal Sumbly, managing director at Triumph Motorcycles India, said. He was earlier associated with Bajaj Auto.
In the new setup, Bajaj bikes will cater to the entry segment, Austrian KTM and Husqvarna brand to the mid-segment and Triumph to the premium segment.
Auto experts said Pune-headquartered Bajaj Auto, which is struggling in the fiercely competitive market in the country, is targeting over 70 per cent sales to come from overseas markets and eventually become a serious global specialist in motorcycle space.
The non-equity partnership between Bajaj and Triumph will look to address growing demand for leisure riding, something on the lines of products from American cult bike maker Harley-Davidson. However, with Bajaj's low-cost expertise the partnership will address the budget segment buyers looking for bikes having engine capacity of 400cc-800cc engines.
At present, across its product line-up, Bajaj Auto has only one offering in this segment — the Dominar 400, which has a 373cc engine. KTM, in which Bajaj holds a 48 per cent stake, offers two products -- Duke 390 and RC 390 -- in the mid-capacity segment. Triumph Motorcycle's offering in this segment is limited to the Daytona, which is powered by a 675cc engine. Triumph's other products such as Street, Tiger, Thunderbird, Bonneville and Rocket run on engines with 800cc engine and above.
"This partnership will be a non-equity tie-up to leverage Bajaj's low-cost expertise to create a value proposition in the 400cc-800cc segment. There is a growing demand for leisure bikes in India and this tieup with Triumph is a step towards addressing that need," Shrikant Akolkar, analyst at Angel Broking, told Financial Chronicle.
The idea is to combine Triumph's global brand image and Bajaj's low-cost manufacturing prowess, he said. Triumph bikes globally start from 675cc and this tieup will give them an opportunity to scale down the capacity curve, Akolkar said.
Significantly, while Bajaj Auto would benefit from Triumph's technology and brand, the UK-based company will gain from low-capacity higher volumes bikes.
"We hope to bring to bear upon global markets the individual strengths of the partners including brand position and perception, design and development technology, quality and cost competitiveness and worldwide distribution," Bajaj Auto and Triumph Motorcycles said in joint signed statement on Tuesday.
The partnership arrangement is of similar nature when compared to Austria-based KTM, where Bajaj holds 48 per cent equity stake. Bajaj developed a range of low-capacity street bikes having engine capacities ranging from 125cc-390cc but priced significantly higher than Bajaj's range bearing same engines.
Now Bajaj's Chakan factory will progressively produce four different brands -- KTM, Husqvarna, Triumph and Bajaj. While Bajaj will play in the entry segment, KTM and Husqvarna will be present in the segment above Bajaj, that is 200cc engine and above while Triumph will play in the segment above that.
Undoubtedly, Bajaj is betting big on volumes out of this new partnership, going by what Rajiv Bajaj, managing director at Bajaj Auto had told investors at annual general meeting (AGM) in Pune on July 20.
He had said that at least half a million motorcycles sales are expected from the new partnership which will be in addition to the projected half a million from KTM and Husqvarna.
At present, however, just 65,000 Triumphs are sold every year through 700 dealers across the world, including India. Triumph Motorcycles is one of world's oldest bike brands, celebrating 115 years this year.
 michaelgonsalves@mydigitalfc.com