, Published : May 8, 2018, 12:45 am IST | Updated : May 8, 2018, 12:45 am IST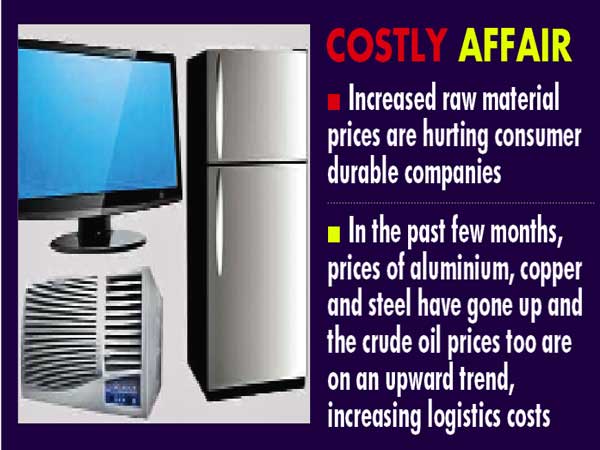 Consumer durables to be dearer by June-July
Input costs have gone up and the weakness in rupee too has become a concern for consumer durable companies. By June-July, once the summer ends, consumer durable companies are likely to go for a price rise.
According to Eric Braganza, president, Haier Appliances India, the industry may go for a price rise by June or July and there could be a three to five per cent rise in prices, depending upon the product. "The input costs have gone up by three to five per cent," said B Thiagarajan, executive director and president-AC&R products business, Blue Star.
"We have to be agile to the developments in the economy. But knee-jerk reactions will not work. We will wait and watch and will take a call on price rise by June," Thiagarajan said.
In the past few months, prices of aluminium, copper and steel have gone up and the crude oil prices too are on an upward trend, increasing logistics costs. Plastic prices too have moved up. The increased raw material prices are hurting the consumer durable companies depending upon the quantum of these metals used in the products.
"The weakness in rupee too is a cause of worry. The rupee-dollar movement can have 10 to 15 per cent impact on consumer durable companies," said Braganza. In consumer durable industry, almost 40 per cent of the components are imported from other markets. While rupee movement has a bearing on the imports, some of the companies hedge the risk of currency movement.
However, the price rise will not affect the summer sales as the products meant for the season are already with the supply chain. The companies too have to take a call on how much rise in cost they can absorb and how much they will pass on based on the summer sales. 
The summer is yet to set in fully with some parts of the country still receiving rains. Sales of air conditioners and refrigerators are yet to pick up in many parts of the country.
"Among the big categories, AC and refrigerator sales are flat compared to the same time last year. While the sales of these categories have much to do with the weather, TVs too are seeing a sluggish growth. Smart phone sales too are affecting the sales of TVs as customers are spending money on changing their smart phones more often than TVs. Largely, TV sales growth remains sluggish unless there is a technology change," said Braganza.
The sales also have been hit by GST, which puts consumer durables at the highest slab of 28 per cent.