, Published : Jul 7, 2018, 3:10 am IST | Updated : Jul 7, 2018, 3:10 am IST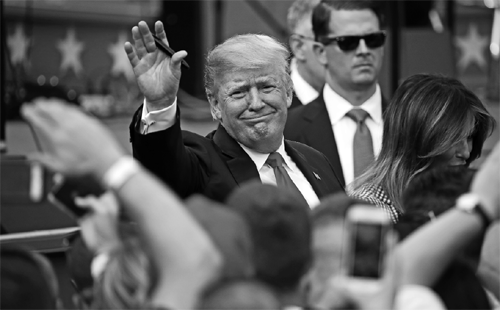 Spy's eye: Is Pakistan back in the US team?
US President Donald Trump had done well to have it conveyed to Pakistan that his regime had a policy of 'zero tolerance' towards Islamic terror. He took three major steps to implement that policy. First of all, he made an early announcement of ban on travel to US for the citizens of five Muslim countries – Iran, Syria, Yemen, Somalia and Libya – in line with his generic pronouncements during the Presidential campaign to the effect that he would prohibit entry of Muslims into the US because of the threat of terrorism. The American Supreme Court has after a comprehensive examination of the matter upheld – by a majority verdict – the decision of the Trump administration in regard to the visa ban and validated the new US President's initiative as a policy that had 'legitimate grounding in national security concerns'. Trump had in his election campaign criticised Hillary Clinton for not naming Islamic terror as a threat to US – adding that she did it only because of her desperate bid to be 'politically correct' and this was one of the prime reasons why the average American voted for him.
Secondly, Trump made it clear before the first meeting he had with Prime Minister Narendra Modi at Washington in June 2017 that he had warned Pakistan in unambiguous terms to stop providing 'safe havens' to Islamic terrorists across the spectrum. His administration had in a quick follow up demanded naming of Maulana Hafiz Sayeed – chief of the notorious Lashkar-e-Toiba based in Pakistan as an international terrorist by the UN in addition to Maulana Masood Azhar of Jaishe Mohammad. Even in the Obama regime the US policy makers while condemning the Islamic radicals of Al Qaida- Taliban combine did not denounce the militant outfits like LeT, JeM and Hizbul Mujahideen fostered by the Pak army as its instruments of cross border terrorism in Kashmir and as agents of 'proxy war' against India at large. This chronic anti-India stance of US of making a distinction between 'good terrorists' and 'bad terrorists' was squarely abandoned by President Donald Trump and it is no surprise that this has finally established a total convergence between the largest and the oldest democracies of the world on most issues of global relevance. Modi's 'India First' and Trump's 'America First' are the foundations of their respective national policy that have, because of this convergence on shared security and economic objectives, put the two countries on a common grid of strategic understanding.
The third policy initiative of President Trump that was on an issue of concern for India as a stakeholder in the peace and development of South Asia and the South East Asia region, related to his clarity about the American policy on the future of Afghanistan. Trump was typically upfront in declaring that American troops would be there in Afghanistan 'as long as it takes' to finish off the Al Qaida – Taliban terrorists and he placed the responsibility of decision-making at the ground level on the Pentagon. Unlike his predecessor Trump had no intention of putting up with the pretentions of the Pak army that it was effectively fighting the Taliban militants who came from their natural breeding ground in Khyber Pakhtunkhwa (formerly NWFP) province of Pakistan to launch terror attacks in Afghanistan. When US Defence Secretary James Mattis pronounced that Pakistan had 'one more chance' of proving itself as an al?y of US in Afghanistan the message was that Pakistan should stop playing games there and go after the radicals including the Haqqani network with full force. Months have gone by since leaving some evidence of Pak army showing recalcitrance towards the American advice in matters relating to Afghanistan.
Now there are media reports about the US deputing a top official – Principal Deputy Assistant Secretary for South and Central Asia, Alice Wells to visit Kabul and Islamabad to explore the possibility of resuming the 'Afghan reconciliation process' and working out a roadmap for inviting the Taliban to join the political process. She is to hold meetings with officials of Foreign Office, Military and Intelligence agencies in Pakistan. Considering the intimate relationship Pak army has had with Taliban before 9/11 occurred - it had installed the Taliban regime in Afghanistan in 1996, and also the fact that radicals of Deobandi school occupied a significant chunk of the Islamic spectrum in the Pak-Afghan belt, it is not surprising that Pakistan had been advocating talks with the Taliban and promising to get them into the political mainstream of Afghanistan. Pak army is sensing that it could have its way in Afghanistan by keeping the Taliban on its side and creating a space for it there to the satisfaction of the US Generals. Pak army had in the interregnum tried to keep China and Russia in the loop on Afghanistan. Former President Obama had once talked of 'geo-political pluralism' as a recipe for solution finding in Afghanistan, which logically would have meant recognising a role for India there. But he forgot all about it and settled for a 'closure' of the 'war on terror' in Afghanistan in spite of the duplicitous conduct of Pakistan there. In his Afghan policy President Trump not only called Pak army's bluff but also brought India into the picture as a country that would help build a developed Afghanistan much to the chagrin of Pakistan.
Pak army is determined to keep India out of the frame in Afghan matters as it sticks to the idea of retaining its 'strategic depth' in this crucial region. India would watch the outcome of Alice Wells mission in Kabul and Islamabad. If Pakistan creeps back into the favour of Pentagon on issues of Afghanistan and the attendant problem of terrorism of Islamic radicals there, this would be a cause for concern for India. The Americas will condemn Pakistan for India-specific cross border terrorism, in which ISI-controlled militants are used, might get weakened affecting the existing geo-political convergence between India and the US on Islamic terror. India would surely step up its consultations with the US through the special bilateral channels of coordination on security matters that are now firmly in place. President Donald Trump seems to be viscerally opposed to Islamic terrorism – fomenting out of both Sunni and Shia segments of the Muslim world, and India therefore must continue hammering the point that after the demise of International Communism of the Cold War era, the rise of Islamic extremism and terrorism is the biggest threat to the democratic world. Trump administration needs to be constantly reminded that Pakistan is the anchor of this new global threat in this part of the globe.
(The writer is a former director of Intelligence Bureau)