, Published : Jul 7, 2018, 3:15 am IST | Updated : Jul 7, 2018, 3:15 am IST
Jairam Ramesh chronicles the ideological relationship between Indira Gandhi and diplomat P N Haskar, how they leant on each other to take some of the landmark decisions in independent India such as the nationalisation of banks, creation of Bangladesh and the signing of the Indo-Soviet Treaty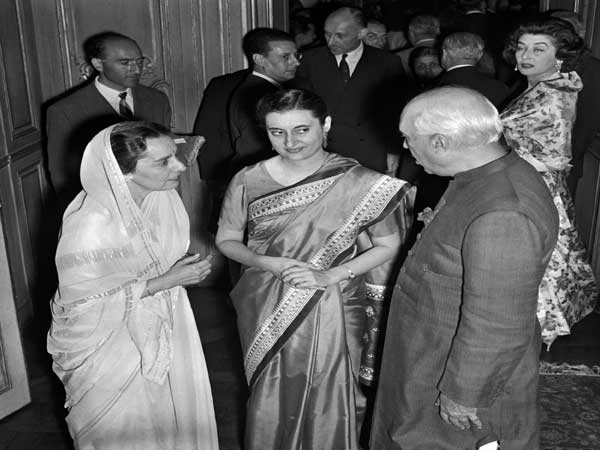 Book Excerpts: Ego, Alter Ego
Haksar: Who & Why?

It was 8 January 1985. After having been sworn in as India's prime minister eight days earlier, Rajiv Gandhi was in his office in South Block, the stately British-era edifice in New Delhi. His appointment just ahead of noon was with someone who had once been India's most powerful civil servant.
The man had been close to the prime minister's family for decades, both personally and professionally. He was not given to displaying much emotion in public. But uncharacteristically that day, he broke down on entering the prime minister's chamber. He had much to say. But he couldn't say much. This was because past memories had overwhelmed him.
This was the very room which he had first entered on 15 October 1947 to join the newly created Ministry of External Affairs and Commonweath Relations, just eight weeks after India became  independent. This was the very room where he frequently met India's first prime minister, Jawaharlal Nehru. This was the very room where he met India's third prime minister, Indira Gandhi, almost daily between May 1967 and January 1973 and often between January 1975 and March 1977. This was the very room he had walked out of after taking leave of India's fourth prime minister, Morarji Desai, on 31 May 1977, to start a new life outside government service.
This is the life story of that distinguished man who had crafted many turning points in the life of the nation in the late 1960s  and early-1970s.
This is the chronicle of a man who was born in what was to later became part of Pakistan. He grew up in central India and studied in Allahabad and later London, where he befriended Feroze Gandhi and Indira Nehru in the late 1930s. He went through an active communist phase first in London and then on his return to India in Nagpur. Thereafter, he became a lawyer and a diplomat. He emerged as Indira Gandhi's ideological compass and moral beacon from May 1967 to January 1973, guiding her through her magnificent achievements: the nationalization of banks, coal and oil refineries, the abolition of privy purses, the victory over Pakistan in the war of December 1971, the creation of an independent Bangladesh and subsequent agreements to bring durable peace to subcontinent, India's emergence as a major agricultural, space and nuclear power, the integration of Sikkim into the Indian Union and strengthening planning and the public sector to rebuild the economy.

This is also the saga of a man who drifted apart from Indira Gandhi, choosing to leave her side on his terms even though she would continue to consult, and sometimes entrust him on special and sensitive assignments. He bravely opposed the Emergency from the inside and offered protection and solace to its bitterest critics, and while he paid the price for it, he did not speak or write against her. In fact, he may well have been kept on by her successor but he declined. With his days of power and influence behind him, he became an elder statesman, responsible, among other things, for the beginning of the process of reconciliation between India and China in May 1987. He later played a key role in the selection of a prime minister in 1991, headed a large number of academic institutions and became the champion of many worthwhile public causes.
All biographies of Indira Gandhi to speak of this man. One such well-known author has written:
Of him it was rightly said that, at a cricitical juncture in modern Indian history he was " not only the most powerful civil servant but also the second most powerful person in the country" ? He did " not derive all his authority from Indira Gandhi. He contributes in no small measure to her own dominance."
This man was a mentor to many from different walks of life. His circle of close friends was unusually large and included scientists, economists, civil servants, diplomats, artists, authors, journalists, musicians, social activists and politicians. People- both the high and mighty as well as ordinary men and women who did not even know him- would write in and he would make it a point to reply. At the height of the India- Pakistan war on 9 December 1971, he found time to write to a middle-level manager of a government soap factory in Bangalore thus:
? As I am sure you are aware, I have received a sample of your Mysore Sandal Soap and I shall be glad, in due course, to place an order.
This man's unusual gift for friendship was pithily captured in one of J.R.D. Tata's letters to him in which the famed Indian industrialist wrote:
? As I am sure you are aware, I have retained a deep feeling of respect and regard for you even though, as you also may know or have guessed, I was unresponsive to many Mrs. Gandhi's policies, in formulation of which you must have an important role!
One part of him was true scholar, steeped in Sanskrit, Urudu, Hindu and Persian, with some knowledge of Bengali, French and German. He had deep knowledge of the myriad traditions that have gone into the making of India. He made notable contributions to the cultural life of the country as well. He saw the celebration of India's many diversities as being essential to its advancement. He was uflinching in his commitment to secularism which, he believed, meant that the Indian state should have nothing to do with religion.
Described as "the very embodiment of the hope that does not flag, the faith that does not waver and the self- confidence that strengthens the weak and cautions the strong, this man was Parmeshwar Narain Haksar or Haksar Saheb as Indira Gandhi and his colleagues would very often call him or PNH as he would also be known. He was a legend once upon a time. He is all but forgotten today, recalled only by dwindling generation of Indians. But for the person he was and what he stood for , for what he did and accomplished, for the unflinching courage of his convictions and for the manner in which he advised a prime minister during a most turbulent period, he deserves to be rescued from growing obscurity and oblivion.
Haksar first had power. He wielded it with a high-minded sense of social purpose.
He then had influence. He exercised it to advance the national interest.
In the final decade of his life, Haksar had voice. He raised it to remind the citizens of this country of their heritage, of the threats that the Indian Republic faced from within and outside.
This is not a book on India's recent political and economic history. It is, instead, the story of an extraordinary man who did much to shape that history. It is really his own story that emerges from the remarkable archive he left behind.

The Katni Kashmiri

HAKSAR WAS AT THE UNIVERSITY OF KASHMIR IN SRINAGAR IN THE SUMMER OF 1981. The eminent economist and former finance minister of Jammu and Kashmir (J&K) Haseeb Drabu was a student there and was present when he spoke. He recalls that the vice chancellor, Waheeduddin Malik, insisted on introducing and referring to him as Mr Haksar. When PHN's turn came to speak, he gently chided the vice chancellor saying that his name was Haskar, not Haksar and went on to elaborate: Hak from one of the most common Kashmiri cuisine items (green leaf) and Tchar from a worm that feeds on the green leaf. It may well have been tongue-in-cheek since the consensus view is that the Haksars hail from Hakchar, which was the name of a village in the Baramulla district in Kashmir Valley.
Haksar was, in his own words, a 'non-Kashmiri speaking Kashmiri', the only member of the so-called 'Kashmiri cabal' around Indira Gandhi to be so. He was certainly conscious of the heritage although the first time he visited Kashmir was only in June 1968 when he was 55 years old and was at the peak of his power as Indira Gandhi's secretary. Unlike the tow other Kashmiri bosses of his – Jawaharlal Nehru and his daughter – PNH had no special emotional fascination for his ancestral land.
An autobiography, the noted historian Ramchandra Guha once said, is a pre-emptive attack on a future biographer. From that perspective, I have an advantage since Haksar wrote no autobiography that covered his entire life. Just as he was about to leave the Government of India on 23 April 1977 after three decades of distinguished service, he replied to a Calcutta-based publisher, O.K. Ghosh, who had approached him saying that 'a bird had whispered in my ears that you are thinking of writing your memoirs':
I have your letter of April 4. The bird which whispered in your ears that I was thinking of writing my memoirs actually whispered that advice in my ears also. Writing memoirs is a hard thing. And for one who has been so close to men and events, it is difficult to acquire the calm philosophical detachment without which memoirs tend to become egoistical.
Over the next 20 years, many people would urge him to write his life story. But that was not to be. During the penultimate year of his life, on 5 January 1997, Haksar was to confess to one of these persistent persuaders, Sudesh Pai:
I lack a strong ego to follow in the footsteps of my very dear friend B.K. Nehru. Autobiographies should, in my view, be a reflection of the evolution of one's consciousness rather than deeds of valour.
But thankfully, he has left behind a part autobiography which does precisely what he said should be done in such writings. In a delightful account of his childhood and boyhood, Haksar describes the evolution he went trough in the first 16 years of his life, appropriately titling the chapters 'Larvae', 'Pupa' and 'Breaking Out of Cocoon'. To place his evolution in its long historical context, he begins with a description of his family lineage in some detail.
He tells us that he was part of the Kashmiri Brahmin community that had migrated from the Kashmir Valley to the plains of North India in the late-18th and early-19th centuries in the aftermath of the Afghan rule in that region (1753-1819). Some scholars, however, believe that the trigger for such a migration was not just  religious persecution but also the desire of an enterprising lot to exploit expanding service opportunities outside the Valley.
Haksar recounts his lineage, tracing his ancestry from his mother's side to Raja Dina Nath, Maharaja Ranjit Singh's finance minister who had signed the Treaty of Amirtsar in 1846. This accord had ceded the best part of Punjab to the British and led to the creation of the kingdom of Jammu and Kashmir under Gulab Singh, on of Ranjit Singh's generals. He traces his ancestory on his father's side to Swaroop Narain Haksar who was Dewan of Bundelkhand of the Central India Agency in the middle of the 19th century. His mother's side was largely in undivided Punjab and his father's side mostly in central India, but members of both lines had presence in Delhi as well.
PNH was born on 4 September 1913 in Gujarnwala, now part of Pakistan's Punjab. Gujranwala has produced many notable personalities, the most distinguished of whom must surely be Maharaja Ranjit Singh himself. Unlike two Indian prime ministers – I.K. Gujral and Dr Manmohan Singh, who were also born in what became Pakistan in August 1947 – Haksar was never remotely sentimental about the place of his birth. This is perhaps because he never stayed in Gujranwala, having very soon rejoined his father in central India.
PNH's father Jagdish Narain Haksar was in the judicial service and served in a variety of places including Nagpur, Sakoli (which is situated some 100 km northwest of Nagpur) and Katni (an important railway junction about 80 km away from Jabalpur). It was in Nagpur in December 1921 that PNH got his first glimpse of the person with whom his name would come to be inextricably linked decades later. This is what he writes:
In the evenings when everyone gathered, I heard new words like azadi and swaraj.  I heard accounts of how Jawaharlal Nehru, who could have lived like a prince, had sacrificed everything for this azadi; and of his father Motilal, descriptions of whom made him appear to me like some sort of fairyland king, abandoning a life of luxury and his anglicised ways of his beliefs. Their names assumed a measure of reality for me when a little child, perched on the shoulder of a servant, came to our house. My mother lavished attention on this girl and told me that she was the daughter of Kamala, Jawaharlal's wife, and that she held Kamala's mother is great esteem and affection. I have few other recollections of that child except that her eyes seemed to get bigger and bigger the more my mother fussed over her.
Haksar has another colourful description of a young Indira Nehru in his autobiography and this relates to 1927 when he was in Delhi visiting relatives along with his mother. He was at the family residence of Indira's maternal grandparents and recalls listening to her grandmother express concern on Kamala Nehru's health. Indira's name would be mentioned often and referring to his mother Haksar writes:
? and when the name Indu was mentioned she turned to me and asked whether I remembered seeing that little child who visited us at out home in Nagpur. I did remember and the name Indu was connected with a memory of a face with large, round eyes.
Two other persons mentioned in Haksar's autobiography are of special interest since they went on to play a crucial role in his later life. One is Rajendra Narain Haksar, his father's younger brother, also known as Inderbhai. He was particularly, close to PNH and became famous in July 1975 when he was arrested during the Emergency at the ripe old age of 84 in an action widely regarded as Sanjay Gandhi's revenge on PNH for thwarting his ambitions to emerge as the 'Henry Ford of India'- but more on that later.
The second person was someone who Haksar met in 1929 at his elder sister's wedding in Delhi. He writes about an aunt of his thus:
She was extraordinarily warm and affectionate towards me and I felt a kind of attachment with her which I easily transferred to her two little daughters, Kamla and Urmila, aged nine and seven respectively.  Kamla and Urmila had contrasting characters. Kamla was calm, placid and self-willed. Urmila, on the other hand, was effervescent, with  a quality of impishness about her.
In August 1952, a 39-year-old Haksar was to marry that 'impish girl' now a 30-year-old Urmila Sapru. The wedding,  held in Bombay in his elder sister's house and fixed at short notice, was very low-key and was to cause quite a furore in the Kashmiri Pandit community since the two were second cousins-  Urmila Sapru's maternal grandfather and PNH's paternal grandfather were brothers.
(Published with the permission of the author & Simon and Schuster)