, Published : Nov 12, 2018, 1:39 am IST | Updated : Nov 12, 2018, 1:39 am IST
Valuations have come down steeply, but it is no time to go for bulk buys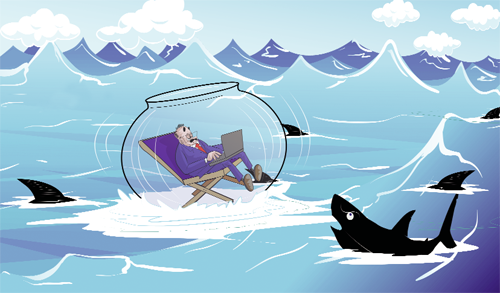 The steep correction in mid- and small-cap stocks over the last six months has significantly brought down valuation premia of the segments over the Nifty-50.
An analysis shows that out of the 500-odd stocks with a market capitalisation of Rs 1,000-8,000 crore, as many as 240 have plummeted more than 30 per cent in 2018, while 60 stocks have shed more than 50 per cent value.
The risk-reward ratio now looks attractive for many stocks as the valuation premium has shrunk from 70 per cent a year ago to around 15 per cent now.
With the market bumbling into a protracted consolidation phase, the road ahead is certainly bumpy for investors.
Analysts expect the market to see wild swings as several big events have been lined up over the next few months, including the state elections and the general elections early next year.
Benchmark indices saw double-digit fall from their highs, which has brought down valuations to a comfortable level for investors. But the question is, should investors buy on dips?
"Fundamental, technical and macroeconomic analyses point to higher uncertainty in stock markets, which have an inverse relationship with volatility. The higher the volatility the lower the stock price. The concept of "buy-the-dip" of the last two years is now dead and the resurfacing of dead-cat-bounce is purely on jubilation over the drop in crude oil prices to oversold levels," an analyst with a leading domestic brokerage said.
"Short-term traders must avoid building long positions basing their strategy solely on these factors as oil will rebound from the oversold level and the rupee could come under renewed pressure. The Nifty has a strong correlation to rupee depreciation. Meaning, if the rupee falls in value against the dollar, the Nifty tends to fall. The Nifty and crude oil correlation is weak and temporary," the analyst, who didn't want to be named, said.
HDFC Securities said its stock selection for this Diwali was based on two criteria–capital preservation (for now) and alpha generation (for later). Firstly, they will be perceived as relatively stable in the face of further market weakness, should it play out. Secondly, they are fundamentally strong businesses with enduring franchise, large addressable opportunity in their respective sectors and are run by capable managements. This will help them deliver significant outperformance when the broader markets recover, the brokerage said.
VK Sharma, head-private client group and capital markets group, HDFC Securities, said "Investors should use the current sale to buy the leaders at a discount. They should catch all the missed trains."
The sharp correction in the small-cap segment has thrown up interesting opportunities. Several mutual funds have launched new schemes, including Invesco Small Cap and Tata Small Cap. Many existing small-cap funds, which had placed restrictions on inflows owing to higher valuations and fewer investment avenues like DSP BlackRock Small Cap, L&T Emerging Businesses and SBI Small Cap, are accepting investments again.
Most analysts feel the ongoing market rout is driven by the liquidity crunch fear in the NBFC space, global risk-off sentiment, trade tensions between the US and China, fall in the rupee, worries over state and general elections and high crude prices. These will keep the market on the edge till next year.
However, analysts feel  investors should use the current dip to buy into quality stocks if they have an investment horizon of more than a year. For mutual funds, investors can use the dip to top-up funds and stay put with an investment horizon of about five years.
Despite the volatility in both debt and equity segments the mutual fund industry has shown resilience.
Retail inflows showed a healthy improvement of almost 30 per cent over last month. SIPs continue to show an upward trend with monthly contributions of Rs 7,985 crore as against Rs.7,727 crore last month.
Over the last year, retail folios have seen a 30 per cent growth. Retail assets under management (AUM) has seen more than  40  per cent growth in monthly SIP contributions. This shows that the retail investors still repose their faith in mutual funds.
Fund managers see new opportunities in the sharp correction. But some experts say investors should be careful of their asset allocation and should preferably invest through systematic investment plans (SIPs.)
Moreover, investors should stick with funds with a proven track record. Also, the allocation towards small-caps should not extend beyond 20 per cent of the portfolio.
Analysts said a staggered investment in direct equities/mutual funds could lower their risks in an era when the world is seeing a paradigm shift in business models and the valuations assigned to them. Investors have become choosier about governance and capital allocation decisions made by the company managements; many small- and mid-cap companies may find it difficult to pass the test of survival in an era of constant disruption–be it from regulations or technology. This makes long-term investment or one-time investment risky.
Analysts predict that the road ahead would be choppy. The Nifty is unlikely to touch a new record high before the next Samvat, they say. Monthly indicators have gone into the sell mode and generally when that happens, the trend continues for 9-12 months. Hence, the correction that started in September 2018 is likely to stay till May-September next year. In the short term, the Nifty seems to have formed a bottom and a bounce back is unlikely till it hits its 200-day moving average (10,700) or 50 percent retracement levels (11,050). In the medium-term, the index is likely to stay within a broader range of 9,300-11,600. It will be a consolidation phase and volatility is likely to stay.
Analysts said investors should adopt a new approach where they begin with a small allocation and increase it as and when the market advances further.
Jayant Manglik, president, Religare Broking, said "With the earnings season in its last leg, the focus would return to the other factors viz. macroeconomic scenario and global markets. After the turmoil in the financial space, we feel banking and NBFCs hold the key for further up-move and else profit taking would resume. We suggest keeping limited exposure and waiting for further clarity."
ashwinpunnen@mydigitalfc.com