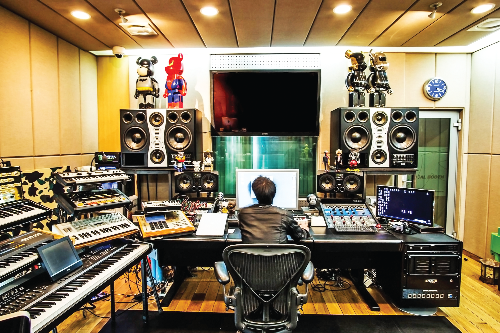 Cacophony Killed Melody
Music used to be the mainstay of Indian films, mainly Hindi films because it had all India following. The operative word was melody. The story as well as lyric inspired the music composers. Which is to say, composers were a part of the whole process of film making as they were narrated the story, and situations so that their songs could also help move the story forward.
There was no avenue to make songs popular except films. Only Radio Ceylon played Hindi songs but, sadly, not all Indians could afford a radio. And, strangely, even owning a radio needed a licence to be renewed at the local post office at the cost of Rs 12/ a year! Now, that was a dent on one's pocket.
However, music ruled. In films as well as with the moviegoer. Rather late in the day, the powers that be realised that the government controlled All India Radio needed to go commercial which meant cater to film music lover. The Commercial Services of All India Radio, Vividh Bharti, came into being. Finally, AIR could also make some money instead of being a burden on the government exchequer. The service started accepting commercials in 1967, spots and jingles of MNC products as well as films.
There was a Who Is Who of the music composers around. Some very sought after and, hence, successful, and some not so sought after yet equally good. Shankar Jaikishan, Naushad, Roshan, Madan Mohan, S D Burman, Kalyanji Anandji,  Salil Chowdhary, Chitragupta, C Ramchandra, Vasant Desai, N Dutta, Iqbal Qureshi, Khayyam,  Prem Dhawan, to name a few that come to mind.
I have been trying to find a logic about why a certain composer loses relevance. Say, for instance, Naushad. A highly sought-after at one time, why did producers stopped approaching him all of a sudden? Why did R D Burman, one of the trend changers and a composer of numerous hit scores, made to sit at home without work till he signed Parinda, just to bounce back, for a paltry sum of Rs 50,000/-! And, sadly, did not live to see the film's score proving to be super hit!
On the same count, why is one of the best musicians, Pyarelal, idle after the death of his partner, Laxmikant, despite their having scored music for over 600 films! Same applies to Anandji, who paired with his brother, Kalyanji, and accounted for some great scores. Rajesh Roshan had an impressive track record but suddenly stopped getting assignment save for his brother, Rakesh Roshan's films.
The reasons, I think, was the anomalies like the music sense of the new generation filmmakers. Let alone lack of story and script sense, they had no mind for music. Music in films started its decline mid-1980s onwards except for the odd scores from Nadeem Shravan, Anand Milind, Anu Malik, Jatin Lalit. Melody still showed a semblance of life. This is the era of remixes and item songs. Words in a song are not important anymore and lack meaning. There are no love duets and hardly any songs with lip-sync. The songs are played out mostly in the opening or closing titles or in the background. Something which was not acceptable by any maker or a music company. Songs, it seems, are not made to help a film but are included with TV promos and ring tones/caller tunes in mind. This is the era of downloads and nobody buys music CDs.
The last of the great lyricists was Anand Bakshi who inspired great compositions. He worked with both the reigning composers, Laxmikant Pyarelal (regularly) and RD Burman (intermittently). In fact, when Javed Akhtar got into penning film songs, he did say that he was inspired by Bakshi's way of writing simple lyrics. There was Sameer, the son of a veteran lyricist, Anjaan. He enjoyed a great run with Nadeem Shravan and other composers of the time but his vocabulary was limited and, soon, faded out when his composers did.
There was one lyric writer in, who, when a producer approached him to write the words for his film, would ask: 'Bandwala kaun hai?' meaning who is the composer! He would agree to write songs only for a select few composers and, that too, with a demand for more remuneration than the composer. This was in 1960. It worked.
In 970s and 1980s attracted a lot of filmmakers from South, especially the Telugu film industry, to the Hindi film industry. Of all the South language film, Telugu films worked the best for the Hindi audience and hence they took to remaking their Telugu hits.
Jeetendra, in fact, rebuilt his sagging career out of these South films where the music was needed only for its beat designed for dancing, while  Anil Kapoor, later, pushed his career on account of these Telugu filmmakers' remakes in Hindi.. Rajesh Khanna, Amitabh Bachchan who were roped in by these South producers could not deliver.
The problem with these South films was that they had no sense of Hindi music and their idea of music was songs for dancing around the props. They were into remaking their Southern hits, frame to frame. They wanted instant delivery of songs to be filmed the next day! And, Bappi Lahiri was the man who served the purpose.
It worked this way. A South producer would call up Lahiri explaining what kind of a song they needed. He would record it and dispatch it the same evening. His quick delivery and flexibility with price made him a go to man for South makers seeking songs on the go. Bappi's main boast was that he was far ahead of others when it came to accessing English LPs from the US and said as much: As soon as a new soundtrack releases in the US, I am the first one to get it! One case told to me by Mukul Anand who approached Bappi to score music for one of his initial films. Bappi played out Daddy cool??.by Boney M, a group very popular in India also at that time. When, Mukul pointed out the fact, Bappi's cool reply was: Oh, aapko maloom hai? Aapko doosara sunata hun! Noot that other composers did not copy but they were not as blatant.
When Bappi completed score for 400 films, I decided to meet and interview him. Like a novice reporter, I asked him to name his 10 best songs. He could not go beyond seven!
Bappi Lahiri is important for this column because. He is the one responsible for making melody irrelevant in Hindi film music. The reasons, I think, was the anomalies like the music sense of the new generation filmmakers. Let alone lack of story and script sense, they had no mind for music. Then came along A R Rahman. His earlier films like Roja, Bombay, Dil Se, Rangeela, Taal etc music was popular but, thereafter, his soundtracks became more about orchestration and technical wizardry where the lyric of a song can hardly be heard. Other South composers who did a film or two were M M Kreem and Illaiyaraaja.
While, Shiv Hari did a few films, mostly hit soundtracks with melody as a strong point. Their hits were Silsila, Chandni, Lamhe and Darr. Uttam Singh impressed with Waaris, Dil To Pagal Hai, Gadar: Ek Prem Katha. Jatin Lalit got an early hit with Jo Jeeta Wohi Sikandar and followed it up with Raju Ban Gaya Gentleman, Pyar To Hona Hi Tha, Kuch Kuch Hota Hai, Kabhi Khushi Kabhie Gham; the duo did as many as 75 films over a period of 30 years with some great scores but, looks like, their kind of music went out of fashion. Two other composers who had talent but could do only a very few films were Kanu Roy (Anubhav) and Manas Mukherjee (father of singer Shaan). The ghazal singers who composed music for films were Jagjit Singh and Pankaj Udhas.
If one heard FM radio channels or watched music based reality programmes on TV, it is all about old songs. So what ails film music nowadays? Main thing is that you can't identify with anything about music now. There are no stamps of composers, singers and lyricists. And, it is too noisy. Did you even hear a qawwalli, a ghazal, a bhajan or a song on family ties like one for Rakhi, sister or brother lately? None. There is no variety whatsoever.
It is all about cacophony and that has killed melody and the film music as we knew and appreciated it.
@ The Box Office
# This seems to be the season of manipulating box office figures. The films released during the last two weeks are being projected as hits while they have not been accepted by the audience. While, I was a part of a trade magazine, we had ways to get exact reactions of a film.
# The best place to be during the interval of a film and at the end was the cinema hall loo. That is where the guys aired their views without restraint. Finally, at the end of the film, you stood near the exit gate and heard people discussing the film. TV channels follow the same formula even now. While, we listened quietly, the TV reporters ask questions. A kind of exit poll! The further confirmation came from calling up cinema managers at random in other cities and get their reports.
# But, those who think they are getting away with false figures, should now also consider the social media. People express their views freely there. They discuss (actually, abuse) big stars flops, small star hits and don't waste their efforts on discussing a 2.0 or Kedarnath. And, if a film is drawing a blank on the public forum like social media, how can fantastic collection figures convince sensible person!
# Kedarnath which is reported to have collected about 27 crore for its opening weekend is expected to close its first week with a tally of 41 crore.
# 2.0 is being pushed to show a total of 175 after its two week run.