Mumbai and Pune have emerged as the country's two top residential markets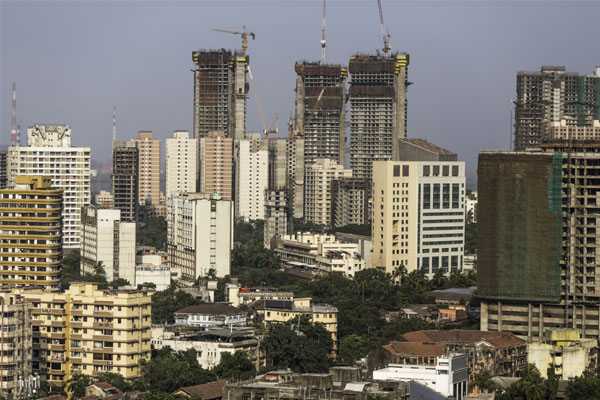 A tale of two cities
Mumbai, the financial capital of India and neighbouring Pune region, have emerged as the country's two top residential markets. In doing so, they have edged out Ahmedabad, Bangalore, Chennai, Hyderabad, Kolkata and the National Capital Region (NCR) of Delhi.
According to trend reports and developers in both the cities, residential sales in the first half of this year in Pune have remained stable while good traction in the compact homes category has helped Mumbai come closer to first half sales figures of 2016.
Sector analysts say increased affordability and the end-user market have helped Pune's residential market to remain largely unscathed by demonetisation. According to the latest research report by Anarock Property Consultants, residential sales in Pune in the first half of this year (April-September 2017) rose by 4 per cent to 15,320 units, up from 14,800 units sold last year.
Similarly, residential sales in Mumbai merely fell by 6 per cent to 28,250 units, down from just 30,200 units last year.
"Sale of residential units picked up in Maharashtra after Real Estate Regulatory Authority (Rera) set up on May 1 this year," Manju Yagnik, vice chairperson at Mumbai-headquartered Nahar Group, a 44-year-old real estate firm told Financial Chronicle.
Buyer confidence was based on sound background; Rera has made the registration of projects, promoters and real estate agents mandatory.
"In fact, June-July 2017 saw sales of a whopping 34,000 residential units in the entire state as per the stamp duty registration data," Yagnik points out, adding that this is despite an increment in property taxes in the 10-13 per cent range due to the goods and services tax (GST) regime.
During this period Maharashtra had a residential inventory of total of 2.75 lakh units, out of which Mumbai accounted for 1.5 lakh units, she said.
According to Yagnik, while sales again dropped by 30-35 per cent in August, they were picking up steadily from September. "Developers are now experiencing an uptake in sales, which is likely to be strengthened over the next few months," she predicts.
What is selling nicely in Mumbai and Pune are ready-to-move in apartments for which even banks were lending easy loans. 
Yagnik points out: "Pune has developed into a realistic market because of end-users, as people in the IT sector and in educational hubs, were buying homes, even as foreign brands tying up with the Indian builders are much in demand in the city.
As a matter of fact, Pune's residential market seems to have evidenced very little impact of demonetisation, if the first half of the 2017 sales figures are anything to go by.
"Although the city's apartment sales had remained steady even in the second half of 2016 when demonetisation had affected most other markets, Pune's sales showed a slight improvement as they rose by 4 per cent year-on-year basis in the first half of 2017," Anuj Puri, chairman at Anarock Property Consultants told Financial Chronicle.
Affordable and mid-segment housing in the price range of Rs 3,500-Rs 6,000 per sq ft added more than 25,000 units of supply to the Pune residential real estate market in second half of 2016 and first half of 2017.
The fringe areas of Pirangut, Bhugaon, Wagholi, Dhanori, Hinjewadi and areas in close proximity to Hinjewadi in Pune saw the maximum demand on the back of lower ticket sizes, coupled with good connectivity to the city's primary IT hub.
Puri foresees this trend to continue, with several more affordable and mid-segment projects likely to hit the market in these areas over the next 12-18 months. 
Areas like Dhanori, Wakad, Ravet, Undri-Pisoli, Hinjewadi, and Wagholi in Pune are now witnessing significantly increased sales enquiries, and will remain among the preferred destinations for middle-class homebuyers in coming years.
Says Puri: "Housing in the price range of Rs 20-Rs 35 lakh bracket has witnessed increased interest from private developers and has turned out to be a key driver for housing sales in Pune." 
The Pune market, in fact, has seen a significant shift in terms of the type of product being launched by developers.
Rohit Gera, managing director at Gera Developments and vice president at Credai Pune Metro told Financial Chronicle: "During the second half of 2014, the average size of apartment launched was 981 sq ft. The average apartment size launched in the first half of 2017 is now down to 722 sq ft. In addition, the average rate per sq ft of new projects launched has dropped in the last few quarters."
The resultant effect of smaller sized apartments, lower prices, lower interest rates and increasing salaries have led to a situation where affordability has gone up substantially in Pune, he points out.
"This has led to an increase in sales numbers over the last year," says Gera.
According to Gera, "The unit sales based on our research of the Pune Metropolitan Region is much more at 40,063 homes sold in the primary market in the first half of 2017 as compared to 47,704 homes sold in the first half of 2016. This is an effective drop of nearly 18 per cent and not an increase of 4 per cent as claimed (by Anarock Property Consultants), Gera said.
"The difference in numbers compared to other agencies could be on account of the vast geographical area we cover in our research," he explains. 
Gera says the big trend on display is discerning customers buying from reputed developers with a track record. "Finally the equation requires the trinity of right location, right product and right developer. Projects that meet these criteria are seeing good sales momentum even in a market that on an overall basis seems to be facing tremendous headwinds," he says.
According to Anarock Property Consultants, just like the stable residential market of Pune, Mumbai's sales figure too have came close to first half of 2016 thanks to a lot of traction in the compact homes category.
"The financial capital saw sales momentum pick up further in the ensuing quarters, thanks mainly to the increase in buyer confidence after the rollout of Rera in Maharashtra," Puri points out.
The festive season is expected to drive sales further in the second half of 2017, as a sanitised market environment encourages fence sitters. In addition, buyers are being enticed by several offers and discounts across locations.
The latent demand in the relatively lower capital value ranges offered in some of Mumbai's suburban locations is being met by the launch of compact home projects in recent months.
Points out Puri: "This supply specifically targets the needs of professionals, singles and unmarried couples as well as upwardly-mobile nuclear families. Developers are realising that this is the new 'sweet spot' of a significant cross-section of Mumbai's population and that it makes good business sense to cater to it."
Parth Mehta, managing director at the Mumbai-based Paradigm Realty, believes there has been an overall increase in sales in the real estate sector over the last year, post the demonetisation.
"The sales at Ananda Residency at Borivali in Mumbai had gone up to 63 units in the festive season last year, whereas this year its sales grew by 27 per cent to 83 units till August 2017. The 2BHK apartments at Ananda costs about Rs 1.5 crore," he says. 
Mehta too says that the Pune market is always growing and adding to its geographical spread, making it by far the largest and most vibrant real estate market in Maharashtra, even the country.
"The country's real estate market has changed tremendously. The cities have expanded and new economic drivers have come in and jobs have been created at all levels," Tushad Dubash, director at Mumbai-based Duville Estates told Financial Chronicle.
Likewise, appropriate housing is now being created for all income levels. The government has deployed various policy initiatives to ensure that homeownership becomes affordable and desirable. Property prices have also rationalised after demonetisation and we are witnessing increased sales," Dubash further said.
Pune, in particular, has benefitted from stabilised real estate prices and is included amongst the list of 98 smart cities by the government for enhanced development under the 'Smart Cities Mission'.
"Pune continues to experience rapid development in both residential and commercial properties, and has witnessed consistent development in varied infrastructure projects while the demand for mid-segment homes continues to be optimistic," Dubash points out.
michaelgonsalves@mydigitalfc.com