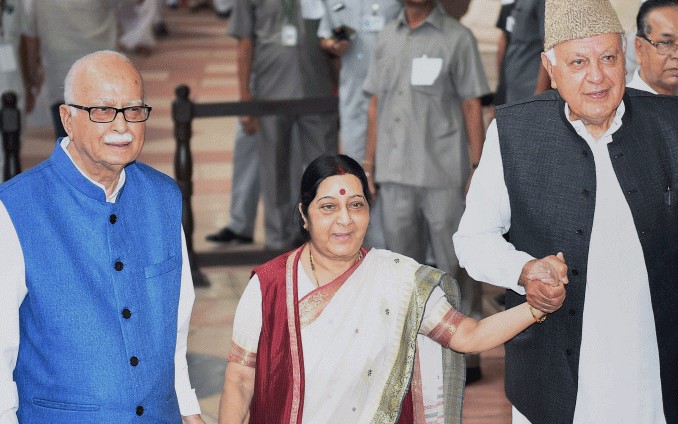 Highest ever 99% voting in Prez poll
Polling for electing India's 14th president saw around 99 per cent turn out. States like Arunachal Pradesh, Chhattisgarh, Assam, Bihar, Haryana, Himachal Pradesh, Jharkhand, Nagaland, Uttarakhand, Gujarat and Puducherry saw 100 per cent voting.
Ninety nine percent of MPs from both houses of Parliament voted. The two houses had the sanctioned strength of 7,76,771 MPs.
The 100 per cent voting was missed as two seats each are vacant in both houses and BJP MP Chedi Paswan did not have voting right. Out of the 717 MPs who were to cast their votes, 714 turned up. The first to cast his vote was Prime Minister Narendra Modi. Those who did not include BJD's Ram Chandra Hansda and PMK's Ambumani Ramados, DMK's K Karunanidhi, etc.
The returning officer said chief minister's of Goa and Uttar Pradesh, Manohar Parrikar and Yogi Adityanath, were asking the 54 MPs, who had taken permission to cast vote in their state capitals. BJP chief Amit Shah, who is an MLA in Gujarat, exercised his franchise in Delhi, but Trinamool Congress MPs chose to vote in Bengal. Voting data from all the state has been collected by the Election Commission barring Jammu and Kashmir, Manipur, Tripura and Andhra Pradesh.
The Election Commission  set up 32 polling stations that included Parliament house. The EC had also barred MPs and MLAs from carrying their personal pens inside the voting chamber. They marked their ballot with specially designed marker pens.
The votes will be counted on July 20 with the opening of ballot box of Parliament House. The ballot boxes from states will be opened in alphabetical order. The total voting strength was 4120 MLAs and 776 MPs. Each MP has a value of 708 but MLAs weigh according to the population of their state.
Numbers are in favour of NDA candidate Ram Nath Kovind who is being challenged by opposition backed Miera Kumar.
Cross-voting?
There are also reports of cross-voting from AAP, NCP and SP ranks. While AAP is supporting Opposition candidate Meira Kumar, hostile AAP MLA Kapil Mishra told reporters, "My vote went to the one who is all set to become the next president."
BJP MLA OP Sharma even claimed, "Of the 67 votes cast, around 10-12 AAP MLAs, unhappy with Kejriwal, have cast their votes in favour of Kovindji." NCP spokesperson Nawab Malik rubbished as "rumours" that some of its MLAs and MPs had in cross-voted and asserted that the party stands firmly with Kumar. A divided Samajwadi Party may not have any bearing on the poll result, but with patron Mulayam Singh Yadav and party chief Akhilesh Yadav backing rival nominees, there are chances of SP members having indulged in cross-voting.
The SP has five members in the Lok Sabha, including Mulayam, and 19 members in the Rajya Sabha, including Amar Singh, who is now an unattached member after his expulsion from the party, besides 47 MLAs in UP. Since members of the Legislative Council are not part of the electoral college, Akhilesh — an MLC — could not vote, though his wife Dimple, a Lok Sabha member, participated in the exercise.