,

Monday, 10 April 2017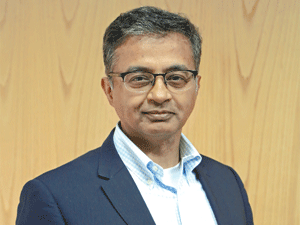 While the world has become a riskier place to invest in, with few markets including India offering prospects of real growth. As a result, the prospects look good. But as witnessed in the recent quarters, we may still be in the flat growth zone and better trends could emerge in the first quarter of current financial year, even as export-oriented industries like IT and pharma being hit by external factors, said Ashutosh Bishnoi, MD & CEO, Mahindra Mutual Fund, in an interview with D Govardan. Excerpts:
Despite headwinds on several fronts, the market moved up sharply over the past few months. What are your key observations on the market in the just ended FY17?

It was a challenging year for investors. But the Indian economy and market withstood global volatility, emanating from events like Brexit, a rate hike by the US Fed and Donald Trump's victory in US presidential election.

Back home demonetisation, muted quarterly earnings growth from India Inc, geopolitical tensions that emerged after surgical strike on Pakistan-occupied Kashmir and political uncertainty ahead of five assembly elections weighed on sentiments. Investors who held on to their long positions made money in the market.

The key lesson is that the world became a riskier place to invest in, with few markets offering prospects of real growth. Fortunately, India is one of those few markets. With a positive real interest rate, a stable currency, fiscal deficit under control, the capital investment cycle at its lowest and nudging upwards, major economic event over and done with and the government looking determined to change the economy. The prospects look the best here.
The Q4 earnings season is round the corner. How do you see it panning out? Which sectors are expected to deliver good numbers in the last quarter of FY17?

The market has mostly factored in the flat earning season that we are likely to witness in the coming month or so. The earnings growth is likely to be led by select stock in the BFSI sector, industrials and global commodities.

But the real upside will be visible in Q1FY18 on account of a lower earnings base. The numbers that investors should watch are credit growth and government spends on infrastructure.

Overall, we still see opportunities in the market, though we have to find companies that will grow faster in terms of profitability compared with what is priced in by the market. Overall, we expect earnings growth performance in FY18 to be closer to better because of latent demand, slight upturn of commodity cycle and stable cost of capital.
What's your take on the key sectors' fundamentals and valuations of crucial scrips?

We don't comment on individual stocks. But broadly where sectors are concerned we are seeing earnings robustly coming back in commodities on account of the global up-move of the cycle. Besides this, we are also seeing consumer discretionary spending coming back into focus soon. For the interest rate driven segments, this is the moment of truth. We don't see rates softening anytime soon and, therefore, they have a call to take on their business models now.

Global uncertainties have reduced a bit, but major export-oriented sectors like IT and pharma will continue to be under pressure for a while. IT companies have been affected mostly because of the H1-B visa issues and are expected to report single digit earnings growth in 2017-18. Regulatory pressure, in the form of increased monitoring by the US FDA, is affecting the pharma sector.

On the other hand, metal stocks have rallied based on several positive factors like the US focus on infrastructure and a broader commodities rally.

The Indian market valuations right now seem stretched at almost 23x FY17E earnings for the Nifty50, which is at about 30 per cent premium to the mean of last 10 years.
What are the key areas to focus in FY18 to gauge the market's performance?

Post-demonetisation, the business in the un-organised sectors has started to move towards organised sectors. The Indian consumer is showing a preference for branded products and is migrating towards value-for-money brands. The trend is visible across a variety of sectors – be it tiles, cables and wires, electrical fittings in building materials; in chemical and specialty chemicals; in textiles and garmenting; in auto components and in FMCG. Investors who can capture this trend in their portfolio across sectors could probably outperform.

Interest rate is at a low, monsoon has been good, foreign currency reserves are robust, and the rupee is stable. There have been so many reforms being undertaken by the government like GST. All this needs to translate in growth in the core sector.

From an earnings perspective, there are a couple of key things to look at. Full impact of lower interest rates may be felt over the next several quarters. Companies have the opportunity to reduce cost of borrowing, and consumers to lower EMIs. This could give a fillip to companies that are facing lower capacity utilisation but were waiting for demand to kick in. Also, stocks that will benefit because of the shift from physical savings to financial savings need to be watched.
Which sectors are you bullish on?

We are stock pickers and do not shy away from any sector. We are numerically driven and when any good business presents a valuation-based, well-timed opportunity we take it.

In past six years, investors have played the India story focusing on companies with asset light models, which involved stocks with low leverage, strong brands, consumption stories that did not require large infusion of capital for growth. Typically, these stocks had high return on equity (RoE), return on capital employed (RoCE) and strong cash flows that worked well as an investment thesis in uncertain business environment globally during these years. The asset light models are relatively more expensive than the heavy models in specific cases.
Will GST, set to roll out in the next couple of months, have any bearings – positive and negative - on the performance of key sectors in the near-term?

Passing of the four GST bills is a welcome move. But the allied rules, rate categorizations and exemptions are yet to be finalised. Since the time between passing of the bill and implementation is short, GST could have a sudden and far reaching implication for specific companies. There could be execution-related issues. We need to wait and watch for at least a couple of quarters to see how things work. In the long-term, GST will be more efficient for business and thus have an overall positive influence.
Do you see the NDA government focusing more on its 'development' plank and usher in broader economic reforms after the significant poll mandate in assembly elections?

We are hopeful that the long-awaited 'big' push to infrastructure will now begin to roll out. Our country and industry need that to achieve full potential as a top economic power. The government is seized with the matter and we see initiatives being taken in that direction. The private sector investment is still on the back foot, waiting for the government to take the initiative, and hence the government must step up to push investments through public sector.
What will be your advice to retail investors in FY18?

Invest on a regular basis and stay invested in equity funds over long time and you'll not regret it. Before investing in any mutual fund, always consult a proper financial advisor.

govardand@mydigitalfc.com