,

Friday, 6 January 2017
One of the leading lights of India's equity market, Nilesh Shah, does not take anything for granted. He talks in a wide-ranging interaction with Arun Kejriwal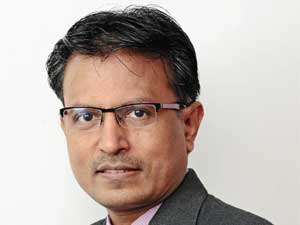 Nilesh Shah came to the capital markets purely by accident. The soft-spoken and articulate managing director of the Kotak Mahindra Asset Management Company, who has over 25 years of experience in capital markets and knows all there is to know, is quite candid about how he arrived on the scene.
"Simply speaking, an accident! I was a topper in my CA batch and was invited by L&T. I went there and
after the interview was offered a job. When the offer letter was being prepared and I was meeting the senior general manager, he said that at your age you should seek challenges. L&T will make your life too comfortable. Go to the financial services, which is emerging. Not knowing much about financial services then, through a common friend I joined ICICI where they put me in merchant banking. So it was by pure accident that I came to the capital markets."
It turned out to be a happy augury, quite clearly, the accident was a big gain for the markets and a loss for L&T.
Nilesh's portfolio is impressive, by any yardstick. He has managed equities, fixed income securities and real estate for local and global investors. He has held leadership roles with Axis Capital, ICICI Prudential Asset Management, Franklin Templeton and ICICI Securities
The interview with the unassuming Nilesh, turns out to be worth its weight in gold.
How has been his journey in the markets and what are his key learnings?
Nilesh says being a chartered accountant topper, one is naturally overconfident and at ICICI one met a lot of people who were far more intelligent and importantly, more humble than one self. This experience has recurred right through.
The equity master narrates his rich and varied experiences, all which reveal that in the market, given its immense capacity to shock and being the great leveler that it is, you can never afford to be smug. Nilesh lays out the bottom line.

Point one: Never take things for granted.
On one day you will make tremendous profits, the next day you will be biting the dust. One day you will discover a stock that will be a multibagger, another day you will invest in a stock where you will lose 90 per cent of your value. On one given day you meet a management you believe is useless and that company does very well and yet on another day, you meet another management who you believe is the ultimate, but end up losing a lot of money. So one thing that I learned right through is keep your feet on the ground. Don't take things for granted. There are people, who are smarter than you on the street. Unless you are grounded to the earth, markets will be brutal to you.

Point two: Realise the value of relationships.
At ICICI, I build contacts, which have guided me till date. Likewise at Templeton, ICICI Prudential and Axis Mutual. Never ever under estimate the value of contacts, which have been built. Be fair to them and you never know how they will help you. This help could be personal, as well as professional. For example in the merchant banking era, I got many mandates because I had worked with them well in my buy side days. In buy side, I avoided many mistakes because I could pick up the phone and talk to a friend about his view on a company or management. In the markets, when you are confused and you ask someone for a view, his view is based on his position and not based on what they think is right. In short, never under estimate the value of network and contacts.

Point three: professionalism.
During the Templeton stint, Gilt funds were generating better returns than equity funds and they were twice that of the next peer. I felt I had arrived in life and I am the brightest fund manager. And then my boss asked me to write an investment process. My answer was that 'Nilesh Shah is an investment process. I know how to manage', and my boss said no. I want you to write how you manage money. It was embarrassing at that time to write something after delivering so much. But after some persuasion, I finally wrote and improved and then realised what a favour my boss had done to me. Having written down my thoughts, I had to deliver it and that is the key. As the fund size became bigger, it became the guideline for the team to follow. It is this discipline, process and professionalism, which has helped me become successful. Had I not gone through this process, I would have been a one-time wonder rather than a consistent performer.

Point four: Need to be fair.
In 2001-2002, there were posters written about technology fund managers. In 2008, we lost more money than 2001-2002. No one put up our posters. At that time, we never lied to investors. The need to be fair to people, to your client and not just looking at organisation's benefit, helped me.

What about Nilesh's famous presentation skills, where he presents difficult facts in a simple and lucid manner, which makes sense to his audience?
I started my career as a fixed income manager where I had to meet a large number of customers. Most of my competitors were equity fund managers. They were therefore far more lucid than me. When you talk of fixed income, inflation, currency and money supply, it puts people to sleep. I had no option but to innovate. I had to grab attention. I met a person who was far more knowledgeable than me. I tried to impress him with data points. After some time he said, 'Nilesh why don't you talk in a common man's language?' This made me realise that getting your message across in a manner where the target audience understands, is the key. Many times I attend high net worth individuals (HNIs) meets, where the husband and wife are both present. The husbands are probably more market savvy. The wives admit it is the first time they understood what finance is. My necessity to persuade people understand a dull product like debt fund, forced me to become creative.

Does a bad day affect you? Similarly what does a good day mean for you?
My daughter can still figure out looking at my face whether I have had a good or a bad day at the office. You do feel bad, you do feel dejected after a bad day. We come together as a team and if it's a collective bad day, we say tomorrow we will do better. If it's an individual's bad day, the others give support. It's all about thinking positive. We have reached that stage where there are more good days than bad. We have also reached the stage where we cannot eat too much. There is a celebration, which could be a cake, a chocolate or a dinner out. Celebrations are muted now than earlier.
Very clearly then, a good or a bad day has an effect on Nilesh.

How does Nilesh unwind after a hectic week?
I need to learn the art of unwinding. Till 45, the body takes care of you; thereafter you have to take care of your body. I have to do it with mediation and yoga. Currently, I unwind with spending time with family and reading. Do I unwind myself sufficiently? I need to do much more. Youngsters these days do not realise the importance of unwinding or take care of themselves.

Learning from stocks held by Nilesh:
In 2000-2001, the simple discipline of balance sheet analysis said how a company does not earn other income from the surplus cash. This simple analysis helped and we hardly ever invested anything in Satyam. This logical and disciplined approach saved us from losing a large sum of money. We were saved from the aftershocks. I missed out on a multibagger because I was rigid. I invest after meeting the management and when Gujarat Fluoro management did not meet us, I did not invest. The stock went on to become a multi-bagger and I learnt from that mistake that you cannot be rigid, you have to be flexible.
In 2007-2008, the markets crashed. Again, the discipline helped. At 21,000 we were 90-95 per cent invested. At 8,000, too, we were fully invested and people told us that markets would go to 6,000. We remained fully invested and the markets bounced. You need to follow discipline.
Things that went wrong for me – While in the fixed income role, we lost money all over. We invested in paper where companies defaulted. The credit worthiness of people/ promoters who will honour their commitment is foremost.
We have invested in many companies where we have lost 70-80 per cent of our money. In 2000, businesses took us by surprise. In 2008, valuations took us by surprise. Credit worthiness of the promoter is very important. We have learnt that you need to buy good things at a reasonable price. Do not over pay. It's a journey where we learn a new thing every day.

Nilesh Shah is an optimist. Is it in his DNA or is it because of the job you are in?
It's a very, very tough question. I also ask myself whether in my day-to-day life, I am as optimist as I am about the markets. The answer is somewhere in the grey area. It is neither white nor black. In 2003-2004, we held the view that after a decline of seven years interest rates would go up. We were calling our clients and asking them to redeem. We wanted to be fair to our clients, telling them that they needed to shift. This was done across schemes and across fund houses. Am I being driven by my job that I want my clients' money all the time? Too tough to take a call.
View on the November 8 demonetisation. What could be the impact after 12 months?
If I take 12 months, it's a fantastic thing. By that time the short-term pain of demonetisation would be over. We are a nation of dishonest taxpayers, unless the tax is deducted at source. There are merely 400,000 people who declare an income of over Rs 5 lakhs. There are 40,00,000 people who are buying automobiles whose average cost are over Rs 5 lakhs. This shows the extent of non-tax compliance. Our government doesn't have revenue to hire talent to detect non-tax compliance. Poor governance creates poor investment climate, which creates poor growth, which in turn creates poor tax revenue. Somewhere we need to break this vicious cycle. This can only be broken by the fear of law. People are not afraid of non-compliance of tax. This fear of law will enforce better compliance. Benefits of this will be tremendous.
The black and the white economies will merge. It expands the GDP. This will improve the tax-to-GDP ratio, push up investments and therefore improve sovereign debt rating. It will improve the ability of the government to invest. All these things will make India a far better country. Banks will have the ability to lend more, as black money, which was just lying, would be brought into the system. Assuming that Rs 7 lakh crore of the Rs 14.6 lakh crore in circulation was black money, it means Rs 7 lakh crore at a multiplier of one. Once that comes into the banking system, it will go at a multiplier of four times, which means an additional Rs 21 lakh crore of additional liquidity. This would equal about 18 months of deposit growth. Imagine if this money is lent, you would create multiple cities like Mumbai.

Where should one invest his money?
Banking would be a big beneficiary, post-demonetisation. You would need to make transactions using the banking system. There would be accumulation of money into the banking system, which would be deployed at a higher spread. Therefore banks are the biggest beneficiaries of demonetisation. It's time to accumulate. Domestic consumption would see six months of decline because of the pain of demonetisation. This is the best time to accumulate these stocks. As liquidity starts flowing into consumption, there would be so many housing loans, consumer loans and automobile loans.
The next six months will offer ample opportunities to invest and pick up consumer stocks across the sector, whether discretionary or non-discretionary. The third sector I would like to focus on is pharmaceuticals. Due to pollution-stressed lifestyle, our consumption of medicines would go up substantially compared to the past. This will create a secular demand for medicines, healthcare and preventive healthcare. My suggestion to people would be that instead of paying premiums to buy healthcare, I would ask them to do a SIP in a pharma fund. Of course the assumption is that you don't fall ill in the early years.
Normally at a younger age the chances of falling ill are that much less. The payoff of investment in this SIP would be far in excess of what the insurance premium would benefit you. I don't like real estate where the environment is not conducive. Real estate as an asset class is good, but compliance seems to be far from satisfactory. You need speed money to get things done and governance standards are poor. I do not like metals and commodities. In a rising oil scenario, the worst oil producer will also make money, but in a falling crude price the most efficient and cost effective player would lose money. I would use these sectors for a trading perspective, not day-to-day, but little to medium term. Rera, the real estate regulation, is more of a state and municipal regulation. While the Centre is trying its best, the mind set would take quite some time to change. It's like the stock market under GV Ramakrishna where change was resisted stoutly. Today the market is a completely different place. No 'gala' (difference between actual trade price and reported price), demat, no physical settlements, electronic trading and so on. As mentioned earlier, the mind set needs that big change.

Does anything keep Nilesh awake at night?
The champion market player is his usual straightforward self.
Do I get my peaceful sleep? Yes. Is my mind working at night? The answer is yes. I need to learn the art of unwinding. There is frustration, as I see many years being wasted. I had filed a product with SEBI in 2004, which was synthetic gold. We had tied up with a service provider who gave us rupee cost gold options. When invested in this product, it gave full benefits if gold prices rose and if they fell there would be no loss to the investor. This was akin to the present sovereign gold fund except for the fact that the gold fund gives you some interest, while in our product we had to take so­me fees. Sebi had appr­oved the product and it was launched. After lau­nching, we were asked to put it on hold because it was too complex and we withdrew the product.