,

Friday, 17 February 2017
Anand Shah, deputy CEO and CIO of BNP Paribas Mutual Fund, leads a team of top notch investment professionals. He takes Arun Kejriwal through the innards of India's capital market, as only an insider can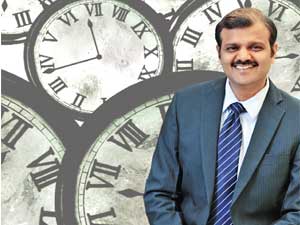 Warren Buffet has spawned many capital market wizards in India, one of the world's fastest growing economies. Anand Shah, deputy CEO and CIO of BNP Paribas Mutual Fund, belongs to this distinguished line-up.
Anand's Buffet movement came early. Towards the end of his term at IIM Lucknow, he got an opportunity to do a course of independent study (CIS) on investment strategies of Warren Buffet and its implications for the Indian market.
The result was gratifying. "At the end of it I knew what I wanted, but was not sure whether I would get an opportunity," he reminisces.
The passion for the great American investor and philanthropist continued. Says Anand: "I have read all his (Warrant Buffet's) letters, his books, read books written on him and wrote a thesis on him as a student at IIM. I realised I need to build on it and I use that learning even today and am taking it forward. It's 16 years ago that I started this journey and am trying to improve." In the highest guru-shishya tradition, you could say.
What brought Anand to the capital markets, a graduate in engineering, who also went to IIM Lucknow?
At the time of joining IIM, he was keen on a sales and marketing job, but by the time he finished his management degree in the city of nawabs, he was clear that capital markets was to be his chosen field.
For one, his grasp of finance was far better than students with a commerce background. Then came the big breaks and the super learning curves.
"I was lucky and got a job with Kotak Asset Management Company on the buy side from day one and was with them for a good six-and-a-half-years. Good grounding, grooming, learning and working with some excellent people like Kenneth, Rajan, Vetri and Rushab Seth and I learnt a lot from them," he recalls.
In December 2006, Anand got an opportunity to move to ICICI Prudential, which again turned out to be a case of good learning. "Here I worked with Naren, Deven Sangoi and Nileshbhai," he says.
The turning point in his life came in April 2008 with Canara Robeco where he started a new journey in a leadership role.
He remembers. "Here I was head of equities and in a leadership role where I set up a new team, established a brand, earned many awards and got excellent recognition."

Friends and colleagues have played a significant role in his life, says Anand. "I have learnt a lot from Ritesh Jain in Kotak and Canara Robeco. He was largely in fixed income, but I learnt the importance of global macro economy from him. We got quite a few calls right. I learnt the interplay between, currency, commodities, equities and bonds from him. Kenneth was another colleague I picked up a lot from. He had vast knowledge about sectors and companies. He could identify a trend for five to ten years and built upon them."
In a period of three years, Anand underlined the philosophy and built the asset under management (AUM), which continued into BNP where he joined in March 2011 as CIO.
"This," he says about his current location, "is a much larger platform. We have built a track record of funds over the last five years, where we have built up AUM in the country and also an offshore platform where the AUM is about a billion dollars."
Does such an astute money manager have a signature style in investing, something which is visible across his portfolios over the last 16-17 years?
Anand says he loves cyclicals and even within cyclicals, he wants businesses, which he will buy but never sell.
"Most of the portfolio would be the secular story, but I love cyclicals. Take for example cement. It is like a secular story. I buy and just don't sell. They stay in the portfolio for a very long time and have generated good returns. I like businesses, which are B2C, B2B and B2G. Seventy to 80 per cent of my portfolio is in this category. I like this category and even in the case of financials, it is the same," he explains.
Anand says his company owns retail banks and non-banking financial companies (NBFCs). And he likes it this way.
"Within financials as well, we like to own retail because it's a sticky business. You can't take it away. It's far more profitable than other similar businesses. Any business dealing with household does well. You can't take away the business because a purchase manager haggles with the price or supplier. A HDFC Bank would be a top holding for me in my portfolio over the last 15 years. It is simple and it has worked for me. Yes HDFC Bank is the flavour of the day, but for me it has always been so," he recalls, as a matter of fact.
Anand has no single role model, but reads many authors, each of who has his own philosophy and learns from various people, along the way. He likes to pick up businesses, which can sustainably generate wealth that can grow faster than others.
But Anand is clear about what he wants. "One thing is very clear that we want sustainable and superior growth stories", he states.
The equity market honcho has definitive views on valuations, which determines stocks selling. "People buy or sell stocks because of valuations. The only reason one would have wanted to sell HDFC Bank would have been valuations. I can't buy a stock for valuation, I can't sell a stock for valuation. So we tend to hold a stock even if it has turned expensive, as long as the business has not deteriorated or the management is ok. We would not buy more because of the valuation turning expensive."
This is an Anand Shah trait, which has held him and his company BNP Paribas in good stead. However, each fund manager has his own nuances, which should be absorbed by the group, something that he tries to do all the time.
Looking back at some major success stories in the last 15 years, Anand believes, most of them have had a common link of being a B2C business. It could be a HDFC bank or an IndusInd Bank, Kotak Bank, Shriram City Union, Repco Home Finance, Jubilant Food Works or Asian Paints.
"The motherhood is B2C, even though there are other nuances, which come into play, as they have to sooner or later," he says.
Using the same rationale, he believes telecom has not worked for them because there is the problem of overweight and it is difficult to wean away loyal customers.
"We never thought that it would be easy to dislodge leaders in the telecom business. The fact of the matter is that it has become unprofitable to be in this space currently. For one reason or the other, there are enough people who are willing to lose money in this sector," quips Anand.
The equity master outlines his priorities. In his scheme of things, B2C still holds the pride of place. "We are riding a very strong theme in the B2C space. Yes, we have also invested in other themes, which is unique like Va-Tech Wabag. We like VRL Logistics, which is a unique business, difficult to replicate. We like B2B businesses, which have their own strength where original equipment manufacturers (OEM's) cannot dictate terms to the likes of Bosch and Motherson Sumi, amongst others. We will invest in B2B companies where there is sustainable competitive advantage, or moat as Warren Buffet would call it, is very important."
Does Anand have a strategy or a philosophy of investing? As a matter of fact, what he gets on the table is the team's guiding philosophy.
"Our philosophy is that you need to get a superior and sustainable earnings growth rate. The portfolio growth rate should be higher by 800-1000 basis points than the index. You therefore have to pay a premium for the same, but if the growth sustains, then you outperform the index by that 800-1000 basis points. Valuation is always a concern. However, we do not shy away from paying a premium. The premium should stay; only then do you make money. The same applies to the moat. The stronger the moat, the higher the premium valuation," he explains.
The next and obvious question then is what is the company doing to sustain its advantage?
Anand puts it in perspective. "The classic example here is HDFC Bank. They have the lowest cost of funds. What are they doing to remain the lowest three years from now? They are now investing in the next round of current account savings account (Casa) through tier 2 and 3 branches. They also have a low model for such branches. Go anywhere and you have a HDFC Bank. The same may not be the case with some other private banks. They started early with a Casa moat, then a retail assets moat and now fee income moat. They are now starting with a rural semi-urban Casa moat, then they will build upon rural assets moat and then rural fee income moat. This is what gets them the premium and the sustainability of superior growth. If you keep on adding that edge it will be replicated by others and you will lose some of it. So you need to keep on adding that superior edge."
On strategy, Anand believes that all boils down to looking at numbers and at what has gone right or wrong.
His company practically covers every sector once a quarter. There are daily meetings, sector meetings and monthly performance meetings. "In short, strategy is nothing but review, review and review of reality versus expectation. If you get earnings growth right, everything else will fall into place, he points out.
In terms of approach, the CIO of BNP Paribas Mutual Fund remains flexible. He believes there can be no fixed approach.
He explains: "There is no fixed approach. It varies from sector to sector. When we do identify a stock, we look at the sector from where it comes as well as look if there are other companies. We then compare them and pick on one or two that we like."
With so much demand expected, will capital raising see significant traction?
Anand believes that capital raising would certainly happen, but it would be with a lag effect and would be preceded with a surge in investments.
He quotes the example of domestic inflows when foreign outflows are happening, both balancing out each other. The inflows are not yet been felt, but what happens when you have a FII inflow and domestic demand surges?
"There is a fundamental reason for market private equities (PE's) to expand in the next eight to ten months before supply of paper will stabilise markets," says Anand.
There are three reasons why it will happen. First, interest rates have come off, which leads to higher multiples. Structurally peak tax rates are coming off and if we are going from 30 per cent to 25 per cent, the markets would factor it today even if they gave you a roadmap over the next two–three years, so higher earnings multiples. Thirdly, post GST will come the shift from the unorganised to organised sector.
So these three reasons, he is convinced, would definitely move earnings growth in FY18, if not FY19-20. It should have actually already happened, but while macro has improved continuously, micro has been hit for some or the other reason in the last three years.
"For me, PE multiples will expand and paper will follow. We are creating lots of products, Invits, Reits and others. It will take time," Anand predicts.
What are Anand's favourite sectors? His reply is bang-on. "We are big bulls on financials, including NBFC's. Nearly 30 per cent of India's lending is unorganised. It will take a long time to create that sort of unorganised market with new cash. This would therefore move to NBFC's. People are worried about credit growth not happening, but you will see a surge in credit growth by the end of FY18. We like cement secularly despite what may happen in the coming quarter. This would be our cyclical play on the Indian recovery story where one finds that cement plays a role in roads, ports, bridges and housing for all. Even though it's a commodity it's a local
commodity, not a global one. So much so that prices in east India are different from south or north or
west. They are like different markets. You need to maintain discipline and be within 200 km of your base," he says with the conviction of an insider into India's
capital market.
Then again, avers Anand, you can get the sector right, but the company wrong. "The company needs to capture the opportunity in sector gainfully for minority shareholders," he points out.
But typically, this is a situation that can only be gauged after the promoter and management have met.
Of his other choices, Anand says they like select media and select auto. "We are playing two themes in the mid-cap space. One is gas where the entire value chain is attractive because of lower gas prices, higher demand and competitive advantage. The second is China, where people have missed the point that it has become rich. China is shutting down environment-related or polluting companies, whether it is in the metal, chemicals or speciality chemicals space. A
great opportunity arises in companies in these
spaces, which have been thrashed out of shape," Anand explains.
Even companies, which manufacture chemicals for the textile industry, fall into this category.
To give an example, he says, some 30 million tonnes of steel capacity need to be shut down in and around Beijing during winter months to keep
pollution under control. When a country grows rich it becomes conscious of itself, it's surrounding and wants to improve the quality of life. He remains clear that opportunities are being thrown up, provided you look around, because there is plenty to choose from.
"We are very clear that this is thematic and is a bottoms up, but will throw up opportunities over the next 5-10 years. Inefficient businesses will close down," he prophesises.
Anand is not entirely convinced with the private cycle capex story. There is excess capacity available and it will be some time before they are fully utilised.
"Going forward, there will be lesser industries you will not want to touch as opportunities arise. So going forward, you will find ideas in the bottoms up approach," he states.
Anand has a worry outside the market. Investors have not made money in the soundest asset class in a five-year, ten-year period. There have been debates about the cycles and so on even though this asset class has been making some money.
Mutual funds have done well even though indices have not gone anywhere. "What bothers me is that industry is fighting amongst itself for the 2 per cent share. It is not fighting with the 98 per cent share of other assets. There is a huge churn and a lose-lose for all. It's a nice product, but not marketed well," is his considered opinion. Obviously, for that, financial education and literacy needs to be beefed up.
Anand's parting shot is: "Always keep liquidity. Don't remove everything; keep something back". It encapsulates the man and his economic philosophy.