,

Friday, 9 November 2018
Advises against "unorthodox, short-term" steps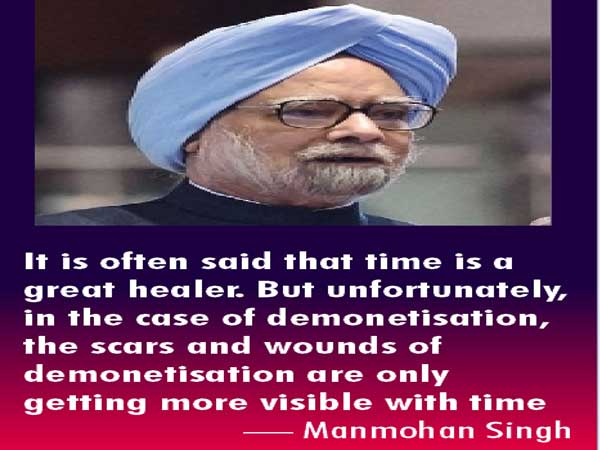 Former prime minister and Congress leader Manmohan Singh on Thursday tore apart Modi government's demonetisation exercise on its second anniversary, calling it an 'ill-fated' and 'ill-thought' exercise. As the "scars and wounds" of note ban are becoming more visible, Singh advised the government to not resort to further "unorthodox and short-term economic measures."
The second anniversary of the note ban is a day to remember how 'economic misadventures' can roil the nation, Singh, himself a reputed economist, said. He is also called the architect of economic reforms for he initiated economic liberalisation as the finance minister in the Narasimha Rao government in 1991.
"The financial markets are volatile as the liquidity crisis wrought by demonetisation is taking its eventual toll on infrastructure lenders and non-bank financial services firms," Singh said.
Asking the government to restore certainty and visibility in economic policies, the former prime minister said, "Notebandi impacted every single person, regardless of age, gender, religion, occupation or creed."
In a televised address to the nation, prime minister Narendra Modi on November 8, 2016 announced that Rs 1,000 and Rs 500 currency notes would no longer be valid.
Speaking in Parliament in the same year, Singh had called the note ban "organised loot and legalised plunder." He had said the note ban would shave off 2 per cent of the GDP.
In a fresh and scathing attack on the government, the former prime minister said the full impact of demonetisation exercise is yet to be understood and experienced. "With a depreciating currency and rising global oil prices, macro-economic headwinds are also starting to blow now," he said, adding that it is, therefore, "prudent to not resort to further unorthodox, short-term economic measures" that can cause more uncertainty in the economy and financial markets.
"It is often said that time is a great healer. But unfortunately, in the case of demonetisation, the scars and wounds of demonetisation are only getting more visible with time," he said. Small and medium businesses that are the cornerstones of India's economy are yet to recover from the demonetisation shock, Singh said. "This has had a direct impact on employment as the economy continues to struggle to create enough new jobs for our youth."
Former finance minister P Chidambaram called note ban an ingeniously designed official money-laundering scheme. Reacting to finance minister Arun Jaitley's defence that confiscating currency was not an objective of demonetisation, Chidambaram asked, "Will someone please remind him of what he told the media and what the Attorney General told the Supreme Court?"
"The dream was to gain Rs 3 lakh-Rs 4 lakh crore…Thanks to rampant money laundering at bank counters, that dream turned into a pipe dream," Chidambaram said.
AAP leader and Delhi chief minister Arvind Kejriwal described the move as "a self-inflicted deep wound on the economy." "Though the list of financial scams of Modi government is endless, demonetisation was a self-inflicted deep wound on Indian economy which even two years later remains a mystery... why the country was pushed into such a disaster," he asked.