,

Wednesday, 24 October 2018
Restricts fireworks to 2 hours on Diwali, other festivals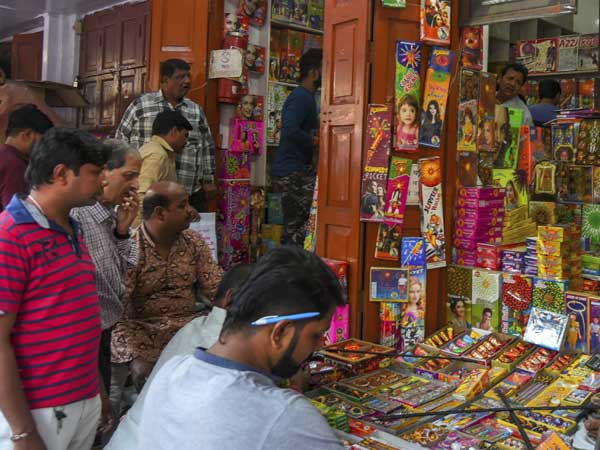 Pushing for a "green" Diwali across the country, the Supreme Court on Tuesday imposed major controls on firecrackers, including an 8 pm to 10 pm window for bursting them and limiting the manufacture and sale of fireworks to only those that conform to permissible smoke and noise levels.
A bench comprising Justices AK Sikri and Ashok Bhushan also restrained e-commerce websites like Flipkart and Amazon from selling firecrackers with emission levels beyond the permissible limit. The bench said e-commerce websites will be hauled up for contempt of court if they don't adhere to the court's direction.
The apex court's order came on a plea by several environment activists seeking a ban on the manufacture and sale of firecrackers across the country to curb air pollution. However, it is unclear how the rules will be enforced or whether there is such a thing as an environmentally safe firework.
"Firecrackers with permissible decibel sound limits will only be allowed to be sold in the market," the bench said, adding the permissible limit of sound and smoke will be approved by the Petroleum and Explosives Safety Organisation (PESO).
The court said station house officers of police stations concerned will be held liable if banned firecrackers are sold in their area. The court also asked the Centre to encourage community cracker bursting during Diwali and other festivals in Delhi-NCR and directed all states to explore its feasibility.
The SC was of the view that there is need to take into account all aspects, including the fundamental right of livelihood of firecracker manufacturers and the right to health of over 1.3 billion people in the country. The court said Article 21 (right to life) of the Constitution applies to both segments of people and it needs to maintain a balance while considering a countrywide ban on firecrackers. It asked the Centre to suggest measures for curbing pollution and the effect of firecrackers on the public at large.
Firecracker manufacturers told the court that the use of crackers should not be completely banned and should instead be strictly regulated. They contended that crackers are not the reason for increase in air pollution and there are other factors, like wind and temperature, which contribute to it. They said firecracker manufacturers can be deprived of their right to do business based on statements which were not supported by facts.
On October 9 last year, the top court temporarily banned the sale of firecrackers ahead of Diwali in the Delhi-NCR region. The court refused to relax its order while dismissing a plea by traders who had sought permission to sell crackers for at least a day or two before Diwali on October 19, 2017. The apex court said its ban order during Diwali last year was an experiment to examine its effect on pollution levels in the region.
Reacting to the judgement, activists raised concerns about how the order would be enforced. "This decision should have come earlier because manufacturers are ready with all kinds of firecrackers and it will be very hard to stop them," said Greenpeace campaigner Sunil Dahiya.
Environmentalist Vimlendu Jha slammed the verdict saying there was no such thing as an environmentally safe firework. "Your one decision to allow sale and use of firecrackers in current times, while half of our country turns into a gas chamber, will kill toddlers, children and elderly," he tweeted.