,

Thursday, 12 October 2017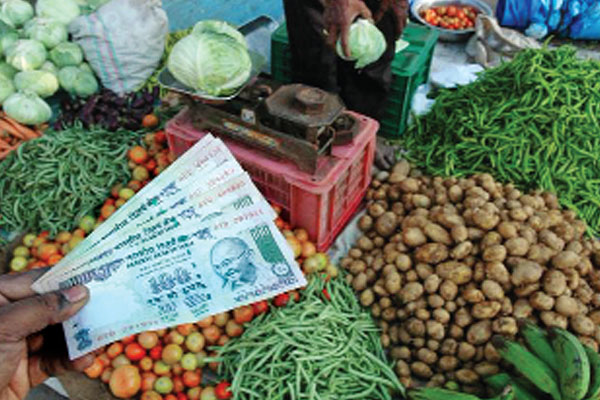 The latest economic numbers come as a breath of fresh air to the Modi government battling slowdown. Retail inflation came in at 3.28 per cent in September, little changed from August, while industrial production grew to a nine-month high of 4.3 per cent in August.
One of the reasons for stable inflation is moderation of food inflation to 1.25 per cent in September from 1.67 per cent in the previous month. Higher food prices were the main reason for spike in consumer price based inflation (retail inflation) in previous months. Vegetables softened to 3.92 per cent in September from 9.97 per cent in August. Pulses continued with deflationary trend at (-) 22.51 per cent and eggs prices dropped 0.15 per cent.
The inflation rose in the fuel to 5.56 per cent from 3.66 per cent in August. Inflation in fruits, meat & fish, and prepared meals also increased, data show.
Compared to August numbers, a significant price decline in the food and beverages category compensated for the price increase in other components, said Soumya Kanti Ghosh, chief economic adviser of the SBI group.
"Within food inflation, a decrease in price of vegetables, cereals and fruits has contributed to the decline. We expect CPI inflation to remain sub-4 per cent till December 17 and remain sub-4.5 per cent thereafter this fiscal," he said.
Commenting on the impact of state-wise Jan Dhan accounts on CPI inflation, he said, "States where more number of Jan Dhan accounts are opened, the rural inflation is at a lower level. Formalisation of economy has happened. There is both statistically significant and economically meaningful drop in consumption of intoxicants such as alcohol and tobacco products in states where more Jan Dhan accounts have been opened."
Jan Dhan-Aadhaar-Mobile (JAM) trinity has helped in better channelising of government subsidies and helped in curbing the unproductive expenditure such as alcohol and tobacco expenses in rural areas, he said.
Aditi Nayar, principal economist at ICRA, said the mild easing in food inflation in September 2017 relative to the previous month, was offset by the considerable rise in inflation for housing, on the back of the HRA revision.
As a result of the uptick in inflation for housing, and pan, tobacco and intoxicants, core inflation rose to 4.6 per cent in September 2017 from 4.5 per cent in the previous month.
The other piece of good news is factory output. The government data showed that the industrial production grew in August mainly on account of robust performance of mining and power sectors, coupled with higher capital goods production. Factory output growth measured in terms of Index of Industrial Production (IIP) was 4 per cent in August 2016.
The previous high in IIP growth was recorded at 5.7 per cent in November 2016. IIP growth during April-August period of this fiscal stood at 2.2 per cent, down from 5.9 per cent in the same period in 2016-17.
The July IIP number has also been revised to 0.94 per cent from 1.2 per cent provisional estimates released last month.
The output growth in manufacturing sector, which constitutes 77.63 per cent of the index, however, decelerated to 3.1 per cent in August from 5.5 per cent a year ago.
The output of the mining and electricity sectors grew at 9.4 per cent and 8.3 per cent.
The consumer durables and consumer non-durables sectors recorded growth of 1.6 per cent and 6.9 per cent, respectively. In terms of industries, 10 out of 23 industry groups in the manufacturing sector have shown a positive growth during August 2017.
The industry group 'Manufacture of computer, electronic and optical products' showed the highest positive growth of 24.9 percent, followed by 16.5 per cent in pharmaceuticals, medicinal chemical and botanical products.