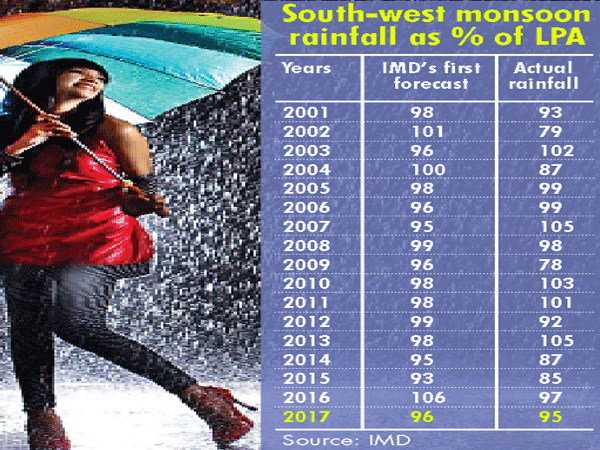 The southwest monsoon rains, which irrigate over 70 per cent of farm land with no irrigation facilities, is likely to be normal, the India Meteorological Department forecast on Monday. The good news has brought relief to millions of farmers, policy makers and political parties of all hues, especially to the BJP government as it faces general polls in 2019.
The government agency said quantitatively the monsoon seasonal rainfall for June-September period is likely to be 97 per cent of the long period average (LPA) with a model error of plus/minus 5 per cent. "It will be a normal monsoon for the country as a whole," D Sivananda Pai, India's chief monsoon forecaster at IMD, told Financial Chronicle. He said this is India's third consecutive year when the IMD predicted normal monsoon rains for the country.
In fact, Pai said the monsoon rains would be better than last year, signalling bright prospect of kharif (summer) and rabi (winter) crops across the country, which would in turn increase farm incomes and boost rural economy. Skymet, a private weather forecasting agency, also forecast a "normal" monsoon this year earlier on April 4. Other than lifting farm and wider economic growth, a wet spell will keep a lid on inflation, potentially tempting prime minister Narendra Modi to bring forward the general elections due in May 2019.
The IMD defines normal rainfall as between 96 per cent and 104 per cent of a 50-year average of 89 cm for the entire four-month season beginning June. Rains less than 96 per cent are considered as "below normal" and104-110 per cent of the LPA as "above normal." Experts said the timely arrival of the monsoon and its distribution would play an important part so far as the economy was concerned.
Monsoon 2017 was slightly below normal for India with the countrywide rainfall standing at 95 per cent of LPA, which was accurately forecast by Skymet Weather. IMD's forecast had said it would be 96 per cent of LPA. The monsoon delivers about 70 per cent of India's annual rainfall, critical for the farm sector that accounts for about 15 per cent of India's $2 trillion economy and employs more than half of the country's 1.3 billion people.
India's 260 million farmers depend on monsoon rains to grow crops such as rice, cane, corn, cotton and soybeans because nearly half of the country's farmland lacks irrigation. The IMD's forecast also suggested maximum probability for normal monsoon rainfall (96-104 per cent of LPA) and low probability for deficient rainfall during the four-month season. "The moderate La Nina conditions developed in the equatorial Pacific during last year started weakening in the early part of this year and currently have turned to weak La Nina conditions," IMD said in a statement. La Nina is a weather pattern that brings equatorial Pacific Ocean temperatures, rainfall patterns and winds closer to average or normal. The latest forecasts from global models indicate conditions over the Pacific will turn neutral before the beginning of monsoon season, the IMD said.
The normal date for the monsoon rains to hit the southern coast of Kerala is June 1. But last year monsoon rains lashed the Kerala coast on May 30.
"IMD's prediction of normal monsoon should come as a breather for India amid a series of angry protests and marches by farmers across the country and in the run up crucial state elections and general election later in 2019," Prerna Sharma, VP and head of agriculture, food and retail, Biznomics Consulting said. The country is going to have three years of normal rainfall in a row that were needed for strong recovery of the rural economy after back-to-back drought years in 2014/15 and 2015/16 and demonetisation jolt in November 2016, she pointed out. "The anticipation of favourable monsoon rainfalls will bring more areas under khariff cultivation and better yields for crops like paddy, soybean, cotton and maize subject to distribution and timing of rainfall," Sharma said.
However, good monsoon and resultant increased output may further depress the farm produce prices when the world is flooded with the excess supply of most agricultural commodities and hence export prospects remain bleak, she pointed out.
"This will thus aggravate the economic condition of already distressed farming households…though likely increased output is good for inflation management. However, it may create political complications for Modi government," Sharma said.
According to Madan Sabnavis, chief economist at CARE Ratings, normal monsoon is good for the kharif crop, which accounts for about 50 per cent of farm production while around 65 per cent of the production is rain dependent. The northern states have access to irrigation and hence crops like rice are well protected to an extent, he said.
Sabnavis said the spatial distribution of the rains is important as it determines the availability of water for specific crops. "Crops such as cotton, oilseeds and pulses are dependent on monsoon in peninsular India covering states like Maharashtra, Telengana, AP, TN and Karnataka." he pointed out.