,

Tuesday, 19 December 2017
Saffron party wins 44, ruling Cong down to 21; Top guns on both sides suffer shock defeats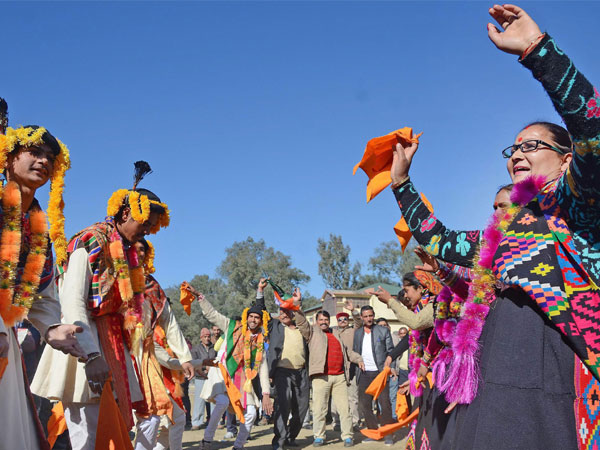 The BJP wrested power from the ruling Congress in Himachal Pradesh reducing it to just 21 seats in the 68-member Assembly. With a 10 per cent jump in vote share that touched 48.7 per cent, it garnered 44 seats. It had won 26 seats in 2012. It had 36 seats earlier, and its vote share declined by 1 percentage point to 41.8 per cent. The CPI(M) won the Theog seat, while the Dehra seat went to an independent.
Despite the BJP's spectacular performance, its chief ministerial face Prem Kumar Dhumal lost to Congress' Rajinder Rana in Sujanpur, after he changed his traditional constituency of Hamirpur. He was made the CM face only nine days before the pollling.
Congress veteran and six-time Chief Minister Virbhadra Singh won the Arki constituency while his son Vikramaditya Singh won from Shimla(Rural).
Senior-most minister Kaul Singh lost the polls from Drang and while his daughter Champa Thakur suffered defeat at the hands of BJP's Anil Sharma from Mandi. BJP candidate Suresh Bharadwaj retained the prestigious Shimla seat while Anirudh Singh of Congress retained Kusumpti seat. Congress candidate Harshvardhan won from Shillai, wresting the seat from Baldev Singh Tomar of BJP while Govind Thakur of BJP scored the third successive victory from Manali. However, senior BJP leader Maheshwar Singh failed to retain his Kullu seat. Main rivals BJP and Congress contested all 68 seats at stake. The hill state witnessed a record 75.28 per cent turnout.
Union ministers Nirmala Sitharaman and Narendra Singh Tomar have been appointed BJP observers for Himachal Pradesh. Asked about the BJP's choice for chief minister in Himachal Pradesh following its chief ministerial candidate Prem Kumar Dhumal losing the election, Shah said the party's parliamentary board will take a call on this.
Himachal Pradesh has a tradition of change in government after every elections. The BJP ousted the Congress in 1990 and the Congress avenged defeat in 1993. The BJP formed the government with the help of Himachal Vikas Congress in 1998 and the Congress was back in power in 2003. The BJP made a comeback in 2007.
On its loss in Himachal, Congress general secretary Sushilkumar Shinde said the state normally elects a government of the BJP and the Congress alternately. When the Congress started its campagn it was thought that the party would settle at 7-8 seats but it unitedly put up a good fight and secured more 20 seats while the BJP's CM face and its state party president lost. "We were able to build confidence among people and convince them that the Congress will always remain with them," he said.