,

Friday, 11 January 2019
The council decision may cost the exchequer Rs 5,000 crore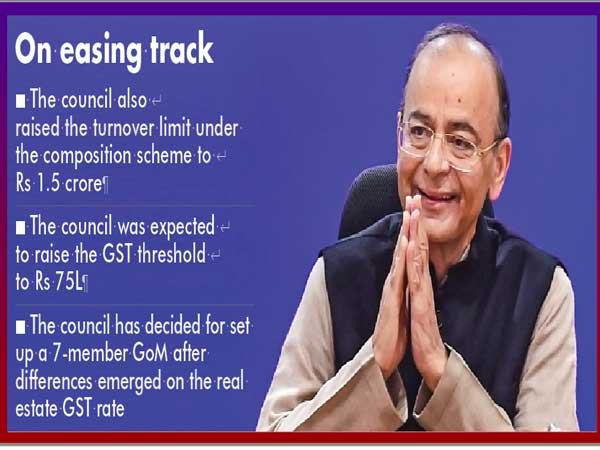 The GST council on Thursday doubled the exemption threshold under the goods and services tax regime to Rs 40 lakh to give relief to small businesses, but allowed states two exemption thresholds of Rs 20 lakh and Rs 40 lakh to choose from and intimate the decision in a week.
The council also raised the turnover limit under the composition scheme to Rs 1.5 crore from Rs 1 crore, to be effective from April 1, and allowed Kerala to levy a 1 per cent disaster cess on intra-state sale of goods and services for up to two years. Kerala had sought the cess to mobilise revenues to meet the rehabilitation cost following the devastating floods last year.
The revenue loss on account of hike in exemption threshold is estimated to be Rs 5,000 crore on the assumption that 50 per cent of the taxpayers will go out of GST, an official said.
The council, which met under the chairmanship of finance minister Arun Jaitley, was expected to raise the GST threshold to Rs 75 lakh, but Congress-ruled states and AAP-led Delhi government opposed the move.
Confirming the development, Assam finance minister Hemant Biswa Sarma tweeted the proposal for raising the GST registration exemption threshold limit was Rs 75 lakh or at least Rs 50 lakh turnover, but the Congress and AAP ministers resisted. Revenue secretary Ajay Bhushan Pandey told FC the decision would help improve compliance of GST.
The council didn't approve the expected GST rate cut on under-construction houses from 12 per cent to 5 per cent without input tax credit. Realty and lottery issues have been referred to the yet-to-be-constituted group of ministers.
Jaitley said the GST composition scheme, under which small traders and businesses pay 1 per cent tax based on turnover, would also be extended to service providers with up to Rs 50 lakh turnover at 6 per cent rate. Along with the hike in composition scheme limit, the decision could have an annual impact of about Rs 3,000 crore.
The council has decided for set up a seven-member GoM after differences emerged on the real estate GST rate, Jaitley said.
Pandey said after discussion the lottery issue was referred to the fitment committee. Jaitley said those opting for the composition scheme would have to file just one tax return annually, but pay taxes every quarter.
"A very large part of GST comes from formal sector and large companies. Each one of these decisions is intended to help SMEs," he said.
"Few states felt if the turnover threshold is hiked to Rs 40 lakh, their assesses base would get eroded. So if they inform the secretariat within a week, they would be given the option to opt down. Puducherry has kept this option. It's an one-time exception and doesn't affect businesses with inter-state supplies," Jaitley said.
Under the composition scheme, traders and manufacturers can pay taxes at a concession rate of 1 per cent, while restaurants pay 5 per cent GST. There are over 1.17 crore businesses registered under GST.
Of these over 1.8 million have opted for the composition scheme. A composition supplier is required to pay taxes quarterly and is not required to keep detailed records compared with a normal taxpayer.