,

Tuesday, 17 April 2018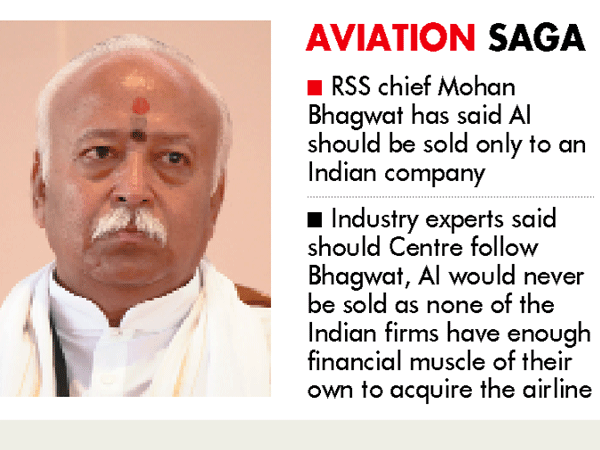 At a time when the Modi government is wooing global investors to buy majority stake in state-run Air India, Rashtriya Swayamsevak Sangh chief Mohan Bhagwat (in pic) has said the airline should be sold only to an Indian company. "If it's not being run well, give it to those who will run it well. That must be an Indian, because control of our skies by those from another country should not be acceptable," Bhagwat said.
Industry experts said should the government follow Bhagwat, Air India would never be sold as none of the Indian companies have enough financial muscle of their own to acquire the airline. "Mohan Bhagwat can say what he likes. But I think the prime minister and the government have already made up their mind to sell Air India. There is no way an Indian company on its own can and will buy Air India. They have to tie up with a professional international aviation company," said ClubOne Air CEO and former India head of Qatar Airways, Rajan Mehra.
Mark Martin, founder and CEO of aviation advisory firm Martin Consultancy, noted, "It is strange to see the RSS commenting on disinvestment of Air India. They are neither an investment facilitator nor in an way contributing to economic development of India." As part of its plan to hand over the reins of Air India to a private party by the end of the year, the government on March 28 came out with the preliminary information memorandum (PIM) on Air India's strategic disinvestment. It has offered to sell 76 per cent equity stake of the national carrier as well as transfer the management control to a private firm. The proposed transaction would involve AI, its low-cost arm Air India Express and Air India SATS Airport Services, which is an equal JV between the national airline and Singapore-based SATS.