,

Monday, 23 April 2018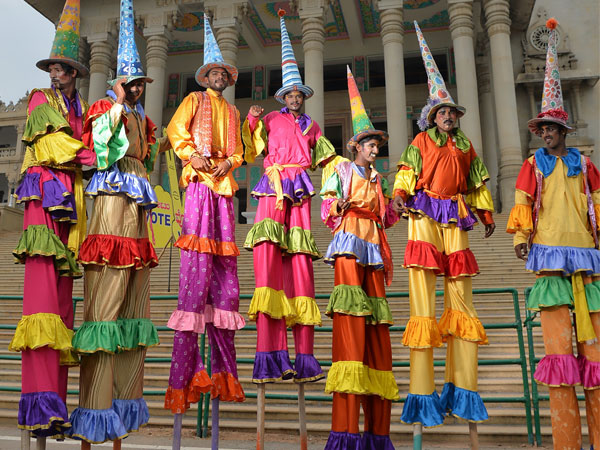 Karnataka is sizzling with election fever now at its peak. There is more to it than Sidda Vs Yeddy. In the poll hustle bustle, what has gone almost unnoticed is the son rise in Karnataka politics. As many as eight sons of former and current chief ministers are in the fray this thme—probably an unenviable record for Karnataka. In addition, the state has over a dozen high profile children of political leaders and former union ministers in the fray including Priyank Kharge son of Mallikanjun Kharge, Krishna Byre Gowda, son of a former minister, C Byre Gowda, to name a few.
Son politics is most discernible in Varuna seat where chief minister Siddaramaiah's son Yathindra is locked in a battle with B Y Vijayendra, the son of former chief minister B S Yeddyurappa. Varuna, from where Siddaramaiah managed to win the last polls by a margin of 30,000 votes, is considered to be a safe constituency for the Congress. Varuna, situated barely 15 km away from Mysore, was Siddaramaiah's constituency. In the last four-five years, his government has infused investments to the tune of Rs 4,000 crore to convert Varuna into a model constituency with proper roads, power supply, irrigation projects, social security systems and healthcare initiatives. By doing this he was quietly clearing the ground for his son's political launch. The development of Varuna into a model constituency will give Yathindra an edge.
The caste composition of the constituency with Veerashaivas, followed by Dalits, Kurubas, Nayakas, Upparas, Muslims and others gives Congress an edge, say political observers. The irony is however not lost as Siddaramaiah in the past used to criticise the family constituency politics of his estranged mentor H D Deva Gowda.
B S Murthy, an independent political analyst said, in most cases of ticket distribution the sole criteria is chances of a win. Senior leaders often approve of a genuine offspring candidate as it is easy to transfer or repeat the political legacy, success and connect of an incumbent leader rather the party going for a new face and risking a seat.
"Quicker acceptability and easy connect are the positives. Still positioning is critical. Voters always like to be part of VIP constituencies. Sons have the advantage of ready resources, ground support and local connect. Again for party workers, sons stand for young blood, future, continuity and longevity,'' Murthy added.
Several chief ministers of the state have had their sons follow them into politics and trend was kicked off by former chief minister H D Deve Gowda when he brought two of his sons, H D Revanna and H D Kumaraswamy into politics a couple of decades ago. Kumaraswamy, who was the chief minister for 20 months between 2006 and 2007, will now contest from two constituencies, Ramanagara and Chennapattana on JD(s) ticket, while his brother Revanna will seek re-election from Holenarasipura. Former CM S Bangarappa's sons, Kumar (BJP) and Madhu Bangarappa (JD-S) will have a head on contest in Soraba of Shivamogga district. Former CM JH Patel's son, Mahima Patel, is the Janata Dal (United) candidate from Channagiri in Davanagere district. Ajay Singh, son of another former CM Dharam Singh will seek re-election from Jevargi in Kalaburagi district on Congress ticket. Also in the fray is former CM S R Bommai's son, Basavaraja Bommai, from Shiggaon in Haveri district on a BJP ticket.
One person who lost out in the prelude to the election is Harsha Moily, son of former state CM M Veerappa Moily. Harsha was planning his political foray via Karkala constituency. Today, criticism against dynasty politics is almost a passé. What's the big deal about son rise, asks Shyam Sundar S Pani, an independent political observer and also director, marketing, at STEER.
India is a democracy and right to accept or reject is in the hands of people. It is time we stopped making dynasty politics a topic of discussion and debate when we have bigger issues to around.
"Dynasty is everywhere and not just in politics. It is there in films, arts, sports, and business in India. It is natural that at least some children take up their parents' vocation/trade. The environment they are born into and brought up will surely have an impact on them, either way. We have Mukesh Ambani, Alia Bhatt and Phogat sisters as examples. In politics we have Dinesh Gundu Rao, Priyank Kharge,
Krishna Byregowda, Sachin Pilot, Jyotiraditya Scindia and Jayant Sinha are only a few names who are doing exceptionally well in public sphere. Sons, daughters, nieces or nephews, who it doesn't matter, are they committed, cut out for the job and then it is voters' job to give the final thumbs up,'' adds Pani. Pani's opinion closely resonates with what Nivedith Alva, son of former union minister Margaret Alva, had to say on dynasty politics, " I don't see why it should go against me.'' Nivedith who was an aspirant for Sirsi constituency of Uttara Kannada, shelved his election plans this time following his father Nirajan Alva's demise a fortnight ago.
Former CM Gunturao's son Dinesh Gundu Rao, who has an engineering background, had said: `You are automatically inclined to be in public service after growing up in a household like that.'' He is the KPCC vice-president and will contest from Gandhi Nagar constituency, Bangalore.
In short, family rule and the passing on of constituencies from father to son or from husband to wife is almost the norm in Karnataka. However, daughters are yet to emerge in the Karnataka's political arena. Anita Kumaraswamy, daughter in law of HD Deve Gowda is in active politics with the family party.