,

Thursday, 17 May 2018
Yeddy to be sworn in at 9 am / Cong petitions CJI in midnight drama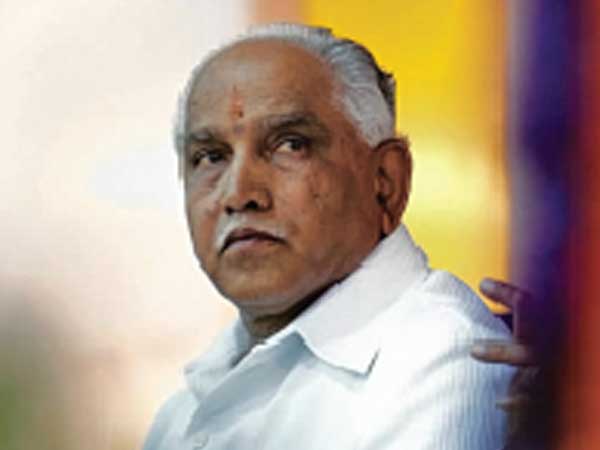 In a day marked by high drama, intrigue and suspense, charges and countercharges, Karnataka governor Vajubhai Vala asked BJP leader BS Yeddyurappa (Yeddy) to form the government and prove the majority within 15 days. The Raj Bhawan step to invite Yeddy to be sworn in as the chief minister at 9 am on Thursday drew angry reactions immediately from the Congress, which knocked the door of the chief justice of India.
"Since swearing in now announced for 9 am on 17/5/18, in a 9 pm invite by governor today to BSY to form Govt, urgency to seek listing in sc tonite is self validating. If sc registry accepts petrs request on basis of petn settled by me and filed tonite, I wl appear and argue tonite (sic)" tweeted Congress spokesperson and senior leader Abhishek Manu Singhvi.
Soon after meeting the governor, Yeddyurappa himself broke the news about his swearing in to the media and just after that the BJP also sent out tweets saying the same. Only around 9.30 pm BJP started floating a letter which it received from the governor.
Interestingly, so far, governor's office has not sent any official communication to the media or chief secretary's office. "It's very intriguing and things are done in so much stealth,'' said a senior political observer.
BJP spokesperson Basavaraj Bommai said, "Governor, as per constitution, also after consulting with at least three legal experts in the country has invited Yeddyurappa to form the government. We will negotiate with many MLAs who are unhappy with the current alliance.'' Prime minister Modi and BJP chief Amit Shah are unlikely to attend the swearing in ceremony, party sources said.
JD(S) leader HD Kumaraswamy, who has support from the Congress for chief ministership, accused the BJP of luring his MLAs with Rs 100 crore bait, while outgoing CM Siddaramaiah alleged that prime minister Narendra Modi was encouraging "horse-trading" to ensure the BJP returns to power in the state despite falling short of a majority.
So it is "wake" for Congress-JD(S) combo. Both the party strongly believe that the governor has gravely violated the law to BJP's advantage as he himself is a Sangh Parivar guy from Gurajat. "He was only dancing to the tune of BJP. It's only a repeat of what happened in Goa, Meghalaya and Manipur. Had governors in these states gone with the single largest party then, these three states would have been with Congress now,'' said a Congress leader.
Most governors are political installations and they are famous for ambiguity. The Supreme Court judgement on this no majority political situation is very clear: any pre-poll or post-poll formation with a required majority can form the government and not the single largest party. Karnataka governor's action amounts to contempt of court, he said.
Yeddyurappa is given 15 days to prove his majority on the floor of the house. The only way he can do this is by making at least 15 of MLAs abstain on the day of trust vote or make them resign. This is going to be a tough proposition for him.
Congress also launched a fusillade against the governor at a press conference in New Delhi, with Congress' chief spokesperson Randeep Surjewala dubbing him a "stooge" of the BJP and accusing him of "encountering" the Constitution at the behest of prime minister Modi and the BJP chief.
"The Karnataka governor is acting as a stooge of the BJP. He has shamed the office of the governor by inviting the BJP to form government and allow its leader B S Yeddyurappa to take oath as chief minister," he told reporters.
BJP, however, asserted that it would prove its majority in the assembly and dubbed the Congress-JDS post-election alliance "unholy and unacceptable."
BJP general secretary Muralidhar Rao Rao said the understanding between Congress and JD(S) was only "to keep the BJP off."
Kumaraswamy slammed Vala's invite to Yeddyurappa and accused the Modi government of misusing Constitutional institutions. "We will not let it go easily..." a furious Kumaraswamy told reporters shortly after the governor wrote to Yeddyurappa asking him to take oath. Kumaraswamy said the governor should have given three or four days time for Yeddyurappa to prove his majority. "He (Yeddyurappa) has no majority," he said.
Congress leaders are closely guarding their flocks together. Political observers of long standing said to effectively make 15 people abstain, one has to reach out to at least 30 to 40 people to find willing MLAs who are willing to run away from JDS or Congress. All these negotiation, money handling everything has to be done clandestinely as well..
Congress has 21 legislators from Hyderabad Karnataka, most of them followers of leaders like Mallikarjun Kharge. Mumbai Karnataka brought in 15 MLAs where MP Patil and Satish Jarkiholi are big leaders. The party has 13 MLAs in Bangalore and 22 from Congress heartland of Mysore. None of these are vulnerable. Again, JDS has 28 in old Mysore segment, some 10 are from rest of the state. A few may be vulnerable.
Yet another operation Kamal (poaching for some 15 people), without the help and involvement of big leaders -- Siddaramaiah, DK Shivakumar, Dinesh Gunturao, Mallikarjun Kharge, Satish Jarkiholi, G Parameshwar, MP Patil or Kumaraswamy himself, will not be possible for BJP.
Even if BJP is able to get some 15 MLAs to resign, their re-elecion is going to be tough especially when JD(S) and Congress are united now. In 2008, Yeddy has forced some 10 MLAs to resign and many of them lost in re-election. In addition to this, there will be an additional element of voter anger against such candidates.