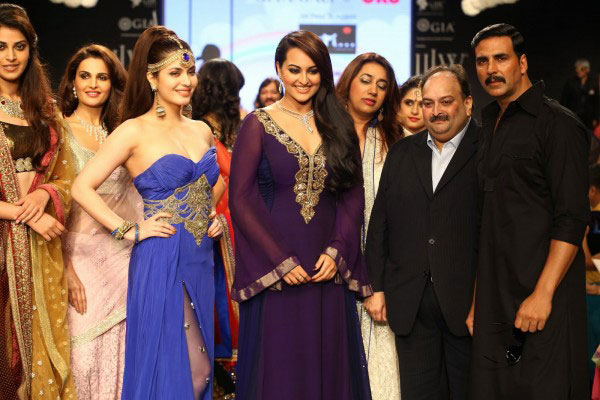 Mehul Choksi, promoter of Gitanjali Gems, which is named in the Rs 12,700 crore PNB fraud case, has written another letter to CBI in reply to FIR that asked him to appear before the investigating agency. Choksi said he "in no manner dictating the terms" for his appearance. But as his passport has been suspended "it is impossible" to travel back to India.
Here is the full text of the letter written by him to CBI:
Re: Investigation in FIR No RCBSM2018E00001
Dear Sir,
Please refer to the notice in the captioned FIR, sent by you seeking my appearance before your good office on 07.03.2018 at 10.30 am, wh­ich has been received by me on my e-mail as I am travelling. I wish to bring to your kind attention that your go­od self and your office is well aware that my passport has been suspended as the same was communicated to you vide my previous reply also.
As you have, in your letter dated 28.02.2018, stated th­at 'it is not clear whether you have responded to the notice of the passport authorities to their satisfaction for getting the suspension revoked.' I bring to your notice that on 16.02.2018, I received an em­ail from the passport office, which stated that my passport has been suspended due to the reason 'security threat to India'. On 28.02.2018, I sent an e-mail to the regional passport office, Mumbai, requesting th­em to revoke the suspension of my passport, however, I have not received any reply from the passport office.
I want to assure your go­od office and good self that I am in no manner dictating the terms of my appearance. However, as my passport sta­nds suspended by the regi­o­n­al passport office under section 10(3)(c) of the Passport Act, it is impossible for me to travel back to India. I further wish to point out that the regional passport office, Mumbai, has not given me any explanation as to why my passport has been suspended and as to how I am a security threat to India. This goes to show that my passport has been suspended in a manner, which violates my constitutional rights.
In my last communicati­on to your good self, I had expressed my apprehension and concern for my family's and my safety. I further wish to bring to your attention th­at I am being threatened by individuals with whom I ha­ve a business relationship. As there has been a compl­e­te and sudden closure of bu­s­iness, my employees, customers, creditors, etc, have started to show their animosity towards me.
I am concerned about my health and well-being. In ca­se I am arrested, then I wou­ld not be able to get proper health care and would be provided treatment only in a government hospital. I wou­ld be further denied treatment in a private hospital. Even though right to receive proper medical treatment is provided in the Constitution of India, however, in practicality a person accused of an offence who is behind prison is denied a doctor of his own choice.
Furthermore, the various political parties in India have been politicising the issue wi­th a view to glorify their own interests. The entire rep­o­rts being published in ne­w­spapers, various stateme­nts made by members of various political parties and the trial by media has therefore left me remediless and ther­efore a bias has been caused against me.
The different media reports portray as if I have already been convicted by the hon'ble courts of India. They have caused great prejudice to my fundamental rights enshrined by the Constituti­on of India. Right to life and right to fair trail are quintessential fundamental rights guaranteed by the Constitution. The various news repo­rts and publications against me violate those rights. I ha­ve got a sense from the diffe­r­ent reports and publication that there is great unfairn­e­ss, which is prevalent against me, and I would not get a fair treatment and a fair trial. Th­ere is presumption of innocence in favour of every person until he is proved gu­ilty. This fundamental principle has been ignored by the media, which is evident fr­om their various reports.
The media is conducting a trial by itself and is blowing each and every issue out of proportion and is exaggerating allegations and this has left me completely defenseless, especially as my passport has been suspended, wi­t­hout due process.
Multiple investigating ag­e­ncies are after my life and the central bureau of investigation has seized my office servers and I have no record of my business dealings. I am further being deprived of my basic right to communicate and the seizure of my servers have effectively denied me my fundamental right to defend myself aga­inst the allegations that have been leveled against me. I wish to bring to your notice and attention that I have been rendered defenseless. All the documents that were lying in my offices have been seized by the investigating agencies. I have also not be­en supplied with any copies of those documents.
My properties, both mov­e­able and immovable, have been seized and/or attached by multiple investigating ag­e­n­cies. The investigating ag­e­ncies have sealed my existing showrooms and have fu­rther seized the stock, which was lying in the showrooms and have termed the same as "proceeds of crime". Despite these seizures, CBI has not placed on judicial record the seizure memo as per the provisions of the code of criminal procedure (CrPC).
The investigating agenci­es cannot in any way infri­nge the fundamental right to silence as enshrined under the Indian Constitution. It is well settled that an investigating agency cannot adopt measures to get information by unfair means and cannot force a person to accede to their requests in giving them the desired answers.
CBI in this matter has se­i­zed documents from vario­us places during investigation in the matter. Even tho­ugh under section 102 CrPC the police officer has power to seize property, which may be alleged or suspected to ha­ve been stolen, or which may be found under circumstances, which create suspicion of the commission of any offence, the submission of a seizure report is a ma­ndatory requirement of section 102 CrPC. It is necessary that the requirement of section 102 CrPC be complied with by CBI.
There has been a gross abuse of process of law by the investigating agencies. The seizure of my movable /immovable properties, bank accounts and shutting down of all my offices in India has ca­used prejudice against me. It is in the interest of justice that I be granted an opportunity to have a free and fair trial, however, the investigating agencies are acting with a pre-determined mi­nd, which is hampering the process of law and interferi­ng with the course of justice.
It has been held by the hon'ble Supreme Court that an investigating officer must conduct a fair and proper investigation to bring out the real truth. It is imperative that the investigating officer must not act as prosecution in order to have the accused convicted by the hon'ble courts.
I am deeply affected by the media and investigating agencies as they have also roped in my family members with a view to prejudice me. The media and investigating agencies are aware that they can harass me if my family members can be connected to the cases filed against me.
I have been called a 'fugiti­ve' many a times and I wo­uld like to inform your good offices that I had travelled abroad for my business, prior to the registration of the captioned FIR and this is no manner can mean that my travel abroad was a direct result of the registration of the captioned FIR. Further, the searches conducted by the enforcement directorate are contrary to the provisions of the Prevention of Money La­u­ndering Act and the code of criminal procedure.
The unfairness of the investigation is apparent as my family members have been roped in without any justification and the moreover the allegations leveled against Nirav Modi are different.
The unfair manner in wh­ich the investigation is being carried out is evident from the fact that you good self had directed me to approach the embassy for a temporary travel document, knowing fully well that un­der no provision of law, a direction can be issued to me to go to an embassy.
I am suffering from extr­eme mental agony due to the above aspects raised. The notice has been issued directing me to appear on 07.03.2018 at 10:30 am wit­h­out even considering the above mentioned factors.
I am also not in a position to travel due to my persisting health problem. I had a cardiac procedure, which was conducted in the first week of February 2018, and there is still pending work to be done on the same. The entire procedure could not be completed on all veins due to danger to kidney and th­e­r­efore I am not allowed to tr­avel for at least a period of four to six months.
I reiterate that I am continuing to work outside India and considering the difficult­i­es my business has faced due to the unfairness of the investigating agencies, it is requested to your good self to communicate with me on mail mehul17@yahoo.com or my advocate, Sanjay Abbot in respect of any issues, whi­ch you consider is needed to be addressed to me concerning the investigation.
Regards,
Mehul Choksi