,

Tuesday, 19 June 2018
Independent corporate governance observers say board decisions too little, too late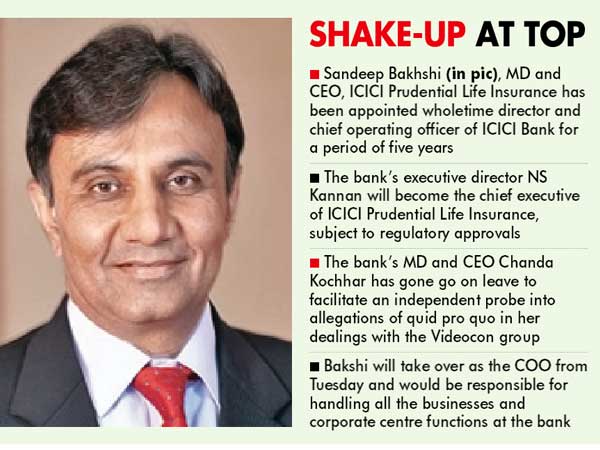 Facing multiple probes for alleged lapses in corporate governance, ICICI Bank on Monday effected a shake-up in its top deck. Bank's managing director and chief executive officer Chanda Kochhar, who faces serious charges of quid pro quo in her dealings with Videocon group, will go on leave till the completion of an independent enquiry announced last month.
The group's life insurance head Sandeep Bakhshi has been appointed a wholetime director and chief operating officer (COO) designate for a period of five years. ICICI bank executive director NS Kannan will become the chief executive of ICICI Prudential Life Insurance.
Bakhshi will take over as COO on Tuesday and would be responsible for handling all the businesses and corporate centre functions at the bank. All executive directors on the board and the executive management will report to him. Bakhshi would report to Kochhar, who will continue in her role as MD & CEO of ICICI Bank. During her period of leave, the COO will report to the board, the bank said in a statement after a board meeting.
Independent corporate governance observers were, however, not impressed by the board action which they said came a little too late.
"In line with the highest levels of governance and corporate standards, Ms. Chanda Kochhar has decided to go on leave till the completion of the enquiry as announced on May 30, 2018. The board has noted and accepted this. During her period of leave, the COO will report to the board," the bank statement said. JN Gupta, former executive director at Sebi, told FC: "The bank board has acted only because of the Sebi showcause notice. In March the board acted in haste and was quick to give a clean chit to Kochhar while it should have asked her to go on leave and conducted an independent probe which is doing only now."
Shriram Subramanian, founder and managing director at InGovern Research Services, said: "The board should have taken a decision and acted immediately when the reports of impropriety first emerged. It should have asked Chanda Kochhar to go on leave and conducted an enquiry. Now that the Sebi probe is on, the bank has acted. But even now the board is unclear as to what are the terms of reference and the timeframe of the independent investigation that would be done by Justice Srikrishna."
The bank has appointed Justice BN Srikrishna, a retired Supreme Court judge, to head an independent enquiry into allegations raised by a whistleblower against Kochhar.
The Securities and Exchange Board of India (Sebi) last month had issued a showcause notice to Kochhar for alleged violation of disclosure requirements under securities law in this case. According to Sebi, Kochhar didn't adhere to the code of conduct, which required the disclosure of any conflict of interest in the case involving Videocon Group and NuPower Renewables, a firm owned by her husband Deepak Kochhar.
A whistleblower has twice floated allegations against Kochhar for allegedly bestowing undue favours on Essar Group's Ruia brothers for 'round-tripping' investments into her husband Deepak Kochhar's NuPower Group. All parties named in the whistleblower's second letter to prime minister Narendra Modi have denied the allegations as baseless and malicious.
The private lender had given loans worth Rs 3,250 crore to Videocon whose chairman Venugopal Dhoot co-founded a separate company NuPower Renewables with Deepak Kochhar. There was some possible quid pro quo in the grant of loans, the 2016 letter by the whistleblower had alleged. The loans are now non-performing asset on the books of banks.
ICICI Bank had, however, backed its chief, calling the rumours "malicious and unfounded". On March 28, board had issued a statement that it didn't find anything wrong with the way Kochhar conducted herself.
The board had said that in 2012 a consortium of over 20 banks and financial institutions sanctioned facilities to the Videocon group (Videocon Industries. and 12 of its subsidiaries/associates as co-obligors) for a debt consolidation programme and for the group's oil and gas capital expenditure programme aggregating approximately Rs 40,000 crore.
ICICI Bank's current exposure to the Videocon group is part of this syndicated consortium arrangement and "it was not the lead bank for this consortium and the bank only sanctioned its share of facilities aggregating approximately Rs 3,250 crore which was less than 10 per cent of the total consortium facility in April 2012."
The COO's profile: Bakhshi has been MD & CEO of ICICI Prudential Life Insurance Company since August 1, 2010. Prior to this role, Bakhshi was the deputy managing director of ICICI Bank. In this role, he headed the retail and subsequently the wholesale business. Before moving to the bank, Bakhshi was the MD & CEO of ICICI Lombard General Insurance. Under his leadership, ICICI Lombard grew to be a leading private general insurance company in the country. He also has extensive experience of leading both corporate and retail businesses across ICICI Group. He started his career with ICICI in 1986.