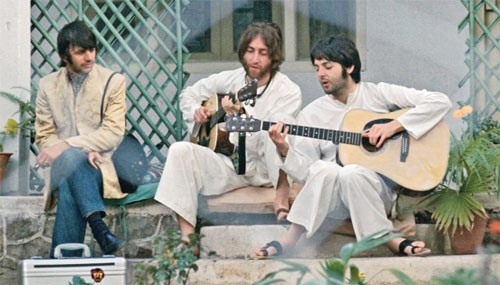 In rumpled white kurtas and pyjamas, John Lennon and Paul McCartney strum their guitars on the steps of a verandah. Ringo Starr, a bit out of place in a long coat, looks on. With marigold garlands around their necks, Starr and McCartney — this time with George Harrison — sit cross-legged on a dais, in front of yoga guru Mahesh Yogi, and with a host of others.
The stills, among the many photographs that capture the seven weeks the Fab Four spent in the yogi's ashram near the Ganges, will be on display in Liverpool, UK, from next month to mark 50 years of The Beatles in India, an event that will also be celebrated by the ashram, organisers said. One of the sitars of composer-instrumentalist Ravi Shankar, who famously introduced The Beatles to Hindustani classical music, will also be on display at Liverpool. The two-year exhibition will be part of a permanent museum called The Beatles Story in the hometown of the four.
In February 1968, The Beatles — John Lennon, George Harrison, Ringo Starr and Paul McCartney — travelled to Rishikesh to learn transcendental meditation at the Chaurasi Kutia Ashram of Mahesh Yogi. They wrote around 48 songs during their seven-week stay at the centre, now known as the Beatles Ashram. Among them were Ob-la-di, Ob-la-da, Back In The USSR and While My Guitar Gently Weeps. The exhibition — Beatles in India — is scheduled to open to the public in the museum dedicated to the band in Liverpool on February 16, 50 years to the day that Lennon, with wife Cynthia, and Harrison, with wife Pattie Boyd, arrived in India. The ashram, which comes under the Rajaji Tiger Reserve (RTR), is also planning to mark the occasion with an exhibition of rare photographs and documents.
— Mona Parthsarathi/PTI