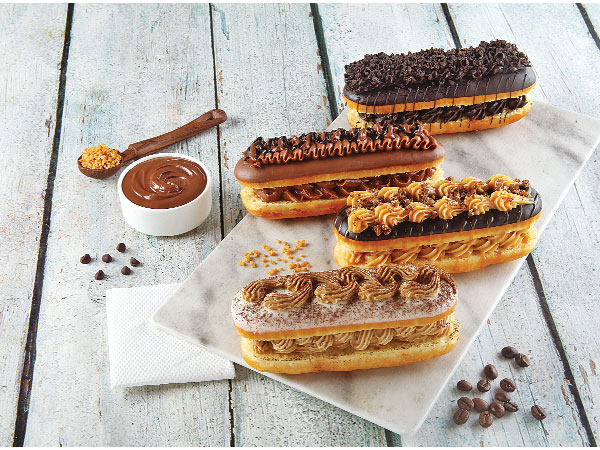 Singapore-based Mad Over Donuts (MOD), which started off as a tiny donut brand in Singapore and subsequently over the last one decade emerged as a leading QSR chain offering a wide range of gourmet desserts, is now rolling out a new line of Eclairs from its stable.
The expert chefs at Mad Over Donuts have retained the original charm of the French éclairs and given them their own twist, using popular ingredients in the most charming combinations. Éclairs, originating in France, are actually delicious pastries made with dough, filled with cream and topped with icing, which subsequently travelled across the world and took on many avatars over the years.
The MOD brand was created in Singapore as well as all the R&D that went into the product. The team has over 100 years of bakery experience which helped MOD perfect the recipe for its donuts.
MOD éclairs would come in tantalising flavours of Dark Chocolate (in a variety of dark chocolate filling, dipping, drizzles, and curls) Coffee (in an array of fillings and toppings like white chocolate, cocoa powder, milk chocolate ganache and coffee custard), Nutella(pick from chocolate spread, hazelnut custard, milk chocolate, dark chocolate and more) and Salted Caramel Custard (that come in stunning variants such as butterscotch, vanilla cupcake crumbs, sea salt and dark chocolate), top company officials said. Mad Over Donuts happens to be India's first dedicated chain serving piping fresh donuts, and also the first Indian QSR brand to bring to India its special range of waffles.
"At Mad Over Donuts, we are devoted to our mission of introducing the best in the world of gourmet desserts to our patrons. After donuts, our bestselling waffles have become household commodities. With this launch, we hope to make éclairs as popular as waffles and donuts have become in the past few years. A lot of work has into research, creation and distribution of this range to ensure it reaches every gourmand. We are confident that with so many varieties and our unmatched quality, our éclairs too will find immense popularity with our fans and soon become popular gifts that commemorate special occasions. We bring a slice of world-class gourmet dessert to India's doorsteps, and we couldn't have been more thrilled," said Tarak Bhattacharya, COO, Mad Over Donuts.
MOD, at present, has over 60 outlets across Mumbai, Pune, Delhi and Bangalore. And Mad Over Donuts' handcrafted eclairs range will be in stores across all its outlets in India. They will be available for in-store purchases as well as on take-away and deliveries. Interestingly, the home delivery service accounts for nearly 11 per cent of MOD's total orders and according to company top officials home delivery is expected to become as much as 20 per cent over the next few months.
Bhattacharya said that Mad Over Donuts has always broken new ground with its pioneering offerings. After being the first Indian QSR to launch a dedicated line of donuts in 2008, it introduced 'Bites' in 2012, followed by 'Cakelings' in 2013, a Beverage range in 2014 and 'Kookies' in 2015.
In February 2017, Mad Over Donuts became the India's first QSR to launch its own line of waffles. Now with éclairs, it pushes the envelope further.
Éclairs are popular the world over as a preferred dessert, since they offer a variety of fillings and toppings so there's enough choice for everyone. Making the perfect éclair is like a piece of art, which has been perfected in the Mad Over Donuts' kitchen by its team of expert chefs.
ritwikmukherjee@mydigitalfc.com