Even as Canadian Prime Minister Justin Trudeau's visit to India was a media disaster, Canada and India remain keen to build bilateral ties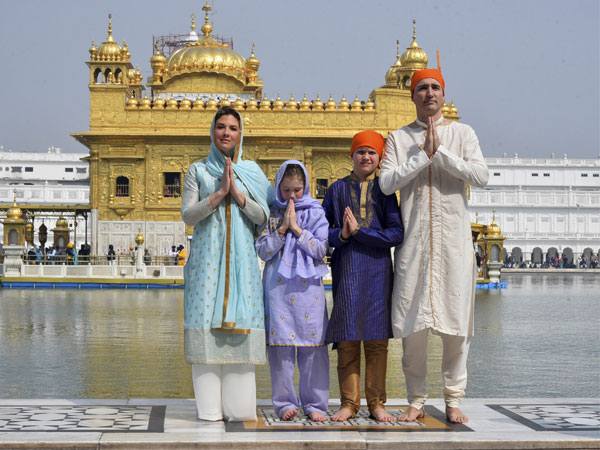 Canadian Prime Minister Justin Trudeau's much-delayed visit to India started on an off note. But it was the Canadian media that set the initial tone for Trudeau's visit to India by interpreting his reception at the Indira Gandhi International airport by a minister of state as a snub. The Canadian media compared Prime Minister Narendra Modi receiving other foreign dignitaries such as US President Barack Obama, Japanese Prime Minister Shinzo Abe, Crown Prince of Abu Dhabi, Sheikh Mohammed bin Zayed and most recently, Israeli Prime Minister Benjamin Netanyahu with warm hugs at the airport with Trudeau's reception. Neither was there the customary Modi tweet to welcome the visitor.
While Trudeau's welcome was in line with Indian protocol, the media interpretation brought out the underlying unease in the bilateral relationship since the Trudeau government took office.
India-Canada ties had been on an upward swing in the past decade, slowly growing out of the two-decade old strains arising from India's nuclear tests and Canadian handling of the Khalistan issue, especially the bombing of AI 182 aircraft that killed 280 persons, mainly of Indian origin. Former Canadian Prime Minister Stephen Harper made two trips to India in 2009 and 2012, Dr Manmohan Singh had visited in 2010 and Modi had a successful visit in 2015. In 2010, India and Canada signed a civilian nuclear cooperation agreement, which opened the way for Canada's exports of uranium to India.
Canada has 1.2 million strong Indian diaspora, of which 40 per cent are Sikhs. Unlike the rest of the Indian community that are spread across the country, Sikhs are concentrated in a few districts giving them greater political significance. Indians in Canada generally support the ruling Liberal Party, but Trudeau actively wooed the Sikh community and appointed four Sikh ministers in his Cabinet.
Indian strategists contend that Trudeau's soft approach has emboldened Sikh radicals in Canada. The Canadian government has pointed to the freedom of expression in the country. In 2017, a private member's bill was passed in the Ontario Assembly describing the 1984 massacre of Sikhs as "genocide". In one of his visits to gurudwaras, Trudeau was photographed with some radical Sikh leaders.
The Canadian government had riled Capt Amrinder Singh by advising him not to visit Canada before the Punjab elections as Canadian regulations did not allow foreign politicians to undertake political activities in Canada.
The Canadian action was the result of complaint by a Sikh organisation, tho-ugh Punjab politicians have often visited Canada. Singh refused to meet Canadian Defence Minister Harjit Singh Sajjan when he visited India last year. Sajjan's parents are prominent members of the Sikh World Organisation, which is linked to Sikh radical elements.
Last year Trudeau attended a Khalsa Day parade where Khalistan flags and posters of Sikh militant leaders were prominently displayed. Late last year, a group of 16 gurdwaras banned Indian diplomats from entering gurudwaras, spurred on by a radical activist group, Sikhs for Justice. The reason given was the Indian government's interference in the community. The ban spread to other gurdwaras till other sections of the community protested.
The Canadian media also questioned the length of the eight-day visit, where Trudeau was accompanied by his family and the fact that his official meetings in Delhi were to take place only on the last day of the tour. But midway through the visit came the news that a Canadian businessman of Indian origin convicted for attempted murder of a visiting Akali Dal leader in Vancouver was part of the official delegation.
Trudeau and Modi have met three times before the bilateral meeting in Delhi. The issue of the pro-Khalistani groups and their attempts to stoke trouble in Punjab has been taken up with the Canadian government at various levels on different occasions. The Canadians were doubtful about a meeting between Trudeau and Capt Amarinder Singh. But the strong connections between Punjab and the Punjabi diaspora in Canada ensured that the Punjab chief minister welcomed the Canadian leader.
While trade between India and Canada is just about US $8 billion, there is greater affinity on the public level. The Indian community, which has grown in influence in Canada with 19 members of Parliament, strongly supports better ties with India. Canada is a favoured destination for Indian students; there were 1.24 lakh Indians students in Canada last year. Indians students constitute the second highest group of foreign students at Canadian educational institutions. India is also the second largest source of immigrants to Canada; over 40,000 Indian emigrants in 2016. India is a major source of tourists for Canada with 2.15 lakh Indian visitors.
While Trudeau's visit to India was a media disaster due to a lack of sensitivity to Indian concerns, but Canada and India remain keen to build the bilateral ties to the strategic partnership that was once envisioned.