,

Saturday, 24 February 2018
Mini Tejaswi writes about the fascinating, sometimes depressing, story of the IT capital's decline from a pensioner's paradise to an urban nightmare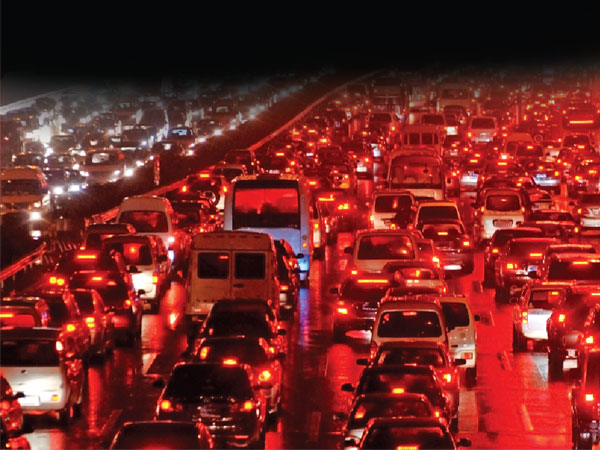 Nadaprabhu Hiriya Kempegowda, the feudatory ruler under the Vijayanagara Empire would have never imagined Bendakaluru – a literal translation would mean the town of boiled beans – would grow at such a mad pace and transform into a bustling, global, high-tech city, spread over 710 square km and a population of 12.4 million.
A lot of people believed in Bangalore and its ambitious drive to claim a place on the global stage. They flocked to the city, to join that dream. In numbers, this is what it meant. About 10 years ago, Bangalore had only 32 lakh vehicles and now it has 72 lakh vehicles, including two-wheelers – second only to the National Capital Territory of Delhi. Its population today stands at over 1.2 crore, and it is expected that sometime in the not-too-distant future, this figure could match up to the much larger metropolises of Delhi and Mumbai.
There is a similarity with the two other cities – traffic jams. Bangalore residents, who once took pride in walking to work, are learning to live with roads choked with vehicles. This has been accompanied by signs of stress. The city's traffic department is hugely short staffed, there are 1,800 vacancies. Besides, city roads are not growing in step with the rampant growth in vehicular population.
Brutal changes
Professor Ramachandra of the Indian Institute of Science, Bangalore, says that during the 70s, the city had a 69 per cent green cover and only 7 per cent built-up area, comprising buildings and roads. In 2017, these figures almost reversed, at 78.5 per cent built up area and 6.7 per cent green cover. Bangalore reported an 88 per cent loss in green cover. About 79 per cent of its water bodies are dead. "By 2020, 94 per cent of the landscape will be concrete and by 2025 the city will be fully saturated with no green cover left. The city used to have 14,78,000 trees and now it has only 95,000 trees," laments Professor Ramachandra.
Says V Ravichandar of Feedback Consulting, "Bangalore's has been a lopsided, imbalanced, unplanned, unstructured and also unprecedented growth. This rapid growth put huge pressure on all its resources, utilities, services and infrastructure. The mass migration and urbanisation exposed the city to constant traffic snarls, lake pollution, sanitary issues, health issues, garbage menace and a poor water and air scenario. The city is struggling to manage its water and sewage systems."
The stretch on the resources has been a recent phenomenon. Bangalore has had a long and distinguished history of being a city people want to retire to. The four pillars the founder Kempegowda established in 1537 to mark the boundaries of the city still make immense sense. People in the northern and western parts would come to Sampige Road in Malleswaram for their regular purchases and those in the southern parts would go to Gandhi Bazaar. For bulk purchases, City Market was the common destination. The 'easterners' had their own Russell Market and small commercial areas around Frazer town to shop.
Traditionally, all support including goods and services, came to the city from outside, mostly Madras or Bombay. Land was cheap and available aplenty. Several public sector units like HAL, HMT, ITI, BEL, BEML and BHEL came up here back to back. Those outfits generated jobs and built colonies around the workplaces for their employees to stay.
So the walk-to-work culture was so prevalent in Bangalore City that transport was not a messy affair. Buses largely met the demand. Those owned by the large PSUs to transport their employees were a ubiquitous feature of the city. People travelling in the humble BTS, now BMTC buses, would look up at those travelling in these swank buses in awe. There was a sense of pride in working for the giant PSUs.
KN Raju, an octogenarian, also a former aircraft engineer with HAL who stays in old Bangalore's Basavanagudi remembers, "In January 1940, the Mysore government created Bangalore Transport Company (BTC) that operated limited routes between Gandhi Bazaar, KR Market, Malleswarara Majestic and Shivaji Nagar. A ride cost one anna, 1/16 of a rupee."
Bangalore Jadka Company would ply to key locations including KR Market, Majestic and Shivaji Nagar, with four people in a cart. Water came from the Arkavathy River and not from the Cauvery those days. All the soil excavated out of the Vidhana Soudha construction site went into making Kanteerava Stadium, Rajaram Mohanroy Road and Kasturba Road.
The British left behind a huge tree cover. Trees were everywhere in an eight-mile radius. With the entry of the public sector units like HAL, HMT and ITI, most trees were cut to create space for offices and staff colonies. But that was only in a part of the city. Large gardens and a pleasant climate added to the charm of Bangalore. Denizens were mostly calm and content, a peace-loving populace.
Romancing the city
The couple Pradeep and Kalpana Kar started their romance with the city sometime in the late 80s. Those were the days when it had tiny houses for rent with walls painted with boarders and made to look like Kanjeevaram sarees or Mysore crapes in purples with orange boarder or greens with yellow boarders.
"I remember seeing many such houses while scouting for a house on rent," recalls Kalpana, who is a waste management activist. The Bangalore they saw was quaint, quiet and truly a pensioner's paradise. They instantly fell in love with it. It had everything, including an entrepreneurial spirit, to win the hearts of a young couple relocating to India, from Silicon Valley, and starting a life.
"We lived on Museum Road and walked everywhere to MG Road, Infantry Road, Residency Road and Brigade Road. It took 15 minutes to reach Malleswaram from Museum Road. When we bought our home in Koramangala, friends used to commiserate with us, asking why we stayed so far. They would advise us to take water and food when we went to supervise the work. 'You never know,' they would say."
Slow circular economy, special unique stores for pickles, papads and pudies (powders), old jewellery. The Only Place for steaks, Brahmins Cafe for filter coffee and idlis and MTR for thindies (south Indian food). Romantic weather. Everyone wearing monkey caps during morning walks, and Kars had their pet, a Rough Collie, those days.
The above expressions are indeed unfit for Bangalore today, as it morphed into something that its older residents feel is beyond recognition. Still, Namma Bangalore is the Karma Bhoomi for the Kars. Pradeep Kar, who worked for Wipro and Sonata Software and founded Microland and PlanetAsia, became the poster boy of Indian IT during the 90s, much before Wipro and Infosys could make any significant dent in the Indian IT space.
"I get lost in the city. Its skyline and landscapes keep changing so often, more like a highly versatile painter or dramatist changing frames or scenes quickly. The old pub and park culture is lost, though the city has more pubs and lounge bars. The supersonic growth of the city shocked city planners, administrators and residents alike," says Deepak Kambam, a resident.
The economic liberalisation of 1991 changed the flavour and ambience of the city. Large IT companies were naturally drawn towards it. An abundance of talent and a scientific temperament also made Bangalore a natural choice for niche industries for setting up their R&D centres. Suddenly, the city was home to people from all over the country. Its population grew at an explosive rate and could soon be as populous as the national capital, commercialisation was rampant, and real estate prices sky-rocketed. Kempagowda's town started assuming a cosmopolitan character.
IT, BPO growth
Clusters of IT and BPO workspaces came up in the outskirts from mid-1990 onwards. Since then Bangalore has been growing on its peripheries and traffic congestion increased manifold. The walk-to-work culture died a natural death as over a million people needed to criss-cross the city to work in the outskirts and return home.
The highest decadal growth of city population happened between 1981 and 1991, a 76 per cent jump from an earlier base of 29 lakh people. Between 2001 and 2011 census, Bangalore grew 48 per cent, the highest in the world for cities of this size.
Ravichandar of Feedback Consulting says, a decade ago, for every increase of 10 people in urban Karnataka, Bangalore attracted only two or three people. However, in the last 10 years, Bangalore took six out of 10 migrants to urban Karnataka.
According to Zipf's 'Law of Cities', the most populous city of a country or state should have approximately twice the population of its second biggest city, and three times population of its third biggest city and four or five times the population of its fourth or fifth biggest cities. By and large, most primary, secondary and tertiary cities the world over have growing in keeping with this law. However, the dramatic growth of Bangalore has been in complete violation of this common law. While it has a population of 1.25 crore, the state's second biggest city, Mysore, also the logical extension of Bangalore 140 km away, has a population of 1 million.
Mad Bangalore traffic
Additional Commissioner of Police (Traffic), Bangalore City R. Hithendra, says there should be stringent rules against fuel guzzlers and vehicles older than 15 years. Each household can contribute a lot by responsibly deciding not to have multiple cars at home. The traffic department do not have enough technology for traffic signals and traffic management and this has caused additional bottlenecks.
"Drivers lack road discipline. Driving schools here mostly focus on procuring driving licenses and do not teach their students safe and responsible driving and road discipline and traffic awareness. Most people drive as if they don't value their own lives. As a result, 700 people die on road every year in the city and over 5,000 people get injured."
The Bangalore Metropolitan Transport Corporation (BMTC) that has the largest fleet, of around 7,000 buses, in the country and operates on 2,000 routes conducting over 70,000 trips a day. More than half of the city population takes bus ride every day. To reduce vehicular emission, noise pollution and fuel consumption, the corporation is going for electric, battery-operated buses. To start with the city will have 40 such buses and later ramp it up to 150 electric buses.
BMTC managing director V Ponnuraj says, "The corporation is committed to offer happy and safe commuting to city dwellers. A redressal unit is being up set up that will make it easier for commuters to file complaints and we will take necessary action on the feed from passengers. Commuter feedback, reviews and suggestions, will help corporation to enhance its functioning further,'' adds Ponnuraj.
With an eye to drawing new and young commuters, BMTC will commence a pickup service from passengers' doorsteps. For this, the transport company will tie up start-ups that offer app-based bike, cycle and autorickshaw services.
"Our buses cannot enter narrow streets. Many people, particularly techies don't want to spend time walking to bus stops. We want to ease their commuting by giving them a ride from their homes to the bus points."
How did Bangalore get here?
Earlier governments left the city management and planning in the hands of BATF (Bangalore Agenda Task Force) a collaboration of citizens, corporate and administrative agencies. This was a mistake as this body did not have anyone with knowledge of city management. This led the city to a huge crisis.
The city lost its original character in this transition. The migration also brought in elements of conflicts involving students and workers from African countries, Iran, India's North Eastern states.
Ravi says, "We don't seem to have a gameplan yet. The city will become unliveable and will make people move out and that will be the natural leveller."
Dr Narendra Pani of the National Institute of Advanced Studies says planning of the city should not be independent of the internal metabolism of the city. You can't force growth and development. The government should encourage areas that are showing tendency of growth, instead of pushing random areas for growth. Setting up an international airport (BIAL) in the north of Bangalore when the south was growing rapidly is a classic example of this."
According to Dr Pani, the city has to take the following corrective measures with immediate effect: Learn from the 70s and reduce distance between work and home, by changing either work or home, this will improve physical and mental health of residents; make city resource sensitive by reusing waste materials in some form or the other and run all institutions, that work only during day time, on solar power to cut power bills.
A tough job
Unchecked migration is a huge issue in Bangalore. Urbanisation is good, but it has become counter- productive for this city, says K Jairaj, former chief secretary. He should know for he was at the helm of almost every civic entity in the city, as chairman of Energy Department, managing director of BESCOM, Bangalore International Airport Ltd, Karnataka Power Corporation Ltd, Karnataka State Road Transport Corporation, besides being commissioner of Bangalore City Corporation (BBMP) for two terms.
"I know how complex it is to make a city work. It is not easy, especially when most people are not willing to participate, and most civic outfits come with no enforcement or implementation powers, they are not able to executive bylaws or road margins," says Jairaj.
The former city commissioner, who has closely seen the city's transformation from a small, beautiful, green and cool town into a huge, bustling, metropolis, in the last 55 years, agrees the change has happened for good and bad.
"The city's slum population, currently around 30 per cent, has not come down and this not a healthy sign," he points out. Urbanisation and mass migration have altered the sociology of the city drastically. Several Bangalores exist within Bangalore. The disconnect between old Bangalore and new Bangalore is too stark to go unnoticed. There is this young working component similar to that of the West or Singapore. Then there is a huge under belly of the city, which lives under basic sustenance levels and in the middle is the old Bangalore. Also, there are those who live a rarefied existence in their high income, gated communities that are autonomous, self-contained and they seem to be functioning quite well. The contrast is so huge that it is menacing.
Magnet for migrants
Rejeet Mathews, an urban planner with World Resources Institute, says migration has been a courageous expression of an individual's will to overcome adversity and to live a better life. Out of Bangalore's population of 57 lakh, as per Census 2001, 7 per cent of the migrant population was from within Karnataka, 6 per cent from other states and 0.1 pre cent from other countries.
The city ranked as the third-highest in the country for inward migration after Delhi and Mumbai. Census 2011 indicated that a total of about 1.1 crore people moved to an urban area in Karnataka with 37 per cent moving in from a rural area, and 52 per cent moving in from an urban area into various classes of towns, with Bangalore taking the lion's share. Over 40 per cent of the state's urban population now stays in Bangalore which witnessed 42 per cent growth in population during the decade of 2001-2011.
Bangalore has always been the undisputed leader in the urban hierarchy of the state. In 1901, the city had over 15,000 people. The figure had crossed 1 million people by the 1960s. Hubli Dharwad and Mysore, which are the second and third largest cities in the state, are only now crossing the 1 million population.
Satellite imagery analysis indicates that the built-up area of Bangalore – comprising the area within the Bangalore Development Authority limits -- more than tripled between 1990 and 2015. The built-up area within the BDA increased from 154 square km in 1990 to 558 square km in 2015. Fast growing peripheries of the city which accommodate newer jobs, including IT and ITES, and newer residential developments are often unplanned and un-serviced resulting in fragmented and poorly accessed developments.
Pressing water issues
There are attendant problems leading from a rise in population. A recent IISc research by a five-member team led by scientist TV Ramachandra said Bangalore's water crisis was a result of mismanagement of resources by policymakers. The study stated that Bangalore gets enough rainfall to quench its thirst, but the problem was with harvesting the rainwater.
"These are consequences of unplanned urbanisation and corruption of bureaucracy. In the process of making maximum gains, they have forgotten everything including the management of the landscape, water tables, tree cover and health of city lakes," says Professor Ramachandra
He says about 98 per cent of city lakes are encroached or contaminated with drainage and waste. Whatever little remaining ground water remains, has high nitrate and heavy metals and it is carcinogenic. Fish in these lakes and vegetables and greens cultivated in their surroundings are laced with heavy metals and toxins," he says.
Says artist CF John, "When water lines are dried up in bangalore, the roads have become the new rivers. In spite of all odds due to crowding populations and dense concrete structures, Bangalore has something enigmatically beautiful about herself. A place of ease and comfort for each finding a niche. Everyone has something to pick, light hearted, relaxed or serious, intellectual, seeker or somberi (lazy), interventionist, protester or entertainer, conformist, reformist or prophet, all find their place and space."
Health quotient of healthcare hub
Dr Sudarshan Ballal (in pic above), chairman, Manipal Hospitals says, Bangalore has lost its physical and mental health to development and urbanisation. During the 70s and 80s, people from all over used to come to Bangalore to relax and get rejuvenated. Today, living here can get you sick. Sadly, what the city has seen is a 360 degree turn. Incidents of communicable and water-borne diseases like Chikungunya, Dengue, H1N1 etc are on the rise. Lung diseases too are high due to traffic smoke and smog. Non communicable and lifestyle diseases like diabetic, hypertension and stress are on steady rise too. Commuting to work and back is a huge stress point for large number of people here and that lead to a wide range of lifestyle diseases.
"But the silver lining is that Bangalore today is a hub for quality healthcare for all kinds of ailments. It attracts patients from around the country and round the globe. Again, these are only islands of excellences as large chunk of population here can't afford healthcare," he observes.
When I came to Bangalore, way back in 1970, it was truly a pensioner's paradise and a garden city. The population was just around 20 lakh. I remember cycling from Malleswaram to Basavanagudi with ease, even overtaking the route number 11 trailer buses of those times. We lived in a quiet city where everyone greeted and helped one another. The camaraderie among the citizens was there for all to see and people would accommodate you even if you did not say "swalpa adjust maadi"," says KS Narahari, a corporate communications professional.
Architect Professor Jaisim Krishna Rao of Jaisim Fountainhead points to the typical spirit of Bangalore, one that holds out hope for the future. "Let us leave this negative scenario and shift to the positive dreams. And the more I interact with the youth something magnetic happens. There is vibrancy that evokes one not just to ponder but a smile of awareness rises. And a transformation becomes evident. In a decade or two the challenge of change will overcome and not just solutions but in-depth answers will prevail. A new awakening has already happened. May be late, but the Metro is in. The ring road is on, and there seems no limits to the discovery of innovative water resources and power through various alternatives."