,

Thursday, 4 January 2018
A look at the technology worth looking into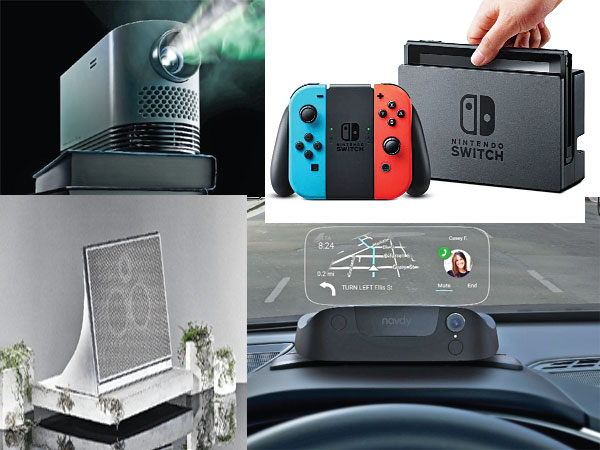 We look back on 2017 as the year we lost our faith in the belief that technology can "do no harm?" Whether it was the reports of toxic workplace culture found in Silicon Valley darlings, much-hyped products that failed, the risks of artificial intelligence, or the omnipresent conundrum of fake news, the tide seems to be turning against the digital apologists.

Bluetooth sound can look good
It's no secret that for less than a hundred dollars, you can get a perfectly decent-looking, decent-sounding Bluetooth speaker. This year, New York-based startup Master & Dynamic threw down the gauntlet with its release of the MA770, designed by architect David Ajaye. Created with custom-made concrete, this speaker weighs 35 pounds and makes a strong impression, even with the sound off. But striking as the form is, function comes first. The sound is rich and fills the room, making it the rare work of stereo architecture that's as impressive in the dark as it is in daylight.
$1,800; masterdynamic.com

Keeping your eyes on the road just got much easier
Eyes on the road. It's the first rule you learn about driving, and the first rule you break. Not just because of your phone, but also your radio, GPS, even speedometer. Heads-up displays aim to feed you the streams of information you need, transparently, at eye-level. But many cars—luxury and otherwise—don't offer this technology. That's where the Navdy comes in. This easily installed device sits on the dashboard, feeding you everything you need to know in a slick, well-designed interface that appears to hover over the hood of your car. Who knew safety could look so cool?
$499; navdy.com
You don't need a Ph.D. in coffee to make good espresso
The look of the Mina, from Italy's Dalla Corte, is pure class, all chrome piping and analog dials. But the old world design and construction are fused with such high-tech features as a proportional integral derivative (PID)-controlled boiler and an app interface that gives the user unprecedented control. Crowning the machine is an industrial-style lever for manually controlling water flow—providing the espresso-making equivalent of the mechanical satisfaction of driving a stick shift. It's also available in 11 colours. From $10,000; dallacorte.com
Portable gaming can have console-level quality
The company that invented the Game Boy has upped its on-the-go trademark with the Nintendo Switch. Sure, it doesn't have robust online features such as those found in Assassin's Creed or Call of Duty, but that's also kind of the point: The pared-back approach pays immediate dividends for its bestselling franchises, such as Mario and Zelda. The two games have gotten significant upgrades—and new storylines—that will appeal to longtime fans while drawing in younger ones who aren't ready for the intensive environment of Xbox or Playstation but have outgrown Temple Run and Candy Crush.
$299; nintendo.com/switch
A tiny stove can revolutionize your next outdoor adventure
A well-cooked campsite meal is not just a reward at the end of a day of strenuous activity; it's also fuel for the next. The BioLite CampStove 2 lets campers use small stick and twigs to quickly create blazing-hot fires, and it can bring a liter of water to boil in less than five minutes, thanks to an attached fan that controls air flow, allowing for complete, smoke-free combustion. As a byproduct of your cooking heat, the CampStove 2 generates and stores electricity, which, via an onboard USB port, can charge a phone or power reading lights.
$130; bioliteenergy.com
LG Laser Smart Home Theater Projecto
Big things do come in small packages. In this case, a bright, vivid, high-definition (HD) image, up to 140 inches diagonally, from a projector the size of a loaf of Wonder Bread. The best part? The LG Laser Smart Home Theater Projector doesn't sacrifice features in the name of portability. The WebOS interface is easy to navigate among online media and it sources like a laptop or phone. The Flexible Keystone Alignment feature ensures a properly squared image, whatever the projection angle.
$1,500; lg.com
There's a way to keep your watch safe—and wound—when it's not on your wrist
While it's not unheard-of for watch aficionados to wear more than one timepiece at a time, odds are you don't. For keeping the watches that are left home safe and wound, the Rapport Watch Winder is a brass-studded, black leather-trimmed trunk with two drawers lined in suede and brass corner reinforcement. Included with it are a pair of Rappaport's Evolution range watch-winding cubes—each fitting snugly in its own port—available in nine colors of lacquered wood.
$4,750; rapportlondon.com