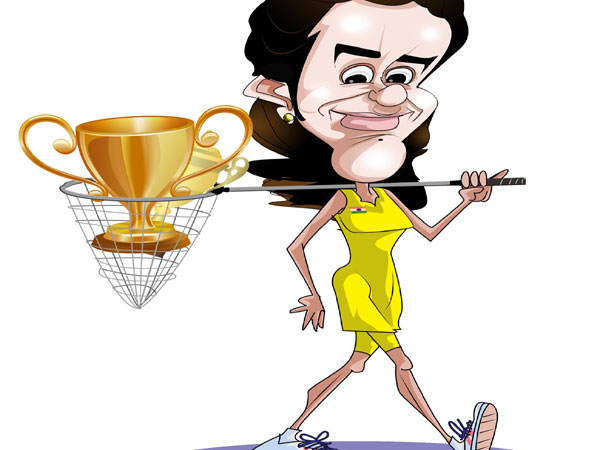 As 2017 takes a bow, PV Sindhu stands tall, towering above others, playing a game that isn't cricket, winning 44 of the 57 played, basking unapologetically in the spotlight that pretty much never left her trail ever since she got that Olympic silver. Not that Sindhu is complaining. With the same kind of fervour that she shows in the court she embraces her fame, telling the world without mincing words, in India Badminton is spelt "Sin-dhu."
There is no diffidence about who she is and where she belongs. She has announced that she wants to see herself as world number one in the coming season, up from her current number three ranking. Clearly, fake humility is not for her.
The game changer
The Olympics silver might have triggered the passions of the nation, but in many ways it is that "epic" World Championship finals in August 2017 – the one that saw Sindhu and Nozumi Okuhara dashing that extra mile and thus uplifting the game to a whole new level – which showed us that Sindhu, with or without gold, is bigger than big time. The kind of stuff that inspires poetry in sports writers – and have them throw in phrases like "the wingspan of the wandering albatross" – and pure joy in spectators. Just as she knows, we the spectators and fans know too: Sindhu will do what it takes – slay whatever demons – to win those elusive golds.
Prem Panicker, in his seminal piece on the World Championship finals, the one in which he compared her to the albatross, puts it best. "In Rio, she was a talent, a 'player of potential' looking for validation, for affirmation, and the silver she earned was a sign to herself that she had arrived. In the twelve months since, she has worked relentlessly and become, in her own mind, champion-material. Silver will no longer make her smile because she believes now that she can be the best, that she can beat the best, that gold is the only metal worth her while. That kind of drive can produce the occasional stumble. In his book The Meaning of Sport, Simon Barnes rubbishes the notion that victory is about who wants it more. 'Competition is about who wants it less,' Barnes wrote, 'the one who can take the competition in her stride, the one with the relaxed muscles and uncluttered mind.' 12 months since Rio, it was Sindhu who wanted it just that little bit more in Glasgow. It is not a fault so much as an indication of how far she has come in her own estimation; for her the highest honours are no longer a dream but a logical outcome of the intense effort she is putting into her game. Her time will come. And during that journey to the inevitable, she will likely script more epics – with Marin, with the elegant Tai Tzu-ying, with Okuhara herself."
Miss congeniality
Much is also being said about the gregarious nature of Sindhu, and how it has put an end to the silent awe with which the players from the Far East were being treated by the Indians. They are no longer the demigods to be worshipped in the altar of badminton, but fellow players who can be defeated if one puts in the required effort. "Chinese like Wang Yihan are my friends… Even Shixian Wang speaks to me. It's good to be friendly with everybody… My first World Championships bronze medal, I won against the Chinese. It was the starting stage for me, so I felt really happy. But it's like beating any other player. It's not like the Chinese are special or something… With the Chinese, my head-to-head is good, equal or one step higher. But I feel it's just the winning mindset basically," the pragmatic Sindhu had observed in an interview once.
Saina Nehwal, the one who actually lifted badminton out of obscurity in India, literally had to labour her way through her successes and somehow she seem to have let the weight of it all sit on her shoulder. But Sindhu, who started off with a defensive game, soon turned "an alpha presence dominating space till she fills her half of the court to overflowing." Not only she seems to walk away from heart crunching losses, taking with her only the lessons that she learnt from her mistakes and not the regret, but she also walks with that unmistakable spring in her step of someone who knows what they want and how to get it.
Gender bender
Badminton is perhaps the only sport in India in which women set an example for men to follow. Close on the heels of the phenomenal success of Sindhu come the grit and determination displayed by Kidambi Srikanth and others. "It's been a great year," admitted coach Gopichand recently. "Coming on the back of an Olympic year and to say that this year was better than the previous year is a big statement to make. To have two Indian players in the final of a men's Superseries final and to have multiple players doing well in men's and women's circuit along with the double players is great for Indian badminton and I am very happy about it."
Perhaps, brilliance does inevitably rub off others. In her case, her success has coincided with the success of the men on their circuit. Surely, it can't be merely coincidence, especially if we take into consideration that they all are wards of Gopichand, who practice together. If we acknowledge the fact that training with the best crop of male players of India has honed Sindhu physically that she could play those "lung-busting rallies" and matches that run into 1 hour and 50 minutes, why shouldn't we accept that playing with a firebrand like Sindhu must have forged the determination of these very same male players? She knows that the stage is set for her climb to the No. 1 spot, and that's why it is important for the gruelling matches. As she points out, in the current circuit, there is Okuhara and also Tai Tzu Ying, so there won't be any short matches any more.
I am Sin-dhu
A mere 22, she may be, but she certainly doesn't play coy. Confidence sits admirably well on her 5'11 frame, a height that she is aware is an advantage both off and on court.
She knows that as long as she plays the way she plays, the only person that she has to please is herself. The world will see her point when she says, "Earlier for everybody, badminton was one of the many sports. Now it's like Sin-dhu. That name. It is (a matter of) pride for Indians." And not search for vanity or brashness in such statements.
She also knows when she is Sin-dhu, there's no need to aspire to be anyone else. "No politicians, no writers, no industrialists. I don't think there's anybody whom I want to be like." The patriarchal India has no choice but to take it in its stride, for in Sindhu it has a golden goose.
Jemima.raman@mydigitalfc.com