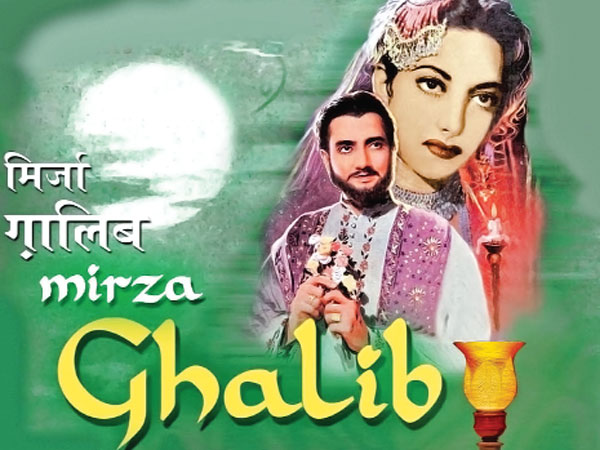 While the media was celebrating the birthday of a popular film star, the Google Doodle on December 27 paid tribute to Mirza Ghalib — one of the greatest poet who ever lived — on his 220th birth anniversary. Had he lived in a country like the UK (look at the way they lionize Shakespeare), the day would have been commemorated with much gusto.
At least one wonderful film was made on his life, by Sohrab Modi. Mirza Ghalib (1954) was a fictionalized account of his life, but had his poems set to memorable music, by Ghulam Mohammed. Saadat Hasan Manto, Rajinder Singh Bedi and and JK Nanda are credited as writers, which would explain why the film remains watchable after so many years. It also won the National Award for Best Film as well as Best Film in Hindi. Modi's constant collaborator, art director Rusi K. Banker recreated 19th century Delhi, that won him a Filmfare Award.
Modi's career as actor and filmmaker was studded with historicals like Pukar, Sikander, and Jhansi Ki Rani, in which he also starred. But he stayed behind the screen for this film, and cast Bharat Bhushan as Asadullah Baig Khan or Mirza Ghalib, Iftekhar as the Mughal Emperor Bahadurshah Zafar (also a fine poet) and Suraiya as the courtesan Moti Begum who loved Ghalib and sang his ghazals.
The real Ghalib had a life as colourful as it was tragic — constant financial deprivation and the death of all his seven children in infancy. There was also the envy of other poets of the time, who Ghalib left behind in skill and popularity. In the film, Ghalib's wife Umrao Begum was played by Nigar Sultana, a woman who loves and admires her husband, but cannot inspire him the way Moti Begum does. Ghalib
gives her affection and respect, but thinks of marriage as a prison.
Initially Ghalib's poetry does not find much appreciation; listeners at the royal mushaira find it too difficult to understand. On his way home, he hears a woman singing one of his ghazals; the singer is Moti Begum who is a fan of the poet she has never seen. The Kotwal (Ulhas) jots down the ghazals at court and brings them for Moti Begum.
Ghalib's growing popularity does not earn him a decent living, however, and it the benevolence of a moneylender like Mathuradas (Mukri) that saves the household from penury. The story turns into a love triangle between Ghalib, Moti and the Kotwal, while the poet's suffering wife tries to accept her husband's fascination for another woman. Out of jealousy when she refuses to marry him, the Kotwal has Ghalib arrested. In a moving scene, the judge (Murad), who is an admirer of the poet puts up the bail money himself.
Moti Begum appeals to the Emperor to intercede on behalf of Ghalib, but he pleads helplessness, since his powers have been annexed by the British Resident. (Moti Begum commits suicide to spare Ghalib more troubles).
The Mutiny of 1875 had failed and Zafar was finally exiled to Burma, where he passed away. The film had songs like Aah ko Chaihiye Ek Umar, Nuktacheen Hai Gham-e-Dil, Dil-e-Nadaan Tujhe Hua Kya Hai, Yeh Na Thi Humari Kismet, Hai Bas Ke Har Ek Unke Ishaare Mein — all Ghalib's poetry, sung by Suraiya, Talat Mehmood and Mohammad Rafi.
Years later, in 1988, Gulzar (a poet himself, who appreciated the work of Ghalib) made an equally magnificent TV series, Mirza Ghalib, with Naseeruddin Shah playing the poet in one of the best performances of his career, and Jagjit Singh composing and crooning the unforgettable ghazals.
Gahlot is a critic, columnist, editor, author and curator