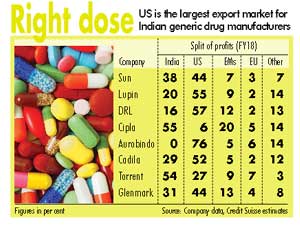 Trump's drug cost concern an opportunity for Indian firms
The 'protectionist' policies of the US under president Donald Trump are something the world markets are worried about. Trump's comment 'Buy American, Hire American' in his inaugural address has made the IT sector jittery and may create a flutter in the stock market on Monday. But Indian pharma industry watchers are optimistic.
The US is the largest market for the Indian pharmaceutical industry, which predominantly manufactures generic drugs. The US buys almost 37 per cent of the Indian drug shipments. Of the $12.54 billion Indian drug exports, America bought $4.74 billion in 2015. According to analysts, Trump's stress on drug prices may not be a big threat to Indian companies, but it could hit their margins. Sun Pharmaceuticals is the fifth largest generics company in the US (also the largest Indian pharma company selling drugs in the US). In 2015-16, the company clocked sales of $2066 million in the US market.
For Lupin, the US market accounted for 43 per cent of the global sales in 2015-16. Lupin's US sales in FY16 was $887 million and generics contributed for 95 per cent to the revenues. Earlier in March last year, the company had completed its acquisition of privately held US-based Gavis Pharmaceuticals and Novel Laboratories, which has since been renamed Lupin Somerset. North American sales accounted for 15 per cent of Cipla's sales of Rs13,678 crore in 2015-16. In the last financial year Cipla completed the acquisition of two US-based entities, InvaGen Pharmaceuticals and Exelan Pharmaceuticals and expects significant growth in the coming years.
According to some estimates, the US will account for 44-76 per cent of profits in FY18 for companies such as Sun, Lupin, DRL, Cipla Aurobindo, Cadila, Torrent and Glenmark (see accompanying chart).
Credit Suisse in a report said it saw limited upside in the pharma stocks, which have extensive US exposure. "Our positive view on the US generics market was based on the upside from faster approvals for Indian companies. However, increasing consolidation among generic purchasing customers may limit the upside," the report said.
Before formally taking charge of the presidency, Trump had criticised the US pharmaceutical industry for high drug prices and for manufacturing outside America.
He had charged said that the industry was "getting away with murder". He had said that "our drug industry has been disastrous. They're leaving left and right. They supply our drugs but they don't make them here, to a large extent." He also mentioned about new bidding procedures for the drug industry and that the country was going to save billions of dollars.
However, the industry watchers do not find any major threat for the Indian pharmaceutical companies. "If controlling cost of drugs is a priority for the new administration, US cannot write off Indian pharmaceutical products. At the price we offer, US companies cannot produce them in that country,' said Vrinda Mathur, partner, Grant Thornton India.
S V Veeramani, president, Indian Drug Manufaturers Association, said if the US wants to bring down drug costs, it will in fact open up the market for Indian generic drugs. "India is able to offer quality drugs at good price. We don't have to worry. Even if the government wants to promote local manufacturing of generic products, it will take time. For India it is an opportunity," he said.
Of the $400 billion US drug market, generics account for just $70-80 billion. If Trump wants to save billions of dollars on drugs, the immediate option will be buying more generic drugs.
Indian generic drugs cost one-tenth of what is sold in the US. India is the hub for low-cost innovation and production in active pharmaceutical ingredients (APIs), contract research and manufacturing services (CRAMS), formulations and biosimilars.
"The Indian government has to communicate to the Trump administration on the contribution of Indian pharma companies in providing savings to the US. Both in terms of quality and price, we have an edge over others,' said PV Appaji, former director general, Pharmexcil.
"When Trump was saying that "pharma companies are getting away with murder", he should have been hinting at the US companies which sell patented drugs at very high prices," added Veeramani. These US companies cannot stop procuring of APIs from India if they have to control their costs.
As far as the comments on US companies setting up facilities outside the country are concerned, very few have units in India. They mostly get their products manufactured in countries like Ireland, Germany, Puerto Rico and Mexico and import into the US.
"Many of the Indian companies which supply drugs to the US have set up facilities in the country over the time. They are well-equipped to produce and supply within the country," added Mathur. However, the emphasis on price control will continue to put pressure on margins of drugs sold in the US. "The pharmaceutical industry has already reconciled to the fact that the focus globally is to cut healthcare costs. Instead of looking for price rise, they have been working on improving technology and processes to cut costs and thus improve margins," said Mathur.
Mustafa Nadeem, CEO, Epic Research, anticipates some short-term disruption. "Economic inclusion with focus towards creating a challenging environment will result in short-term disruption. With focus now on bidding drugs and a new procedure is a clear indication that companies, specifically from the pharma space, may take a hit as there is a lot of challenges that may evolve coupled with end of Obama care," he said.
The industry begs to differ. Even short-term disruption in exports to the US will not have much impact on our industry as we have a huge domestic market and overseas markets other than US to cater to. Europe has been trying to cut costs by turning more to generics. The African continent already is a $3.04 billion market for India and is growing well, industry watchers said.
sangeethag@mydigitalfc.com