,

Tuesday, 10 January 2017
60 lakh bank accounts could come under the lens of I-T sleuths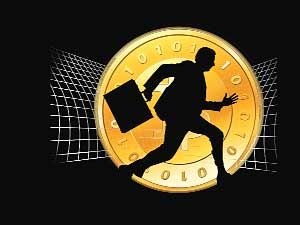 After its estimate on black money went off the mark with major chunk of invalidated banknotes making their way to banks in the 50-day demonetisation drive, the government now suspects tax-evaders have managed to deposit Rs 3-4 lakh crore in banks.
It has started scanning high-value deposits in the now-defunct Rs 500 and Rs 1,000 notes to ascertain unaccounted money.
The income tax (I-T) department is using its big data analytical tools to comb information that could be crucial to black money stashed in bank accounts. Following the data mining exercise, it will shoot off notices to the suspected account holders.
The department has already detected almost 60 lakh bank accounts in which more than Rs 2 lakh was deposited between November 9 and December 30, 2016. This works out to a total of Rs 7.34 lakh crore.
In addition, more than Rs 10,700 crore cash was deposited in different accounts in the North Eastern states during this period.
Commenting on large bank accounts coming under the scanner, a tax expert said this could lead to harassment in many cases at the hands of tax authorities. He pointed out that government had earlier said that no question would be asked for making deposits up to Rs 2.5 lakh, but now it has lowered the benchmark.
"It seems the government has diluted the benchmark it had set earlier and revisited the decision. It's not fair," he said.
The IT department and the Enforcement Directorate (ED) are also looking into over Rs 16,000 crore deposited in different acco­unts of cooperative banks.
While many experts have claimed that the government's demonetisation move has fallen apart with estimates suggesting nearly 97 per cent of outlawed cu­rrency deposited in banks, prime minister Narendra Modi does not seem to be convinced. He has annou­nced his decision to hire outside experts to analyse the huge trails of money, including bank deposits, to catch the tax-evaders.
In the probe so far, it has been found that as much as Rs 25,000 crore was deposited in dormant bank accounts while nearly Rs 80,000 crore of repayment of loans was in cash during since November 8, 2016, when the government demonetised old Rs 500 and Rs 1,000 rupee notes.
"Starting from November 8, 2016 various reports were called for from the ba­nks based on different thre­s­hold of cash deposits made by different categories of persons. The reports were collated and analysed based on intelligence, which has been available in the gover­n­ment data bases," PTI quoted an unnamed government official as saying.
After close scrutiny, the­se reports have been disseminated to the IT departm­ent, ED and other law enforcement agencies. Of the 6 million bank accounts that saw more than Rs 2 lakh of deposits, more than 680,000 accounts have fou­nd matches in the existing database of various reports available with government.
Investigation is being also carried out in Jan Dhan accounts amid reports that cash hoarders misused them widely. The deposits in these accounts more than doubled to Rs 87,000 crore in 45 days post demonetisation attracting tax department's attention.