,

Friday, 17 March 2017
A bird eye's view of India's defence purchase sector, it's shadowy agents and the role they have played in power politics. Gautam Datt reports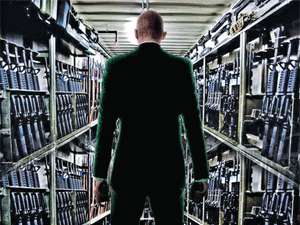 There is a good reason why former Soviet Union and now Russia, remains even today India's staunchest defence ally. In the days when India was the pariah as far as the global arms industry was concerned, thanks to her robust 'anti-Americanism', it was the Soviets and their vast arms arsenal, which came to India's rescue.
After decades of Indo-Soviet strategic defence relations then, it is no surprise that roughly 70 per cent of India's military hardware is of Russian origin.
Therefore, when the first-of-its-kind meeting between Russian military spares manufacturers and Indian industry to produce equipment locally takes place on March 17 and 18 in New Delhi, it would really be an oxymoron, given that Moscow would continue to be the largest supplier of military hardware to India over the next three decades.
Allied to this important footnote of modern history is the fact that India remains the world's largest importer of arms and ammunition.

Since billion-dollar arms purchases do not happen on their own, but are brokered between nations by private individuals of enormous reach, defence middlemen have played a significant part in politics, the Bofors case of the 1990s, being a prime example of their wealth and influence.
On the eve of this crucial Indo-Russian defence meet, Financial Chronicle looks at the vast defence purchase eco-system, the key middlemen who have brokered multi-billion dollar deals and the politics of indigenous defence production, currently spawned by an aggressive Make in India campaign.
In May this year, the Narendra Modi government will complete three years in office. After crossing the half way mark of the five-year term, one of the key achievements highlighted by the government, is its scam-free run thus far.
Scams, scandals and corruption in high places had become the bane of the UPA government, which also led to its downfall.
The Congress not just stumbled, but was punished so hard by the people that the grand old party shrunk to barely 40-odd MPs in Lok Sabha in 2014.

While the spotlight of the misdemeanours during the 10-year UPA regime remains focused on telecom, coal and other scams, with a new government in place in the last three years, arms deals conducted during the UPA period are regularly stumbling out of the broom closet.
It is no small irony that senior Congress leader AK Antony, the man who has walked with the halo of being among India's most honest politicians around his head, presided over the ministry of defence for eight long years, the longest by anyone before him.
Yet, almost every big-ticket deal signed under his charge, are being probed for dubious reasons.
Defence middlemen are always known to be deeply entrenched in the clandestine world of arms deals where big money is involved and the veil of secrecy in the garb of guarding national interest, the perfect fig leaf for all activities nefarious.
When the NDA government came in power in 2014, it was armed with the single-point agenda of cleaning the system. Since then, serious thought has been was given to mainstream the practice of hiring agents to push defence deals.

The government has also mulled authorising the use of agents, seen as facilitators by foreign companies looking to do business with the Indian Army.
India relies very heavily on foreign imports to bridge the technology gap in the modernisation of its armed forces.
While allowing the use of agents, the government has also stressed on developing indigenous private sector in a big way to change the rules of the game and reduce dependence on middlemen.
Manohar Parrikar, who before taking over as Goa chief minister this week, was Union defence minister for little over two years, had moved fast to streamline procurements and bring in transparency to curb corrupt and underhand practices.
His success can be assessed only after a detailed scrutiny and with the passage of time, but there is little doubt that he went full steam to clear long-standing projects.
Quick decision making was Parikkar's hallmark and he was not deterred by risks involved in a ministry, which is laden with minefields.
The Modi government has cleared defence procurement proposals worth Rs 2,09,751 crore so far.

More than 100 new contracts were approved, but to the credit of this government, not a finger has been raised till day.
Of course, it is also true that murky details about defence deals often emerge years later, as is evident in some of the agreements signed during the UPA regime.
While the government's impressive achievement is to keep defence contracts clean, its track record in bringing the wrong doers to book has fallen short of expectations.
In December 2016 came the news that Sanjay Bhandari, an arms dealer sought by various investigating agencies, had slipped out of the country.
He was the second major alleged defaulter to make good his escape after the more publicised case of businessman and liquor baron Vijay Mallya.
Reports suggest that Bhandari, who faced charges under the Official Secrets Act, might have fled to London from Nepal.
The income tax department is probing him for various violations. Among other businesses, Bhandari is alleged to be the man behind swinging Indian Air Force's (IAF's) basic trainer aircraft contract in favour of Swiss company Pilatus.
The defence ministry signed a Rs 4,000 crore contract for the purchase of Pilatus PC-12 basic trainer aircraft in 2012. His involvement in the contract is still under probe, but the authorities were unable to prevent him from leaving the country.
Much sound and fury was created over other contracts as well, but the investigations have hit a dead end in many of them.

The government had promised action in the allegations of corruption in the Agustawestland VVIP helicopter contract, but barring the arrest of former IAF chief SP Tyagi, the probe is yet to make a substantial headway.
Sure, going by the long history of wrongdoings in defence procurements, it is not easy to catch culprits and even more difficult to muster conclusive evidence against them.
Not one of the alleged arms agents has ever been convicted in India. If anything, the business has also become "smarter" with the culprits guarding their trail closely.

Neither is India new to defence scams. From the jeep scandal immediately after Independence when India's first high commissioner to London VK Krishna Menon faced flak for ordering second hand jeeps for the Indian army to the Bofors and AgustaWestland, there has been a series of high-profile scandals in defence purchases.
Names of high-flying London-based Indian businessman Sudhir Choudhrie, non-resident Indian Vipin Khanna and former naval commander Suresh Nanda, have become part of arms deals folklore in the country. All three have been under the scanner for years – even decades - being probed by multiple agencies.
It will be a moral victory of epic proportions for the Modi government if it is able to take some of these probes to a logical conclusion to put a lid – or at any rate contain - the murky world of arms dealings.

There is a good reason why defence dealers with deep political linkages in India have proliferated over the years. New Delhi remains the world's biggest importer of arms and the Modi government's effort to strengthen the domestic industry to reduce dependence on foreign vendors will show results, but only some years down the line.
The private defence industry is still at a nascent stage and will need some hand holding and huge financial support, before it takes off.