,

Friday, 14 April 2017
When the Regal in Delhi and New Empire in Mumbai shut recently, they triggered a wave of nostalgia about the magnificent single-screen cinema halls. Sudeshna Banerjee, Ravi Ranjan Prasad, D Govardan and Ritwik Mukherjee write about India's best known cinema halls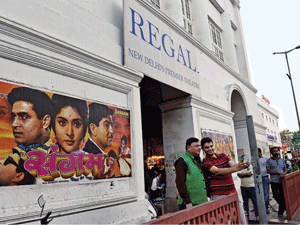 Sudeshna Bannerjee
While ot­her th­eatres screened a mere mo­vie, Regal made you experience life in its many-splendoured hues.
For generations of Delhites, a visit to the Regal theatre in Connaught Place, the national capital's commercial centerpiece named after Prince Arthur, the first duke of Connaught, it was an outing to remember.
Delhiites would dress up in their Sunday bests; if a family had three children, invariably all would be attired in the same clothes, even down to the print.
Union sports and youth affairs minister Vijay Goel, an ardent Regal patron, reminisces: "We used to wear new clothes to go to Regal. They used to screen Samachar Chalat Chitra – or movie news, which would often detail information about Jawaharlal Nehru's government schemes. We should introduce it again."
Goel recalls enjoying his coffee at the Ramble coffee shop in Central Park when there was no Palika Bazaar.

It is a long list of aficionados. Many eminent personalities from the film fraternity were regulars at Regal. Anupam Kher remembers the 1984 release of his first film Saraansh at the Regal Theatre.
Delhi's most iconic single-screen theatre Regal Cinema brought the curtains down on an eight-decade-long impressive run, on April 2. The cinema hall constituted an important part of the cultural landscape of a city not particularly devoted to films.
Opened in 1932 and built by Sir Sobha Singh — Lutyen's Delhi eminent builder — it was the capital's biggest and grandest theatre, a venue for ballets, plays and talkies.
Once, in the not-too-distant past, it was the launching pad for red carpet premiers of both Hollywood and Bollywood movies.
The Clarke Gable-classic Gone with the Wind, which swept the Oscars, had its India premiere at Regal in 1940. The film subsequently saw many repeat shows in the days to follow.
Once Jaipur's late Maharani Gayatri Devi had come to see Gable's film at Regal. When asked about the Hollywood icon's comment on her being "one of the ten most beautiful women in the world", she paused and said, in a typically understated tone, "It's very flattering," recalls former journalist and author RV Smith, who had posed the question, with a gleam in his eyes, as he remembers the days gone by.

Valentine's Day was when young lads and ladies from St Columba's School and Convent of Jesus and Mary respectively, both in the vicinity, would be seen at the theatre holding hands coyly and passionately, Smith recalls.
Visitors to Regal followed a standard operating procedure: They would come in for a show, lounge around at the famous Standard Restaurant or Cellar, the famous wine shop, or play music at the juke box, where one could pay to play good old LPs.
For those couples, which preferred cozy to­getherness aw­­ay from prying eyes, Re­g­al's Box was the place to be in. Why just couples, even families enjoyed their space at the theatre's famed Box.
After the show, there were a variety of options to choose from: people would go to Davicos, Wengers, United Coffee Home, Yorks, Mikados, Gaylord or Standard, all top of the line and trendy.
"Those days denizens of Shahjahanabad would take a four-seater fatfat or a tonga home. Regal was the hangout zone," Smith recalls.
According to him, British soldiers stationed at Red Fort would come in trucks on Saturdays to catch a movie. Delhi's Anglo Indians would meet at York restaurant and later help themselves to night shows at the theatre.
Another film The Robe – based on a story of how Jesus Christ's robe went to an elite Jew family – was a super blockbuster, Smith recalls. Christians from all over north India came to see the film.
Rajnigandha was another movie that deserves mention. Its star Vidya Sinha had come for the premiere.
Celebrities like Raj Kapoor and his entire clan would come to Regal to watch movies. The Kapoors have been great patrons of Regal, best exemplified in the screening of Raj Kapoor's iconic Sangam, as the theatre's last show on April 2.
Clearly, an outing to Connaught Place attracted more takers than they did in the walled city.
On Independence Day, Regal adorned the Tricolour, remembers Smith. Dilli Chalo, a film based on Netaji's life was shown. The entire Union cabinet headed by no less than Nehru himself, attended the screening, he says.
Later Regal started airing state performances or live shows, including dance and theatre, sponsored by the government. Prithvi Raj Kapoor and later Raj Kapoor, Shashi Kapoor, Vyjayanthimala and Zeenat Aman joined in.
In the late 1950s, the cheapest ticket at Regal costed Rs 1.25, while it was just 10 annas in other CP theatres. The dress circle at Regal cost Rs 2.50 and the exclusive private box ticket was priced at Rs 3.75, which was a lot of money those days.
Therefore, Regal's catch line, 'New Delhi's premier theatre', was not just a marketing one-liner. "In newspaper advertisements, if Regal screened a film no other hall's name could precede it in the listings. It had pomp and class," says Goel.
He continues: "Earlier, there were hand-made artistic posters. They were larger than life. If you knew the manager of Regal, it meant a great thing. Watching people sell tickets in black was a charm. Cinema sold dreams to the middle and low-income groups. In fact, it was way ahead of its rivals in adopting change and was the first cinema in CP to start screening Hindi movies."
Regal began slipping from its high perch with the advent of rival Odeon, recalls Smith. As the city grew, new cinema halls like Chankaya came up in the 1970s.
However, the body blow to the likes of single-screen Regal came with the arrival of PVR Anupam, a four-screen multiplex in south Delhi's Saket in 1997.

The trend caught on rather quickly. The decade of 2000s saw the mushrooming of malls and multiplexes in Delhi and NCR, pulling cine-goers away from the traditional single-screen cinema halls.
With dwindling audiences, Regal, once the showpiece for screening Hollywood classics, began to rely on B-grade Bollywood movies and C-grade English movies during morning shows to stay afloat — a monumental comedown for a theatre that had among its audiences Viceroy Lord Mountbatten, Nehru, Vajpayee and the Kapoors as its principle patrons.
While other cinemas in CP, Plaza, Odeon and Rivoli, jumped on the multiplex bandwagon, Regal continued to be a single-cinema hall.
On the last day, the front-stall sold for Rs 80, rear-stall for Rs 100, balcony for Rs 120 and the box for Rs 200 – rather inexpensive for movies in this time and age.
"As incomes depleted, owners of movie theatres stopped investing and converted most single-screen halls into multiplexes. Except Delight, which has invested and renovated to maintain its heritage, all others have been lured by the multiplex culture," complains Goel.

Ajay Bijli, owner of PVR – the group that put single-screens in the shade — has a practical take on the subject. While he continues to run single-screens like Priya, he believes the problem with such a form is that there are thousand seats and it is difficult to fill up the theatre with the present quality and quantity of content flow, unless there is a super blockbuster.
"To fill up 1,000 seats multiplied by five shows is equivalent to 5,000 seats – even at 50 per cent occupancy, the number is too high to fill up with the quality of content that comes in today. You cannot have a Salman or Shahrukh starrer every week. Therefore a multiplex with a smaller capacity serves well. You can offer better occupancy and the number of movies that get released in a week," he explains, adding: "We have single screens like Plaza and Rivoli with 300 sets. That is doable."
What is important is the quality of technology — projection, sound system and peoples' experience. Bijli says it is very difficult to sustain a movie for 52 weeks. "The cinema is a huge real estate dedicated to the single-screen and running at sub-optimal occupancy. It is difficult to fill it up," he opines.
With malls coming up, the culture has undergone a metamorphosis. People prefer going to malls for shopping, dining and watching movies. Multiplexes are being housed within malls. Clearly, cinema halls have outlived their time as a single source of entertainment.
"Now even the runs are not very long. Movies only last 5-6 weeks unlike earlier when silver and golden jubilees were celebrated", explains Bijli. Those were the days my friend.

CHENNAI
Ode to Sivaji
Shanti Theatre,
Chennai's first deluxe air-conditioned cinema
hall, downed it shutters last May amid
nostalgia and tears

D Govardan

On May 17, 2016, when Shanti Theatre, the 55-year-old cinema hall in Chennai's elite Anna Salai screened its last show, scores of fans of late thespian Sivaji Ganesan felt that a part of their life had gone away.
Which is no surprise because for over five decades, Shanti Theatre was like their second home.
The iconic auditorium was home to fans of three generations of the legendary Sivaji Ganesan's family — films of the icon, his son Prabhu and grandson, Vikram Prabhu, were regular fare at Shanti.
At its peak, from the early 1960s to early 1990s, it was a meeting point — Tamil Nadu's very own adda — for a number of Sivaji's fans, who gathered regularly for their 'evening chat', discussing and living on memories of Sivaji.
Shanti Theatre, originally promoted by D Shanmuga Ra­ja, the erstwhile Raja of Sivaganga and G Umapathy (who wanted a theatre with the latest amenities, as available in then Bombay), was christened Shanti – carved out from the first four letters of Shanmuga and the last three in Umapathy.

Inaugurated by then Tamil Nadu chief minister, K Kamaraj on January 12, 1961, it was the first deluxe air-conditioned theatre of Madras with a grand capacity to seat 1,212 people.
While the inaugural show was a religious film, Srinivasa Kalyanam, the first movie to be released officially there was Thooya Ullam featuring A Nageswara Rao and Savithri, followed by a Hindi film, Kalpana, starring Ashok Kumar.
On March 16, 1961, Sivaji Ganesan's Tamil film Paava Mannippu was released in the theatre.
Around the same time, the original promoters, facing a repayment cash crunch, approached Sivaji Ganesan, who not only agreed to invest, but also bought out the promoters.
Since then, the late actor's family has owned the theatre. Incidentally, most believed that the theatre got its name from Sivaji's daughter, Shanthi.
Points out Giri Shanmugam, Sivaji's newphew: "Shanti Theatre became a landmark in the city because it was owned by the great Sivaji Ganesan. Watching a Sivaji movie in Shanti was on the must-to-do list, besides seeing Marina Beach and LIC — the only 14-storyed building in the city then, for most visitors from other parts of Tamil Nadu."
After Paava Mannippu, Shanti Theatre went on to screen 81 more films of Sivaji's illustrious career. Some of the actor's hits like Paava Mannippu, Thiruvilaiyaadal, Vasantha Maaligai, Thangapadhakkam, Thirisoolam and Mudhal Mariyaadhai celebrated silver jubilee runs (175 days), while several others were 100-day successes.
Recalls K Chandrasekaran, president, Sivaji Peravai, the forum demanding the state government's nod to build a memorial for their Nadigar Thilagam: "For years, Shanti Theatre used to be the meeting point for Sivaji's fans, especially on Saturdays and Sundays. Since it was also on the must-visit list for the actor's fans from other parts of the state, the place always had a festive look and feel."
"Those where the days, when Sivaji's fan clubs used to vie with one another to put up electrical stars and festoons, besides cut outs and banners. The workers of Hotel Ramprasad, located close by, had their own fan club for the actor and retained the right to put up the first banner for Sivaji's new film," recalls Raghavendar, a veteran fan who also, interestingly, doubled up as a part-time staffer at Shanti.
"In fact, for the 100th day celebrations of Sivaji's 'Karnan', the theatre wore a festive look like never before, with a real chariot readied and kept up front. N T Rama Rao, who played the role of Lord Krishna in that film, was present along with a whole lot of stars from the film," he recalls.
Back then this much sought-after theatre was known to screen Hindi and English films. In 1964, Raj Kapoor's Sangam ran for 188 days in the theatre.
Shanmugam recalls this great meeting of minds. "In fact, when Sangam was running to packed houses, Sivaji Ganesan faced a piquant situation. His own production, Pudhia Paravai, which later turned out to be a super duper hit, was gearing up for release and the actor was keen on releasing it in Shanti. When Raj Kapoor came to know of this, he personally spoke to Sivaji Sir and requested him to let Sangam continue with a longer run in Shanti, since no other theatre in the city had such facilities. Sivaji agreed and released his own film at the nearby Paragon theatre, after spending money on its renovation."

As if to show his gratitude, Raj Kapoor made it a point to hold Sangam's success party at Shanti and brought in his entire cast to participate in it. Even in the early 1990s, Shashi Kapoor made it a point to visit the theatre, when he came down to the city during the release of Amitabh Bachchan's Ajuba.
Says Y Gee Mahendran, veteran actor and stage artist: "Shanti Theatre was like second home for us, as we spent more time there after college hours. In fact, to watch every Sivaji film – first day, first show, we learned the art of bunking classes."
To Mahendran goes the credit of watching three back-to-back shows of Sivaji's triple role Deivamagan on the first day of its release.
"A set of friends bunked classes and watched the film's matinee show and I went home. To my surprise, my father had booked tickets for the entire family for the same day's evening show. I simply accompanied them and had to control my emotions while watching it for the second time, lest the family stumbled upon my secret! Interestingly, at the end of the evening show, since the entire family liked the film, they stayed back to watch the night show and that's how I scored the hat trick," chuckles Mahendran.
Later, he got the opportunity to act with Sivaji Ganesan and several of those films, Gauravam, Vaa Kanna Vaa and Paritchaikku Neramaachu were released in Shanti.
"The feeling after seeing my images on the banners in Shanti, cannot be described. There are several great memories of Shanti. Today, we miss Shanti Theatre as much as we miss the great actor, Sivaji Ganesan," he remembers with a tinge of emotion.
As with other iconic theatres in Chennai and other cities, Shanti was brought down to make way for new development.
As Madras became Chennai and the city started expanding southwards, becoming home to several new-age multiplex cinemas, maintaining an independent Shanti became difficult.
Womenfolk, who once constituted the bulk of the audience, found viewing 24x7 TV channels at home a better option.
The management of Shanti Theatre did attempt to spruce it up once in 2005, when using the sprawling balcony space of the larger theatre, created a mini-theatre, Sai Shanti. But even this re-engineering could not hold for more than a decade.
"Unlike these days, when a big star film gets to release in 30-40 screens in the city, those where times when a Sivaji film would release in just three main theatres – Shanti, Crown and Bhuvaneswari, representing south, north and central Madras. To think that all the three theatres are no longer there, surely brings a touch of sadness," says Chandrasekaran.
Yet hope rests eternal. "Hopefully, Shanti is not going away permanently as the family is rebuilding a multiplex there and would retain the name for the new complex," points out Mahendran.
Alas, that may not be the case. Akshaya, a leading builder in Chennai, which signed a joint venture agreement with the late actor's family, is developing a Grade-A office space at the site, after sensing parking trouble if it opts for a multiplex. There is little place for nostalgia, it would appear.

MUMBAI
Brave new world
Since 2000, iconic cinema halls have shut down in the heart of Bollywood

Ravi Ranjan Prasad

In its earlier avatar Bombay, home to the Hindi film industry or Bollywood, lives on memories.
These memories are best epitomised by the city's old cinema theatres, which today lie in a state of neglect, outgunned by new technology and not finding favour with the younger crowd.
While some old theatres have transformed into multiplexes, others are trying hard to keep the show going, even if for the benefit of local movie buffs.

Mumbai has long been associated with films. The first film screened here in 1896, was by the Lumière Brothers.
Single screen theatres are running, but just about. The footfalls are not as high as the multiplexes where the young and upwardly mobile prefer to watch movies, not the least because technology like the Dolby sound effect, stands hugely upgraded.
High entertainment tax, 45-55 per cent, have resulted in huge losses. According to one estimate, since 2000, 50 cinemas have shut down in the heart of Bollywood.
The city's oldest cinema theatre, New Empire, closed down on March 21, 2014 after being in existence for over a century, thanks to persistent losses.
New Empire bowed to the power of multiplexes. A steep entertainment tax of 45 per cent imposed by the Maharashtra government, which was exempt for multiplexes, was the final nail in their coffin.
Before it closed shop, New Empire cinema suffered hits every month for seven years with an accumulated loss of nearly Rs 26 million, according to an estimate.
It opened in 1908 as a live theatre and hosted plays. It was then known as the Empire Theatre. In 1948, it was overhauled and reopened as New Empire with a seating capacity of nearly a thousand.
New Empire was one of the oldest single-screen cinema halls in Mumbai and the first in Asia to have a cantilevered balcony.
Similar cinema halls that were built in the Art Deco style and opened subsequently in the south Mumbai area were Regal (1933), Metro (1938) and Liberty (1949).
Maratha Mandir, another landmark cinema hall, opened on October 16, 1958 and has 1,000 seats. It created a record after screening Dilwale Dulhaniya Le Jayenge for 1009 weeks since its release in 1995, until February 19, 2015.
Maratha Mandir is a 2-minute walk from the Mumbai Central Railway Station. It remains the best known and valued theatre for the Bollywood.
The movie auditorium has survived the competition from multiplexes and still screens the latest Hindi releases.

These single-screen theatres continue to attract those who would like to spend less on purchasing tickets. At Maratha Mandir, tickets are priced at Rs 80 to Rs 110 for matinee, evening and night shows.
Another iconic presence, the Metro Cinema located in south Mumbai, opened on June 5, 1938. In 1955, Metro was the venue for the first Filmfare Awards night.
In 1970, it was taken over by an Indian promoter, the Gupta family and with Indianisation came the era of screening Hindi films and flashy, glittering, star-studded premieres.
Avid film enthusiasts remember Metro Cinema as the place where Raj Kapoor's mega hit Bobby was first premiered, which turned out to be a trendsetter.
Later, Raj Kapoor released Satyam Shivam Sundaram, with Bombay's monsoon fury lashing out on the day of the release; the extra delight for those present was when the young Kapoor brothers, Randhir, Rishi and Rajeev, opened their car doors, held umbrellas over their heads and walked inside the hall.
Metro Cinema soon became Bollywood's most celebrated red-carpet theatre. The star presence there became so huge that often, riot police had to be called in at film premieres.
But even Metro could not stem the tide of multiplexes, as it was becoming increasingly difficult to fill up the 1,491 seats.
The promoters decided to transform the old cinema into a multiplex, as the property was acquired by Adlabs Cinemas, but by the beginning of 2005, it closed down.
After a complete overhaul, the cinema reopened in August 2006 as a multiplex with the Karan Johar blockbuster "Kabhi Alvida Na Kehna". Metro cinema now has six screens, which are among the largest multiplex screens in Mumbai.
Another iconic single-screen cinema, the New Excelsior near the Chhatrapati Shivaji Terminus railway station, was re-launched on February 9, 2017, with swanky interiors, refurbished seats, an improved sound system and a cafeteria run by the Book My Show company.
Built in 1887 and later called Capitol, then rebuilt as Excelsior in 1909, and renamed New Excelsior in 1975, the 1,100-seater has been renovated and reopened by the Mukta A2 Cinemas chain, a company owned by filmmaker Subhash Ghai, which owns and manages 50 screens in 15 cities across India.

Single screen cinemas across India are shutting down in the face of competition from multiplexes, but they can be rescued with a flavour of old and new movie styles, as the new New Excelsior proves, said a report in digital daily Scroll.in.
"I used to come here to watch movies and then I premiered some of my own films like Karma and Khalnayak," Ghai was quoted as saying, while relaunching New Excelsior "I have lots of fond memories of this theatre and I want to keep its charm intact," Ghai adds for good measure. As he should.

KOLKATA
Metro and Globe
The two epochal
single-screen cinema
auditoriums are not going to be the same after renovation

Ritwik Mukherjee

These were among the last surviving relics of the Raj. One was built in 1934 and the other's origin dates back even earlier, to 1827.
Metro Cinema and Globe Cinema, the two iconic movie theatres in the heart of Kolkata, which for years were the favourite destinations of movie buffs - initially the European elite, consisting of Britishers, Jews and Armenians, who lived in the then Calcutta in sizeable numbers and the quintessentially Bengali intellectual cinema buff, may not be the same again a year down the road, post their renovation.
Metro Cinema, an uniplex cinema hall and a heritage building located on the Jawahar Lal Nehru Road (Esplanade), currently owned by the Mumbai-based Metro Realty group, has been taken on lease by multiplex operator Inox Leisure Ltd.
It is undergoing renovation and will soon enough turn into a multi-use commercial space with retail outlets and multiplex. It is expected to be thrown open next Diwali.
Globe Cinema, the gigantic single screen cinema hall and heritage building located on Lindsay Street (opposite New Market entrance), has already made way for a mini-mall with a twin-theatre multiplex, over 100 retail stores and a food court.
For those enthusiasts who grew up watching English movies at Metro Cinema, Globe, Lighthouse, Jamuna, Tiger and other theatres in the vicinity of New Market, there is hardly a single-screen theatre, which survives today.

Says Shyamashree Sen, a discerning movie buff, also district governor, Rotary: "As an avid cinema follower, it's extremely disheartening to see the closure of so many iconic cinema halls in the city and outside. It reflects our complete disregard for heritage and utter lack of vision of the hall owners and of course the government's lack of interest in preserving the rich history and culture of the city. The urge to make profits has meant that love for cinema has taken a backseat and theatre owners, barring a few, have lacked the vision to modernise properties."
Sen is not alone in this hour of distress. The news of the closure of these iconic movie theatres in a row came as a rude shock and big disappointment to many cinema lovers and filmmakers.
Over the last couple of years, as many as 100 single-screen theatres have downed shutters in Bengal and less than 20 of them survive in Kolkata, most of them struggling to stay afloat under the onslaught of multiplexes.
Therefore, in a sense, the rebirth of these heritage single-screen theatres in new avatars was all, but inevitable.
There are, however, a few who think it was not and could have been avoided with proper foresight and planning.
Says Arijit Dutta, managing director, Priya Entertainments, owners of city's single-screen icon Priya, "If one is passionate enough and has the right foresight, one can do lot of things. If you give up and think it is not possible, then the game is lost already. As for other iconic theatres of the city turning into malls or closing shop outright, it's really very unfortunate. The owners of these halls lacked foresight and passion and only looked at money without realising that heritage is far more valuable and commands more respect."

Dutta's Priya Entertainments produced a number of Satyajit Ray and Tapan Sinha masterpieces, including Aranyer Din Ratri, Pratidwandi, Goopy Gyne Bagha Byne, Aranyer (directed by Satyajit Ray), Chhuti directed by Arundhati Devi, and Hate Bajare directed by Tapan Sinha, among others and now owns homegrown multiplex brand, Bioscope.
He, however, has kept Priya afloat after a thorough overhaul. Interestingly, Dutta in 2000 had taken Globe cinema hall on lease, but handed it back to owners in April 2006, thanks to labour trouble.
Globe was originally known as the Old Opera House. The wooden opera house was established in 1827 and in 1906, E H Ducasse sold The House, then known as Bijou Grand Opera House, to EM Cohen.
Later it was converted into a theatre hall and named Globe Cinema. The theatre was owned by Sidhwa family and Jal Tata.
Dhansri Abasan partnered with Goldstar Enclave and acquired the Globe Theatre from them.
This was one of the first few theatres in Kolkata, which regularly screened English movies. City historians say during World War II, this hall entertained allied troops stationed in Calcutta.
The Metro Cinema, on the other hand, was thrown open on December 5, 1935, with the film Bonemain Girls. Blockbusters such as Gone with the Wind, Ben Hur, Quo Vadis and Ivanhoe were also screened here.
The same theatre ran 'Bobby' for 52 weeks in 1973.
The Suchitra Sen-Uttam Kumar starrer Chandranath was the first Bengali film to be screened here.
A New York-based Scottish theatre architect, Thomas W Lamb, who also designed the Metro Cinema in Mumbai for MGM later in 1938, designed Metro.
It's an irony that embodied with the glamour of Hollywood's golden era, the single-screen theatre in Kolkata, downed its shutters in 2014, as it failed to remain viable in the midst of a growing multiplex culture in the city.
Says an Inox official: "Declared as a heritage building by the Kolkata Municipal Corporation (KMC), the property's facade cannot be changed during any renovation, according to the rules governing heritage structures. And we do not intend to do that either. We are very particular about maintaining the old world look and charm through this Rs 40 crore re-development process."
Metro Cinema, in its new avatar, will have four floors of retail and a multiplex floor on top. This will be crowned at the top with a skybar.
"While any transition from the old to new is inevitable, the association of these places with the city's image, with one's childhood memories against the tyranny of time, will continue to haunt old-timers, no matter how beautifully they are decked up with and whatever the amenities they resurface with," points out Ashok Mukhopadhyay, city historian, author and a cinema buff. Some old-time Kolkata memories are intact, to be sure.
Columnist:
D Govardan
Ravi Ranjan Prasad
Ritwik Mukherjee
Sudeshna Banerjee