,

Friday, 21 April 2017
RBI to get more teeth, 40-50 big accounts to be taken up in targeted approach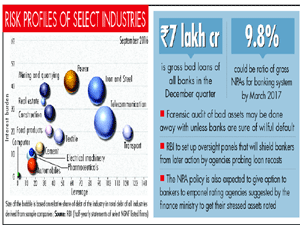 The Modi government has finally worked out a solution to effectively deal with mounting bad loans of banks, which have already crossed a staggering Rs 7 lakh crore and are threatening to derail growth plans.
As per the solution being worked out, the government may amend the Banking Regulation Act (BRA) to empower the Reserve Bank of India (RBI) to tackle the non-performing assets (NPAs) of banks.
Sources privy to the development told FC that an ordinance may be promulgated to effect amendment to BRA. Going through the legislative process could be time consuming that will not be good for the banking sector that is looking for a mechanism to quickly deal with surging corporate defaults.
Resolving the issue of bad loans has been a priority for the government as high NPAs have slowed down lending and prevented lowering of interest rates, which in turn has discouraged private investment badly needed to boost economic growth.
The government has been exploring various policy options on NPAs for some time now. It is felt that a long lasting solution would be to let the RBI deal with the issue rather than government coming up with a rescue package. So, the policy push will come from an empowered RBI that would look at guidelines depending on the nature of NPAs.
Radical departure from the past: Though the RBI is sufficiently empowered to deal with banking related issues, it is felt that powers should be explicitly mentioned in the amended legislation that will allow the central bank to frame policies that are in the interest of banks and offer quick solutions.
The RBI has already been told to use provisions of the recently enacted Bankruptcy Code to derive powers to deal with NPAs and frame regulations. Enabling the central bank to issue directions to banks on stressed assets will also take care of the undue vigilance that banks face from investigating agencies.
It is understood that amendment will also empower the RBI to set up oversight panels that will shield bankers from later action by probe agencies looking into loan recasts.
This is one of the major concerns with banks that prevents faster restructuring of bad loans. Moreover, the central bank would also set up overseeing committees that can quickly approve the process of NPA resolution case-by-case and this will ensure that banks adopt these changes without delay and fear of undue vigilance.
New NPA resolution: Sources said the banks would employ new NPA resolution mechanism suggested by the RBI for the first few cases to assess the results. The targeted approach would take up largest 40-50 NPAs accounts, spread across four or five sectors initially. If it is found effectively reducing NPAs, it may be rolled out in large number of cases.There is also a thinking to do away with forensic audit of bad assets unless banks are sure that default if wilful. This would save precious time for banks and enable them to plan faster turnaround of bad assets and recover a large portion of their dues.
The NPA policy is also expected to give option to bankers to empanel rating agencies suggested by the finance ministry to get their stressed assets rated. The rating would involve judging the quality of assets and assessing its future prospects based on its financial health.
This will help in arriving at a valuation for such assets that will make it easier for banks to decide a price at which to dispose of the assets, even if it means taking a larger haircut including forgoing interest. Often bad assets fail to get investors as they are over priced. In addition, the case-by-case approach would also allow merger of company in default with a healthy firm.
Collectively, all listed banks recorded around Rs 7 lakh crore gross bad loans in the December quarter; and is expected to rise further in March. The state-run banks are far more affected by this malaise than their counterparts in the private sector. According to the central banks' FSR released in December, GNPAs for the banking system are expected to rise to 9.8 per cent by March 2017 from 9.1 percent in September.
What the Bankers want?
Bankers have been pushing RBI to allow them to change interest rates and repayment periods in bad loan resolution schemes, including SDR to implement them more effectively. Under SDR norms, which RBI released in June 2015, banks are allowed to refinance a loan only when they find a buyer for the 51 per cent equity, which the lending consortium holds. This refinancing is exempt from being treated as a restr­ucturing if the consortium provides against any diminution in fair value of the loan. A fall in fair value occurs if banks lower the interest rate or extend the repayment period.

Columnist:
Falaknaaz Syed
Subhash Narayan