,

Monday, 17 July 2017
Modi says state govts must come down hard on vigilantes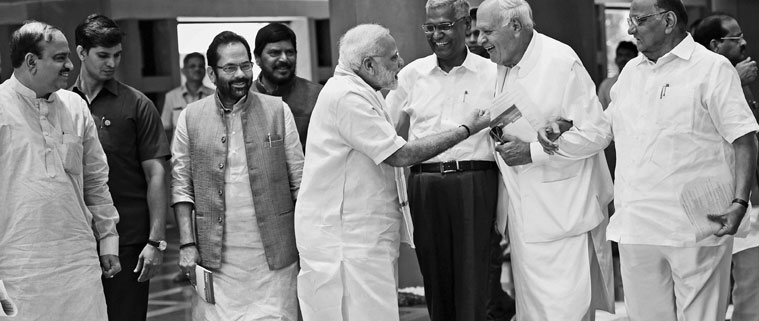 Prime Minister Narendra Modi on Sunday asked all political parties to collectively fight "hooliganism" in the name of cow protection and said the state governments should take stringent action against anti-social elements indulging in violence on the issue. Modi was addressing an all-party meeting ahead of the Monsoon session of Parliament beginning Monday. The meeting was attened by Ghulam Nabi Azad (Congress), Sharad Pawar (NCP), Sitaram Yechury (CPI-M), Mulayam Singh Yadav (SP), Farooq Abdullah (NC) and D Raja (CPI). The JD(U) and the TMC stayed away.
"Cow is treated as a mother and it is an emotive issue. But we have to understand that there are laws governing cow protection and breaking it is not an alternative," Modi said in a series of tweets after the meeting. "All political parties should collectively castigate hooliganism in the name of cow protection," he said, adding that such incidents were also affecting the image of the country. "The state governments should take stringent action against such anti-social elements," the Prime Minister said, adding they should also check whether some people are settling personal scores in the name of cow vigilantism. He said some anti-social elements were using cow protection as "a tool to spread anarchy. Some people who want to damage the social fabric of the country are also taking advantage of it."
Seeking the support of the opposition parties in tackling "communal violence" in the name of cow protection, Modi also warned against giving a political or communal colour to the issue.
"State governments must ensure the maintenance of law and order and strict action must be taken against those who break the law," an official statement quoted Modi having said. The statements assume significance in context of the recent cases of violence in different parts of the country in the name of cow protection. Opposition parties have attacked the BJP over the cases of cow vigilantism in which Muslims and Dalits have often been targeted. These parties have also planned to raise the issue during the Parliament session starting Monday.
The Prime Minister also urged all parties to extend their support to the government in fighting corruption. Apparently hinting at Trinamool Congress and RJD on the issue of corruption, Modi said the political class should join hands against those, who seek an escape route by dubbing action against graft as a political conspiracy. "When law takes its course against those who loot the nation, then we have to unite against those who seek an escape route by dubbing such an action as a political conspiracy," he tweeted.
In his speech, Modi also referred to the presidential poll to be held on Monday and said it would have been very good had a consensus been arrived on the candidate. He, however, said "high level of dignity" has been maintained by both sides during the campaign and no "ill will or bad language" has been used. He also called upon all parties to ensure that everyone votes and no vote is wasted. The Congress-led opposition parties have pitted Meira Kumar against BJP-led NDA's Ram Nath Kovind , who has a big numerical advantage over his rival.
Parliamentary Affairs Minister Ananth Kumar told reporters after the meeting that Modi also noted that the 75th anniversary of the Quit India movement falls on August 9 and all parties should celebrate it. He also thanked everyone for the implementation of the GST, calling it a "shining example of co-operative federalism".
On the issue of Kashmir and tensions with China, Kumar said the government had a meeting with opposition leaders and every party has said they were with the government on matters of national security. To preserve institutions of democracy, Modi said it was important that all political parties support the government in conducting the business in Parliament without disruption so that constructive discussion can take place on issues of national importance. "The PM in one voice with the leaders of all parties also asserted that all parties stand united to ensure the nations safety and security, after such concerns were raised by many leaders on recent developments," he said. There was a consensus across party lines on ensuring smooth functioning of Parliament and that deadlocks should be resolved through constructive discussions in both the Houses, he said.