,

Tuesday, 12 September 2017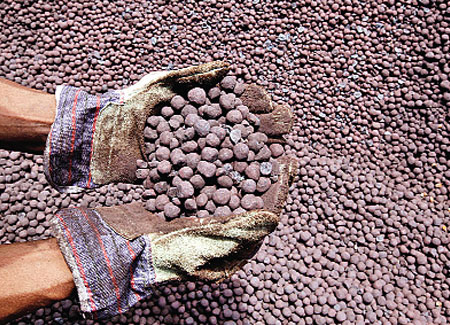 The steel ministry wants to go ahead with its plan to introduce a new formula for the commodity that would check excessive volatility in iron ore prices.
It comes at a time when inter ministerial differences have surfaced over regulation of iron ore pricing.
The government has indicated that it backs market determined pricing for most resources to make the industry globally competitive, while targeting subsidy for the most needy.
Sources said despite serious reservations from the mines ministry over any move to put a price cap on iron ore, a new policy may be proposed by the steel ministry that would allow ore prices to move only within a band against a benchmark.
The price of ore would be allowed to fluctuate within this band. Alternatively, the price of ore may be determined on the basis of a cost plus formula where the raw material price would be determined on the basis of cost of production, plus a reasonable margin. The margin could be fixed say at 30 to 40 per cent. An expert inter-ministerial group set up specifically for the purpose has also favoured this option.
The policy would need to get cabinet approval.
"There is no question of putting a price cap on iron ore, but it is important that we control excess volatility in its prices. It is important as higher ore prices have adversely impacted the steel sector in the midst of a recovery after a prolonged period of slowdown," said an official source asking not to be named.
After falling for most of 2016, reaching below the $50 a tonne level, iron ore price shot up by over 80-90 per cent late last year to over $80 a tonne.
This put enormous pressure on the domestic steel industry, which has been grappling with a slowdown in demand and prices for the past couple of years. While the government took several initiatives to restore the health of the domestic steel industry, the plan on iron ore, prime raw material for the steel sector, is now considered to prevent further squeezing of industry margins.
Steel industry is one of the most indebted sectors, with cases of rising stressed asset in the absence of demand and pricing advantage. Sources said that the new pricing mandate is not to bring the resources under the controlled pricing regime, but to introduce a mechanism to check profiteering so that end users are not adversely impacted. The mining industry, however, is not happy with the proposed move to regulate iron ore prices.
"The government should refrain from interfering in the free market structure and let market decide prices. But if it wants to regulate the iron ore prices, it should also resort to regulation of steel prices as this is the product that is consumed by the end consumer and impacts even the common man," said an official of Federation of Indian Mineral Industries (FIMI).
The official added that there was no case of profiteering by miners, as higher prices in current market conditions would only increase inventories that would fail to find a market even at a marginal profit at a later date. "Its not that only iron ore prices have gone up recently, steel prices have also gone up in recent months," he said.
After plummeting to low levels prior to 2014 due to court-induced restrictions on production and mining ban, iron ore production in the country picked up pace in 2014-15 with an output of 129 million tonnes (mt). It rose to 156 mt in 2015-2016 and further to 192 mt in 2016-17. The mines ministry feels that increased production itself will address the problem of price volatility and there is thus no need to put any additional checks and leave its price to be determined by market forces.