,

Thursday, 20 July 2017
GST is expected to improve ease of doing business and facilitate growth in the medium-term, the Manila-based bank said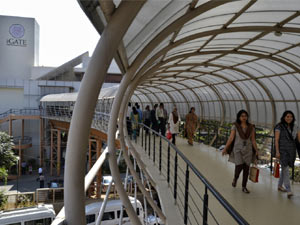 The Asian Development Bank (ADB) on Thursday retained India's growth projection at 7.4 per cent for the current financial year even as it raised the forecast for developing Asian region to 5.9 per cent.
In a supplement to its Asian Development Outlook (ADO) 2017 report, ADB revised the forecast for developing Asia from 5.7 per cent earlier. For 2018, it was raised from 5.7 per cent to 5.8 per cent.
For India, it maintained the growth forecasts at 7.4 per cent for 2017-18 and 7.6 per cent for 2018-19.
Forecasts for India are the same that the multilateral lender had projected in its yearly outlook report, which is published in April every year. "Consumption is likely to continue to be the main driver of growth. Higher cr­op sowing, helped by a heal­thy monsoon, and an uptick in rural wage growth will bolster rural consumption, whi­le urban consumption will get a boost from pay hikes for central and state government employees," the report highlighted about India.
Implementation of the goods and services tax (GST) is expected to improve ease of doing business and facilitate growth in the medium term, it said, adding that there could be some teething pains as firms will take time to adjust to the new indirect tax regime.
Front-loading central government capital expenditure should further propel the pickup in growth going further, the Manila-based lender said.
There was a slowdown in last financial year due to demonetisation and factors like sluggish private sector investment and weak bank lending contributed to the slowdown, ADB said.
However, there are signs of manufacturing activity picking up in the current financial year with the June quarter purchasing managers' index (PMI) improving to 51.7 from 51.2 in the preceding quarter of last financial year, the report said.
On prices, ADB said: "Inflation in India is now expected to average 4 per cent in FY18, well below the forecast of 5.2 per cent in ADO 2017, before rising to 4.6 per cent in FY19."
Ample supply has held world oil prices low despite rising demand, while favourable weather has kept food prices stable, ADB said.
Further, South Asia will be the fastest growing of all sub-regions in Asia and the Pacific, with growth on track to meet original projections of 7 per cent in 2017 and 7.2 per cent in 2018.
The growth prospects in developing Asia for 2017 have improved on the back of stronger than expected export demand in the first quarter of this year, the report outlined.
"Economic growth prosp­e­cts in developing Asia for 2017 have improved on the back of stronger than expected export demand in the first quarter of this year," it said. There is a cautious approach for 2018 on sustainability of this export push. "Developing Asia is off to a good start this year with improved exports pushing gro­wth prospects for the rest of 2017," said Yasuyuki Sawada, ADB's chief economist.
"Despite lingering uncertainties surrounding the strength of the global recovery, we feel that the region's economies are well placed to face potential shocks to the outlook," Sawada said.
Developing Asia is expected to see a lower consumer price inflation from the previous estimate on the back of steady international oil and food prices despite increasing demand due to en­ough supplies and favo­urable weather conditions.
"Price inflation is now expected to drop to 2.6 per cent in 2017 (developing Asia) and 3 per cent in 2018 compared to the original projections of 3 per cent and 3.2 per cent, respectively," the report added.
Surging global demand for Asian exports and low oil prices will help China and the region's developing economies grow faster than expected this year and next, ADB said. "Unanticipated external demand has improved growth prospects for developing Asia," ADB said.
"The resulting boost to net exports all but suspends growth moderation" in China, the region's largest economy, it added. China's economy grew by stronger than expected 6.9 per cent in the first half this year, which should help it expand by 6.7 per cent for 2017 and 6.4 per cent in 2018, it said.
The growth outlook for the manufacturing dynamos of East Asia is brighter, with South Korea energised by receding political uncertainty with the election of a new president, it said.
Southeast Asia is also on track to meet forecasts of 4.8 per cent growth this year and 5 per cent next year, hel­ped by high first quarter growth in Malaysia, the Phil­ippines and Singapore, the Manila-based lender said.
ADB upgraded its forecast growth for the former Soviet republics of Central Asia, with Armenia, Kazakhstan and Tajikistan uplifted by manufacturing and mining. The bank maintained its earlier projections for Pacific island economies.
It revised its inflation outlook for developing Asia by 0.4 percentage points this year to 2.6 per cent, and by 0.2 percentage points next year to 3 per cent. "Ample supply has held world oil pri­ces low despite rising dem­a­nd, while favourable wea­ther has kept food prices stable."
(With input from agencies)