,

Tuesday, 25 July 2017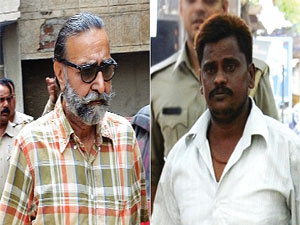 Around 11 years after the chilling serial rape and murders, many of them young girls, rocked Delhi's bursting satellite town Noida, businessman Moninder Singh Pandher and his domestic help Surinder Koli were sentenced to death by a special CBI court in Ghaziabad on Monday.
The two were convicted for raping and killing 20-year-old Pinky Sarkar, one of the many victims. The court said that the murder was "rarest of the rare" crime fit for the exemplary punishment.
Pandher's lawyer said that he will challenge the order in Supreme Court as the businessman was not even named in the CBI chargesheet and the probe had established that his client was on the way to Dehradun from his Noida office on October 5, 2006 and returned on October 10, the duration in which the murder took place.
The CBI had claimed that Koli had admitted that he lured Pinky into the house on October 5, killed her and chopped her body before dumping it in a drain near the house. The sensational crime came to light when 19 skeletons were discovered from the drain behind Pandher's House in Nithari, Noida on December 29, 2006 sending shock waves across the country. Many of the victims were young girls.
Nineteen separate cases were registered by the police out of which three were closed for lack of evidence and Pandher and Koli were charge sheeted in 16. Pandher and Koli have been sentenced in six cases and nine others are still under trial.
This is the second case in which both Pandher and Koli were sentenced to death. In the first case, the CBI court had given death penalty to both murdering Rimpa Haldar, 14, on February 8, 2005. But Pandher was acquitted by Allhabad High Court after he filed an appeal. The high court had ruled that there was no evidence against the businessman, but Koli's conviction was upheld.
There seem to be a striking similarity between Rimpa Haldar and Pinky Sarkar cases. Pandher was not chargesheeted initially in both. In Rimpa Haldar case also the businessman was not said to be present on the scene of crime on February 8, 2005. Pandher was summoned in the investigation only because the murder took place in his house though it was established that he was in Australia from January 30 to February 15.
Pandher was granted bail in six cases in 2014 by Allahabad High Court. One of these cases the murder of Pinki Sarkar. He has been made accused in only one case. He was made accused in six cases during the trial.