,

Thursday, 10 August 2017
Ace 'home maker' makes a huge fortune from stock investment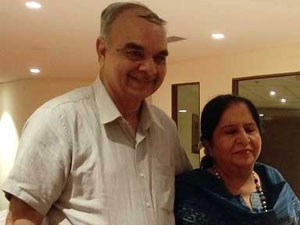 When Dolly Khanna, a 'home-maker' from Chennai, picks up a stock, it creates a buzz on Dalal Street. From big bull Rakesh Jhunjhunwala to the smallest trader on India's financial capital will know she has chosen the stock for a solid reason and will start digging deep on the company and its prospects. The most surprising thing is that very little is known about reclusive Dolly Khanna, except that her husband Rajiv Khanna is actually making the investment decision on her behalf.
In 2014, she invested in Nilkamal, which makes home and office furniture. The stock that she bought for around Rs 197 has since risen about eight times in the space of three years. The stock's last traded price was Rs 1,580.
Some reports say Khanna started her exciting stocks investment journey in 1996, with Rs 1 crore, which is now worth more than Rs 400 crore.
How she got her first crore to invest will reveal a little more about the Khannas. Rajiv Khanna, a chemical engineer from IIT Madras, started out in Khanna worked for ICI Limited, a pharmaceutical company now under Akzo Nobel.
He later graduated to entrepreneurship and in 1986, he started a company, Kwality Milk Foods, which made then popular Kwality ice cream. After a decade, in 1996, he sold the ice cream business to Hindustan Unilever, though the company still makes various milk products, including ice cream, under the Sona brand name.
Dala Street believes the Khannas have mastery in recognising changes in sectoral trends. When Dolly Khanna recently bought GNFC shares, Jhunjhunwala explained for his fans and investors why fertiliser stocks would be a good bet.
In fact, Dolly Khanna was among the first to buy specialty chemical, sugar and paper stocks when they were sold on the street for peanuts.
Hawkins Cookers was another first multi-bagger. She accumulated the stock between 2007 and 2009 at an average price of 130-140. Hawkins last traded at Rs 2667.70 on the BSE.
Capitaline data shows the Khannas have a portfolio of 20 securities as of June 30. This calendar year, the Khannas raised stake in nine stocks and booked profits in eight stocks.
Some of their investments such as Sterling Tools and Nandan Denims rose 100-600 per cent in the last five years while Thirumalai Chemicals, Dwarikesh Sugars, Ruchira Papers vaulted over 10 times during the same period.
In two stocks, the couple's holding increased more than 1 per cent in the June quarter—they are Rain Industries (1.27 per cent) and Shreyans Industries (1.09 per cent). In two companies their stake fell below 1 per cent—in Nahar Industrial Enterprises and ADF Foods.
Stocks which more than doubled in value this calendar year include LT Foods, Dwarikesh Sugars, Nocil, Tata Metaliks and Nitin Spinners.
Tata Metaliks saw an addition in holding up to 0.16 per cent during the quarter followed by Asian Granito, Dwarikesh Sugar and Nitin Spinners. During the quarter, Dolly Khanna booked profit in IFB Agro Industries, Dai-chi Karkari, Sterling Tools, Nandan Denim, GNFC, Trident, Thirumalai Chemicals and Dhampur Sugar.
Despite making huge wealth from stocks, Rajiv Khanna says it still is a hobby for him. "It started as a hobby and remains a hobby. My core business is of milk products," he said in an interview.