,

Wednesday, 30 August 2017
It bars officials and their kin from claiming reservation benefits under OBC category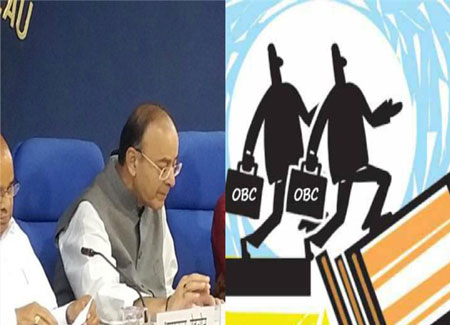 The Centre has expanded the ambit of 'creamy layer' to include certain posts in PSUs and public sector financial institutions.
In effect, it bars these officials and their kin from claiming reservation benefits under the other backward castes (OBC) category, potentially benefiting many deserving candidates, who are less privileged in terms of economic condition.
The Union cabinet also approved excluding 'socially advanced persons/sections' from the purview of reservation under the OBC category.
It will prevent children of those in senior positions in such institutions, who, owing to absence of equivalence of posts, may have been treated as non-creamy layer by virtue of wrong interpretation of income standards from cornering government posts reserved for OBCs and denying the genuine non-creamy layer candidates a level playing field, an official statement said.
The decision comes almost 23 years after a 1993 office order of the department of personnel and training (DoPT) provided for 27 per cent quota for the OBCs in government vacancies as per a judicial verdict.
In the Indra Sawhney case, the Supreme Court in 1992 had directed the government to specify the basis for exclusion of socially and economically advanced persons by applying the relevant and requisite socio-economic criteria.
Following the order, an expert committee had specified the criteria for identification of socially advanced persons among OBCs, i.e. the creamy layer. Though the government accepted the report, it never proceeded due to pressure from different political leaders.
Briefing reporters after the cabinet meeting, finance minister Arun Jaitley said approval was accorded to the norms for establishing equivalence of posts.
This DopT order had only said the criterion enumerated for Group A and Group B posts would apply to officers "holding equivalent and comparable posts" in PSUs, banks and financial institutions, but never identified them.
Now, in PSUs, all executive level posts -- board-level executives and managerial-level posts -- would be treated as equivalent to group 'A' posts in the government and will be considered 'creamy layer'.
Junior management Grade scale–1 and above of public sector banks, financial institutions and public sector insurance corporations will be treated as equivalent to group 'A' in the government and considered as 'creamy layer'.
For clerks and peons in PSBs, financial institutions and public sector insurance companies, a particular level of salary as revised from time to time will be applicable.
"These broad guidelines and each individual bank, PSU and insurance company would place the matter before their respective board to identify individual posts," the statement said.
This will ensure that the children of those serving in lower categories in PSUs and other institutions can get the benefit of OBC reservations, on par with the children of people serving in lower categories in government.
The income limit defining 'creamy layer' for OBC reservation was last week raised to Rs 8 lakh per annum from Rs 6 lakh. Those earning more than Rs 8 lakh per year would be treated as 'creamy layer' and excluded from the benefits of OBC reservation.
A bill to provide constitutional status to the National Commission for Backward Classes is already been pending in Parliament.
The bill seeks to sub-categorize the OBCs, so that the more backward among the OBC communities can also access the benefits of reservation for educational institutions and government jobs.