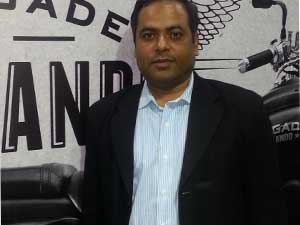 UML Motorcycles, a joint venture between Florida (US)-based UM International & Lohia Auto, is offering products that have changed the dynamics of transportation and riding in India. These include three models from the Renegade range of cruiser motorcycles. The company, which has invested nearly Rs 200 crore in its Indian manufacturing facility, has kept aside Rs 100 crore for its future expansion plans in the country. Globally, UM International has more than 1,500 stores in over 30 countries across the US, Asia, Africa and Europe. With strong national and international presence, the company is fast coming up as a dynamic and rewarding place to work, says Rajeev Mishra, director UML Motorcycles, who also looks after its HR functions.

Excerpts:
There are many who say that in today's context HR drives business profitability also. What is your take? If you subscribe to this view, how does it influence your HR strategy, particularly recruitment policies?

Manpower costs account for nearly one-third of all operating costs; hence, HR, which manages the workforce, has a direct impact on achieving profitability objectives. One of the best ways to set HR strategy is to align workforce management goals with corporate objectives. That means keeping an eye on how our programmes and decisions will impact the bottom line. Aligning manpower costs with the quality of the workforce can dramatically improve financial performance. We have initiated three important sources of hiring, which are employee referrals, internal job postings and cross-functional training. Hence, we are reducing hiring costs and contributing to overall growth of company.
How do you hire people and groom them?

The primary sourcing channel is employee referrals, internal job postings, external vendors and advertisements. We look at experience, job knowledge, technical skills, attitude and career focus, educational & industry background and communication skills and personality. About learning and development policy, our company realises that its employees are the key to their future success. Through in depth functional, soft skills, behavioural training programmes and performance management processes, we aim to ensure that all employees know what is expected of them and possess the necessary skills, knowledge, values and experience to achieve the highest level of performance. Wherever possible, UM Lohia will also provide development opportunities, such as study for additional certification, project related work and undertaking other development-oriented roles.
What is your current headcount and your hiring plans in near future?

Our current headcount is 65 and we plan to add 25 more employees in the financial year 2017-18.
In a large organization, one often comes across conflicts of various natures. How do you handle or manage them?

One-to-one and open-minded discussions involving both the parties. There has to be emphasis on accommodating and collaborating. HR intervenes as a last alternative.
Technology changes very fast. So constant updating and fine-tuning of skills is very important for the industry, you are in. How do you ensure that?

In order to maintain a competitive edge and build a strong presence in today's business world, it's important to keep up with technology. However, there's no quick fix for staying current. We have introduced cloud- based employee portal by the name of "My Space" for our employees, enabling them to access their details from anywhere, saving time and energy for all. Moreover, at the start of each financial year, along with performance appraisals, we identify the training needs of our employees and plan a training calendar to ensure that we are at par with industry standards. We provide development opportunities, such as study for additional certification, project related in-house and offsite workshops and other development-oriented roles to upgrade our employees' knowledge and take it to the next level.
What are the growth opportunities that an employee gets working in your company and what is your appraisal policy?

We are a dynamic and rewarding place to work, with strong national and international presence. Internal job postings, career mobility and transfer and cross-functional training are a few options, which are part of UML's HR policy to provide career and growth opportunities. We support our employees to succeed through clear accountabilities, ongoing support, personal development and recognition of achievements. Hence, supervisors and employees are strongly encouraged to discuss job performance and goals on an informal, day-to-day basis.
Employees often complain that loyalty doesn't pay any longer. It doesn't really help if you stay in any organisation for too long. What is your take on this?

This is the perception of the present generation today. This can be alleviated to certain scale through constant motivation and cross-functional training, which enhances the skills of an individual and improves growth prospects. I think stability and loyalty does pay. The longer you stay, the more you are rewarded (gratuity is paid after completing 5 years of service, which is a decent amount for any individual). Moreover, if you have an upward trajectory, the organisation gives you more and more responsibility. Employees feel more connected to organisational growth.
What are your employee retention strategies?

UML's HR policies are strong enough to retain its employees. We have flexible work arrangements, providing encouragement for teamwork and cooperation, fostering innovation, ample opportunities to give ideas and suggestions, constant motivation, market driven compensation and benefits, performance link appraisals to pay, are some of our special features. We carry out contests/ arranging for employee engagement activities for all personnel and getting the families of staff involved in image building of the company.
Could you mention some of your important HR initiatives?

We have a monthly grading system where an individual is evaluated by HOD, HR, immediate manager and immediate subordinate. We initiate fun to enhance morale and spirit of the employees.
ritwikmukherjee@mydigitalfc.com