,

Wednesday, 30 August 2017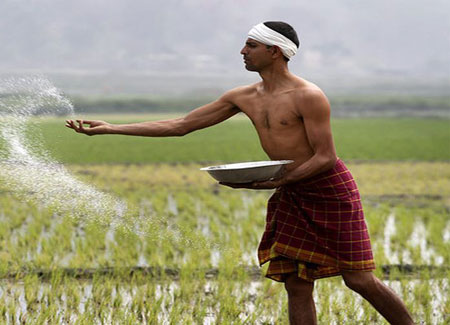 The India that existed in 1965 no longer exists today. Agriculture was the main contributor to the GDP then; today it is a distant third. We were not self-reliant in food production then and food security was a genuine national concern. Today India is self-reliant in food grains, fruits, vegetables, milk and livestock.
Our markets abound with produce from across the country and beyond. Apples from Himachal, oranges from Nagpur, wheat from Punjab and Madhya Pradesh, sugarcane from Uttar Pradesh... the list is endless. But the thriving markets and overflowing warehouses belies the state of our farmer; decrepit and mired in dejection. This is nothing but a reflection of the state of our farms and agriculture. Small plots of land, degraded soil conditions, depleting water tables and drying rivers, poor irrigation, long periods of drought, high incidence of pests and other problems. It is in this backdrop that the NDA government wants to double farmer incomes by 2022, the year that will mark India's 75th year of independence.
According to the Economic Survey 2016–17, the average farm household income in 17 states of India stands at a paltry Rs 20,000 per year, that is, an average monthly income of
Rs 1,666. According to the estimates from the 70th round of the National Sample Survey (NSS), the average farm household income was Rs 6,426 per month, including Rs 3,345 from non-farm activities. Contrast this with the recently announced Seventh Pay Commission that guarantees a minimum basic pay of Rs 18, 000 per month for the lowest paid government employee and you will see how short-changed India's farmers are.
The key to boosting the farm economy and doubling farm incomes is to allow farmers access to improved and varied technologies that can boost agricultural productivityand quality. Let's examine some of the issues that adversely affect farm incomes where technology can play a decisive role: combating the problems due to climate change —drought or floods; combating the incidence of pest attacks;boosting productivity of crops; addressing water and soil pollution.The good news is, the ramifications of technologies available to the farmer today are not only staggering; they are significantly greater than what was available even 10-15 years ago.
Unlike in the west, because we are a national dominated primarily by small farmers, the agriculture sector has been comparatively slow to embrace the full gamut of opportunities provided by technology. Despite the indigenous development of hybrid seeds to boost production, there is enormous scope to introduce new technologies such as transgenic and genetically modified crops and genome editing technologies, a new technology that holds enormous promise. Biotechnology as demonstrated by the enormous success of Bt Cotton introduced almost 15 years ago in India can play a critical role in crop and livestock production by enhancing yields and improving the nutritional profile while also enhancing stress tolerance and crop protection. Equally importantly, biotech crops offer huge opportunities to decrease the use of crop protection technologies such as pesticides, which in turn helps reduce water and soil pollution while also saving the farmer money. Other biotech seed technologies can help farmers make better use of degraded soil conditions, a problem that many regions across India face.
Seed technologies aside, mechanised farming is also something that has been used rather sporadically in India. Today the agricultural world has moved beyond and embraced precision farming that includes laser land levellers, precision-seeders and planters in addition to leveraging the power of big data, internet of things and remote sensing satellite technologies get the best results possible. Until now, most of this was out of bounds for India's small and marginal farmers. That is now changing with the emergence of a slew of companies, many of them start-ups that are offering these services even to small farmers at reasonable prices.
With 60 per cent of farming under rain-fed conditions, the agriculture sector needs to embrace the idea of "more crop per drop." Farmers needs to be oriented towards new developments by scientists that has led to upgraded technologies for standardisation of drip and micro irrigation and other water management practices, including plastic mulch and drip-cum-mulch in vegetables crops.
For instance, the Water and Land Management Training Institute in Hyderabad has developed a sensor that can be used by farmers to monitor water level and flow, soil moisture, temperatures and humidity in the fields. Connected with the farmer's mobile phone, the sensor ensures up to 40 per cent water savings. If external technologies such as these are coupled with new drought resistant seed technologies, Indian farmers will be significantly empowered against climate change, especially drought.
Then there are post-harvest technologies. Cold chains and refrigerated transport is already something that is helping farmers preserve their produce for longer or transport it longer distances to markets that fetch them better rates. As farmers get closer to their end consumers, rooting out the middle-man and the ubiquitous mandi, they also need to be oriented with new technological advancements in packaging. This would be of special relevance to farmers growing fruits, flowers and vegetables.
Technology advances can assure that the poor Indian farmer gets access to cutting-edge seed technologies that assure higher production, are pest and disease resistantas well as climate proof. Technology can also address issues of post-harvest losses and improve marketing and sales. When technology combines with other reforms and initiatives such as increasing the minimum support price, decentralised procurement and cheaper access to credit, more effective farm insurance initiatives along with infrastructure improvements, it can radically improve the farm economy. Similarly, the fiscal outlay for modernising agri-research and related education needs to be reviewed and enhanced. It is important to note that no one stakeholder can do this alone, especially given the increased threat of climate change and growing pressure on land and water resources. Real impact will come from combining the competencies of diverse organisations and stakeholders and creating better alignment through partnership platforms.
The writer is the executive director of Association of Biotechnology Led Enterprises- Agriculture Focus Group