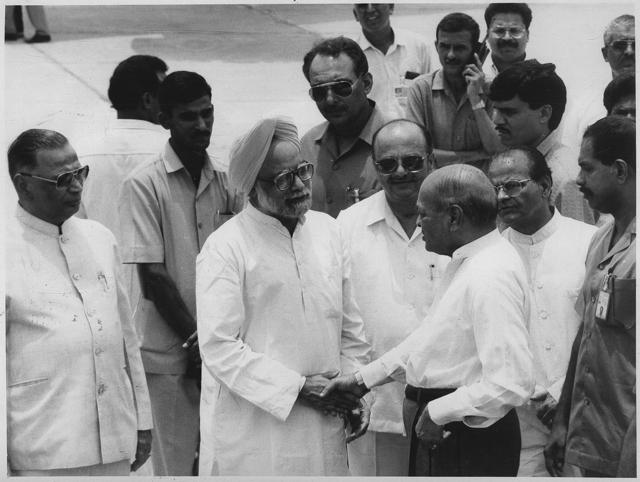 Some years ago, the venerable Keshub Mahindra, one of the proponents of the reviled Bombay Club revealed to me how gentleman industrialists of India Inc sat in Oberoi's Belvedre Club in August 1991 to discuss how to petition the government on the rising heft of MNCs who would inundate India with their cheaper goods and kill domestic industry. In the first flush of the unfettering of the command economy, liberalisation was a dirty word for Indian industry. The underlying anodyne fear over how MNCs would sweep them away with their financial firepower making them form a conglomeration of forces. They petitioned FM Manmohan Singh on November 10, 1993, saying that while they welcomed competition in the market, they urged the government to take steps "to enable them [Indian businesses] to play their rightful role in the industrial development of the country." One of the sharp waiters serving this elite group leaked the story to media, which then went to town on how India Inc wanted protectionist barriers to be set up in their battle with the firangs. It is another matter that Indian industry became more competitive and agile in the following years to not just survive but thrive.
Socialism, swadeshi, insularity and inward looking — synonyms which could be used inter changeably. How dare anyone equate swadeshi with socialism? After all one is a dogma and the other a boiler plate of economic nationalism. Bottom line, they all reflect a mindset, which is backward. Its orientation, origins and template going deep into a concentric circle called narrow mindedness. After all India remains capital, energy, infrastructure and power deficit. Policy stasis of different kinds continue to impede its progress. It has to open up and yet it has chosen not to. It remains illiberal and remains suspicious of foreigners and foreign capital. For a country that was invaded and ruled by foreigners of different hues till 1947, this is a remarkable metamorphosis. Perhaps this rigidity stems from this 'being ruled and colonised' credo which was dominant over centuries in this country. That is why now this inherent reservation and scepticism, a lingering doubt that eats the innards, like an ulcer it leaves you in discomfort.
So, batten down the hatches roll out the mattresses and be defensive. For the UPA, there was a default mechanism, which crept in their thinking once they returned to power with 206 seats in 2009, the setting signaled a return to socialist moorings. For the BJP, a right wing, muscular nationalism practicing party, the default mechanism is swadeshi — be Indian buy Indian — a clarion call first given by Mahatma Gandhi against the British Raj. Neo swadeshi rooted in age old canons, an extension of the Gandhi inspired phenomenon which swept India. Economics tells you that market forces determine and discover pricing. That is the only way if the true potentiality of the axis of commerce needs to be exploited. Instead of being progressive, what does India choose to do, it opts to hound you with retrospective, retrograde and regressive taxation policies. And this cuts across party lines. It goes beyond the pale because at heart we are all Luddites.
The latest instance is an offshoot of the Doklam crisis, ergo, boycott Chinese products, goods and imports; as articulated by SJM's S Gurumurthy and Rashtriya Swabhiman Andolan head K Govindacharya. India has imposed anti-dumping duties on 93 products such as chemicals, machinery, steel and other metals, fibres, yarn, rubber, plastic, electrical items, electronics and consumer goods imported from China, Another 40 cases related to imports from China have been initiated by the Directorate General of Anti-Dumping and Allied Duties (DGAD). Protectionist policies are good for they are probably wreaking havoc on Indian made products, but free market economics avers that let competition be the only whetstone to decide who the winner is.
Sometime in August 2012, the late Attorney General Goolam E Vahanvati, India's highest law officer opened a brand new front. He argued that India can raise a demand on Hong Kong-based Hutchison since it was liable to pay tax on the sale of its Indian assets to the UK's Vodafone Group in 2007 — India could legally send a notice to Hutchison, which exited the country in 2007 after selling its operations to Vodafone for over $11 billion. "Ultimately the tax has to be paid by either of the two companies or both. The government does not quite care, but legally a notice can be served on Hutchison," was the argument. The ghost returned last week.
In a bizarre move, the income tax (I-T) department sought Rs 32,230 crore in tax, interest and penalty from Hong Kong-based Hutchison for alleged capital gains on $11 billion deal for sale of its mobile business in India to the UK's Vodafone Group in 2007. In a regulatory filing to Hong Kong stock exchange, CK Hutchison Holdings said its unit Hutchison Telecommunications International (HTIL) has been served with a tax demand of about Rs 7,900 crore along with an interest of Rs 16,430 crore and penalty of Rs 7,900 crore. The company, of course has disputed the claim of tax authorities. This is for the first time that the I-T department has raised a tax demand on the Hong Kong firm. So far, it insisted for tax payment from Vodafone. It may be noted that the tax department had earlier offered companies locked in tax dispute to settle the issues but none of the top firms came forward. They preferred to challenge the tax demand in international arbitration tribunals. So, if you cannot stop Vodafone which has taken you to arbitration, open a spanking new front and target the other party to the transaction, but wake up to that reality a decade later.
Hutch hit back saying HTIL, an indirect wholly owned subsidiary of CK Hutchison Holdings, received from the tax department a draft assessment order dated November 24, 2016 alleging gains made on sale of its entire 67 per cent in the India business to Vodafone. "HTIL received on February 13, 2017 from income tax an assessment order dated January 25, 2017 in respect of tax of approximately Rs 7,900 crore on capital gains in connection with the 2007 deal plus aggregate interest of approximately Rs 16,430 crore," the filing said. "HTIL received on August 9, 2017 from Income Tax authorities a penalty order dated July 3, 2017 for a penalty of approximately Rs 7,900 crore," it added. The regulatory filing further said that taxes cannot be validly imposed on HTIL adding that the order issued by the income tax (department) is on the basis of retrospective legislation seeking to overturn the judgment of the Supreme Court of India in January 2012, which ruled that the acquisition (by Vodafone) was not taxable in India, is in violation of the principles of international law.
Meanwhile, swadeshi protagonists like Govindacharya, S Gurumurthy, Baba Ramdev are ratcheting up the pitch on the old bogey of economic nationalism. My view on economic nationalism is become strong like the chaebol in South Korea or the zaibatsu in Japan and manufacture world class products. Produce them with the best-cost efficiencies and flood the world. That is an economic model that India should pursue, become a global hub of Indian manufactured products and export them. It could be an automobile or a two-wheeler or a handset. Today we have Hero Motocorp as a shining example of Indian manufacturing — only on the Delhi-Jaipur expressway — it has three manufacturing plants and its assembly lines are churning out 678,797 two-wheelers (in August alone, highest ever monthly sales recorded). Another Indian iconic bike maker Royal Enfield sold 67,977 units in August 2017 compared to 55,721 units in August 2016. It is going toe to toe with Harley Davidson worldwide.
But wait, both are a part of a competitive set which includes Honda, Hero's erstwhile partner and their numbers for August are staggering. It sold 622,180 units last month, creeping up on Hero and besting Bajaj Auto and TVS Motor. Now this is a function of competitive and free market forces. Shuttering yourself will not help. Nor will policy flips flops like the ones on 'luxury cars and SUVs' where anomalies were detected — that prices actually went down after GST regime kicked in, so levy a cess which makes it prohibitive to buy them (53 per cent). And then luxury cars becomes a homologous unit where the Toyota Etios, Honda City, Maruti Ciaz and other such passenger cars are mistakenly seen as luxury cars because of their 4m plus length and over 1500 cc engine capacity. There is no logic or rationale in such a move. Economic activity moves on wheels, the more cars we sell, the deeper will be the tax collections under GST. Don't raise these old bogies now, for if you want the world to perceive you as a genuine free market economy, then the law of supply and demand, rather than a central government should regulate production and labour. Companies sell goods and services at the highest price consumers are willing to pay, while workers demand the highest wages companies are willing to pay for their services. We are a far cry from that.
Take the case of IDBI Bank's privatisation, announced in the budget of 2015. No movement forward as the rogue bank remains imperiled and slides deeper into its self made morass of mediocrity. Its gross NPAs have risen to an alarming 24 per cent which means that for every 100 bucks with the bank, 24 are bad. If you have decided to take the punt on selling it, go ahead and do it, don't mothball it and hope people forget about it.
Ossified mores and languorous work ethic is holding us back. We need to retrofit, investors have other fish to fry, they will give us the go by.