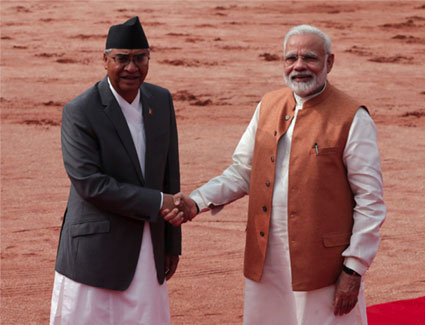 Nepal prime minister Sher Bahadur Deuba's five day visit to India is part of the stepped up exchange of high level visits between India and Nepal in the past two years. India and Nepal relations have stabilised in the two years since the Madhesi agitation in Nepal's Terai region led to the economic blockade of essential imports from India.
India-Nepal ties have been on an upswing given the frequent exchange of high level visits in the past year. A state visit by then president Pranab Mukherjee to Nepal in November last year was followed by a presidential visit from Nepal earlier this year when president Vidya Bhandari visited India. The current visit is the third prime ministerial visit from Nepal within a year. Prime minister Deuba's predecessor, Pushpa Kamal Dahal Prachanda had visited India in September last year, followed by another visit to attend the BRICS-BIMSTEC outreach summit in October last. External affairs minister Sushma Swaraj also visited Nepal on August 10 for the BIMSTEC ministers meeting in Kathmandu.
Prime minister Deuba's visit has been an opportunity to give a push to the myriad connectivity and developmental assistance projects between the two neighbours. The two-decade old Arun lll project (signed during one of Deuba's earlier tenures as PM) has received environment clearances and Deuba invited prime minister Narendra Modi to Nepal for the foundation laying ceremony. The detailed project report of the Pancheswar multimodal project is likely to be finalised by next month.
The two prime ministers inaugurated two 132 KV power transmissions lines, while eight documents were signed in their presence, four of them pertaining to implementation of post-earthquake development projects. With Nepal and India both facing the impact of floods in their common rivers, the two leaders agreed to "move forward purposefully" to strengthen coordination and consultation for flood management and work for long term solutions.
Deuba's visit takes place when the India-China standoff at the Doklam plateau has entered its third month. Nepal has taken a neutral stance on the Doklam issue, but the dispute between its two large neighbours has raised concerns in Kathmandu. "Nepal does not want to be dragged into the boundary dispute between India and China," Nepali foreign minister Krishna Bahadur Mahara said recently. Nepal did not support any of its neighbours in this matter, he said, adding that "both of our neighbours should maintain cordial relations through peaceful diplomacy and dialogue."
However, a Chinese reference to Kalapani on the India-Nepal-China border has disturbed Kathmandu. Wang Wenli, a senior official of China's boundary and ocean affairs section in foreign ministry had said that India could not use the tri-junction as an excuse for entering into Doklam. Speaking to a delegation of visiting Indian journalists delegation earlier this month, Wang said that India had several tri-junctions, adding: "What if China uses the same excuse and enters the Kalapani region between China, India and Nepal or even into the Kashmir region between India and Pakistan." Though a rhetorical remark, it reverberated in Nepal.
India, Nepal and China have two tri-junction points, at Lipulekh in western Nepal and at Jhinsang Chuli in eastern Nepal. Lipulekh is one of the main trade routes for trade between India and the Tibet region. In 2005, India and China had concluded an agreement on increasing trade through Lipulekh. There had been some heartburn in Kathmandu at that time over India and China signing a bilateral agreement without consulting Nepal. Kalapani is along an unresolved part of the India-Nepal border. The Kali river forms the boundary between India and western Nepal, but the lack of proper maps and shifting tributaries of the river have meant that the issue has remained resolved. The Lipulekh pass, the old trade and pilgrimage route to Kailash Mansarovar is about 15 kms from Kalapani.
China has being wooing Nepal in recent years; it is the largest foreign investor in Nepal and in 2016 emerged as its biggest aid donor. Chinese vice premier Wang Yang paid a three-day visit to Kathmandu from August 14. The visit was planned much earlier as the Chinese minister was on his way back from Pakistan where he was chief guest at Pakistan's 70th Independence Day celebrations. It was the highest level visit from China in the past five years. China has been generous and signed three agreements, including one on oil and gas exploration in Nepal and a framework agreement on investment and economic cooperation. Kathmandu has signed a framework agreement to be part of China's Belt and Road Initiative (BRI).
Political instability, frequent change of governments and suspicion of unequal agreements weighted in India's favour voiced by different sections in Nepal has resulted in delaying or burying several large energy or water related projects in the past. Indian projects need to be implemented in a fast paced, time bound manner.