Nandan has the necessary gravitas, persona and people skills to take all stakeholders together and resurrect the company's image and equity. He knows the players, the systems and processes and most importantly, he has been on the other side.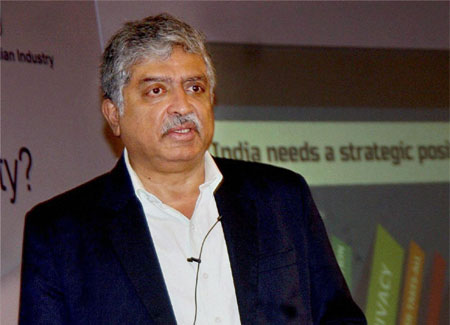 After being fobbed off in February in what can only be termed a failed palace coup, N. R. Narayana Murthy has returned with a pincer, the magnitude and scope of which has everyone reeling. The tactic of using a pincer for encirclement has been used several times in battle over the years, the most notable being the formation used by Alexander at the Battle of Hydaspes in 326 BC when he flummoxed and vanquished Porus. Launching his attack at the Indian left flank, the Indian king Porus reacted by sending the cavalry on the right of his formation around in support. Alexander had positioned two cavalry units on the left of his formation, hidden from view, under the command of Co­enus and Demitrius. The units were th­e­n able to follow Porus's cavalry around, trapping them in a classic pincer movement. That tactically-astute move from Alexander was key in ensuring what many regard as his last great victory.
Murthy similarly bided his time and, rebuffed by the lack of closure, mounted a calibrated attack many months later, a double envelopment, through which his forces attacked both flanks (sides) of the enemy formation at the same time. Groupies T.V. Mohandas Pai and V. Balakrishnan systematically ratcheted up the volume and drew the opposing forces advance towards the centre of his army. The rest, as we know now, is that kerfuffle has scalped Vishal Sikka and will result in a major reconstitution of the board, where the Augean stables will be cleaned forthwith. The issues remained the same, they centred around the dubious Panaya deal, which Murthy continues to believe is an open can of worms. Despite Chairman R. Seshas­ayee pap­ering over the deal and the subsequent probe in his earlier presser, Murthy has gone hunting and succeeded. In a concerted, manipulated and orchestrated timeline, Murthy has prevailed in his palace putsch. Since Friday, one heard sher aaya, sher aaya (Nandan Nilekani) will return as the prodigal but it all proved to be unsubstantiated. It was clear that Murthy was trying to convince Nilekani to accept the position, for Nilekani has moved on since his stint as MD & CEO many years ago.
Drumbeats for Nilekani
On Wednesday, the drumbeats started again. As many as 12 fund managers, representing institutional investors in Infosys, wrote a letter suggesting bringing co-founder and former CEO Nan­dan Nilekani back on the board of the IT major to restore confidence of stakeholders and help resolve the crisis. This is the second major pitch for bringing back Nilekani after an investor advisory firm, IiAS, said the co-founder, who had served as CEO between March 2002 to April 2007 and later went on to head the UIDAI, should be brought back on the Infosys board as its non-executive chairman. In the morning, there was talk that Murthy will do a concall on Wednesday evening at 6.30. But once the fund managers' missive was out, a source led story began to break that Nilekani had agreed to return as chairman. There was no confirmation from Infy, but just that information stabilised the stock to finally close, up Rs 18, after being battered black and blue for two successive trading days – Friday and Monday. No sooner did Nandan's name emerge, the Murthy con-call was deferred till August 29 and sources close to developments revealed that Nandan's name would be announced within 48 hours.
Nandan has the necessary gravitas, persona and people skills to take all stakeholders together and resurrect the company's image and equity. He knows the players, the systems and processes and most importantly, he has been on the other side. He held a position in government which was the equivalent of a Cabinet minister and the architect of Aadhaar which is now the overarching identity card for just about everything. He quit as UIDAI boss to join the Congress and contested the Bangalore South Lok Sabha seat in 2014, but lost to BJP's Ananth Kumar by over 2,20,000 votes. But this doesn't mean that the bloodletting is over. With the reconstitution of the board whispers gaining currency, the chair, co chair and several directors will get the boot. There is no compromise on this and while it may look like a witch hunt in the short term (see box), it will only serve to remind all of us that middle class value systems and a touch of ego are driving Murthy into doing all that he has done. After all, they built this company with tender, loving care.
How and why did this breakdown take place? After all, Murthy appointed Vishal Sikka of SAP as the first non founder executive boss of Infy. There appeared to be mutual respect. The June AGM of 2016 has Vishal Sikka praising Murthy to high heaven. He said: "I met Murthy recently and he had read my interviews and my papers, we were in London and I had lunch with him, he told me, 'Vishal, what you are trying to do is to transform us from reactive problem solvers to proactive problem finders.'" I said, "Murthy, only you could say it so succinctly and beautifully. Ïs it okay if I use this line in my speeches?" He said, "Öf course, go for it."
Obfuscation techniques
So why did the relationship deteriorate so much that it went completely sour? Everything goes back to Panaya and the obfuscation techniques used by Sikka, Seshasayee and the board. Unfortunately, the February challenge can be perceived to be a wasted effort, but Murthy was not one to sit back and allow the dysfunctionality to continue. In an investor call last week, Infosys repeatedly assured shareholders and analysts that it would work to end the dispute soon and ensure that its new permanent CEO, when named, would not be distracted by the issue. "It cannot continue in this fashion. I'm always an optimist, and I believe that in the coming weeks we'll have to find ways to put this decisively to bed," said Infosys co-chairman Ravi Venkatesan on Friday's call. Now the same Venkatesan is also on the founders' hit list.
Let Murthy himself take up the narrative for it singularly targets this smoke and mirrors strategy adopted by the board and the chairs. In his August 16 missive to his advisors, he calls it --
"...Even if the company does not want to release the names of the beneficiaries of Panaya acquisition, there cannot be any reason why Panaya valuation report, the rest of the GDC report, CAM 1 and CAM 2 reports should be considered confidential and not be released.
"Further, even if the company does not want to release any of these reports, what prevents the board from answering my questions which are purely based on the whistle-blower accusations and which will, once and for all, clear the air about the special treatment shown to Mr. Rajiv Bansal and Mr. David Kennedy? Does not the board owe to the shareholders full and detailed answers to accusations by a whistle-blower that involves the entire board and the senior management?
"After all, board members are the representatives of the shareholders. Under what SEBI's and SEC's statute can the board refuse information to shareholders? Under what law can Mr. Seshasayee and the current board refuse to answer the questions of a shareholder? What governance model is this? Please enlighten me.
It is sad that Mr. Ravi Venkatesan wrote me declining release of the information and that the board had closed the issue. This is an ultimate insult to shareholder democracy. I never ever imagined that governance levels would stoop down to such a low level in a company that was the most respected company till 2014.
"Then there is the issue of the Chair of the board, telling shareholders at the Infosys AGM in 2016 that Mr. Bansal had some special secret competitive data and that is why the company wrote an agreement to pay him Rs 23 Crores. There can be no confidentiality issue in releasing the part of the report that talks about the special secretive competitive data with Mr. Bansal that the investigation has unearthed. Let the board not hide this information under the garb of confidentiality. If there is no such special secretive competitive data with Mr. Bansal, then it is clear that the Chair told a blatant lie to the shareholders. What is his accountability for this lie?"
Earlier letter
In his earlier letter to the board dated July 8, he asks searching questions as a Founder and a shareholder again centred around Panaya and the stink it has created: "The company should provide answers to the following questions emanating from the whistle-blower accusations. This should not be difficult since the board claims that three separate well-known law firms have investigated the issues thoroughly and since the board has spent huge amount of money on investigations. That is the only way the board can protect the reputation of the Infosys management officials and that of the board. The questions are:
What were the objections of the former CFO – Mr. Rajiv Bansal regarding Panaya acquisition as evidenced by the three investigations, e-mails and transcripts of mobile conversations obtained from mobile carrier companies?
The following questions will have to be answered unambiguously by the company regarding Panaya acquisition.
Can the company categorically deny that any employee and / or his / her r­e­lative (spouse, father, mother, brothers, sisters, nephews and nieces, children, spouse's father, mother, sisters, brothers, nephews and nieces) benefitted personally in the Panaya acquisition?
Can the company certify with data that the said acquisition was not overvalued as alleged by the whistle blower?
If the answer to question 2a is YES, then can the company provide the names of Panaya investors related to Infosys employees with the nature of their relationship to the Infosys employee (spouse, father, mother, brothers, sisters, nephews and nieces, children, spouse's father, mother, sisters, brothers, nephews and nieces) and the number of shares they held on the date that Panaya was acquired by Infosys?
If that data is not accessible since some of them may have invested in a VC which in turn invested in Panaya, can the company get the VC firms to confirm whether any such named-relative of any named-employee held shares in Panaya at the time of acquisition by Infosys without disclosing any financial or shareholding details? Some well-wisher shareholders believe that any international payment today requires firms to do adequate diligence on the ultimate beneficial owners (UBOs). This is, according to them, required today everywhere for any international payment as part of compliance to Anti Money Laundering act. Therefore, these shareholders believe that it is perfectly justifiable for the company to seek ultimate beneficial ownership details of the fund that owns Panaya.
There is a widespread belief among the well-wisher shareholders of Infosys that the scope of the report has been defined in a manner convenient to the Infosys board and that has defeated the objective of having a thorough investigation. Please dispel this rumour by disclosing the letter retaining these three firms to do investigation.
The whistle-blower contends that there was an e-mail from Mr. David Kennedy, the then General Legal Counsel of Infosys, to the CEO of Infosys that he could not hide the Rajiv Bansal agreement any longer. The whistle-blower alleges that the auditors (KPMG) unearthed this e-mail and brought it to the attention of the Chair, the Legal Counsel and the CEO. This is a very serious allegation. Is this true? Can the auditors tell us if this is true? Can the company answer the following additional questions (supported by e-mails, mobile transcripts and data)?
Is the allegation regarding the existence of the said e-mail true?
If so, does that e-mail still exist in the company archives? If so, can it be published on the website?
If not, has that e-mail been deleted?
If it is deleted, is it legal to delete such an important mail? If deleted, has the investigation found out who authorised the deletion of that e-mail from Infosys archives and has the company held that person accountable?
Has the latest report provided data to refute the whistle-blower's contention that the then auditors (KPMG), Cyril Amarchand Mangaldas (CAM) and Latham Watkins (LW) were complicit in the Rajiv Bansal and David Kennedy affairs?
What is the date of the severance agreement with Mr. Bansal and when did the Chair of the Audit Committee, the Chair of the Remunerations Committee and the board come to know about this agreement? Will the company disclose the e-mail from Mr. Kennedy or the CEO to the Chair of the board to prove this date?
If the e-mail from Mr. Kennedy does exist, did Mr. David Kennedy hide this agreement even from the board till the new CFO – Mr. M D Ranganath forced Mr. Kennedy to reveal it to the board? If he did hide it from the board, was it proper on the part of Mr. David Kennedy to do this?
The whistle-blower contends that it was only due to the persuasion of the new CFO – Mr. M D Ranganath that the Remunerations Committee, the Audit Committee and the board approved the Rajiv Bansal transaction in January 2016. Is this true?
Did GDC use any of the material provided by CAM and LW? If so, has the credibility of the GDC investigation been compromised since CAM and LW are themselves accused by the whistle-blower? How did the company ensure this?
Did any of the three reports unearth this e-mail and bring it to the notice of the board?
The whistle-blower contends that CAM did not even speak to Mr. Bansal during the first investigation. Is this accusation true? If not, does the report include the record of Mr. Bansal's version of the events? Which investigation team spoke to Mr. Bansal and when did it speak to Mr. Bansal?
If this e-mail did indeed exist, has the investigation found out why the Legal Counsel was hiding this important agreement even from the board, the Remunerations Committee, and the Audit Committee?
According to the deliberations of the AGM 2016, the Chair of the board is supposed to have justified the severance amount paid to Mr. Bansal by announcing at the AGM that Mr. Bansal had some special competitive data. General belief among investors is that the Chair implied that no former key management personnel of Infosys including two former CFOs and several former executive directors had such special competitive data as Mr. Bansal is supposed to have had (since these former key management personnel of Infosys did not get such a favourable severance agreement). Have the three reports documented what type of special competitive data Mr. Bansal had? When will the shareholders be provided this information?
The whistle-blower contends that the Chair of the board was part of the secret decision to pay Mr. Bansal such a huge amount right in October 2015 and that he misled the shareholders at the AGM 2016. Has the GDC report investigated this allegation and cleared the Chair?
If the e-mail referred to in 03 does exist, given that Mr. David Kennedy hid an important and unusual severance payment agreement with the former CFO between October 2015 and January 2016, what action was taken against him? Is hiding critical information even from the incoming CFO who signs the SOX statement a part of the General Counsel's duty at Infosys since the date the founders left the company voluntarily? If not, why was not Mr. David Kennedy asked to leave the company in January itself? Why was this decision delayed till he resigned on his own in December 2016, nearly a year later? Why was a special severance agreement worked out with Mr. David Kennedy who is supposed to have hidden an important agreement from the board and from the new CFO (who had to make a provision for any such payment) till he was forced to disclose it to the board by the new CFO? Has the culture of the company changed (since the founders left) to reward people who hide information from the board?
Did the GDC report justify a separate severance agreement to pay nearly one million dollars made with Mr. David Kennedy when he resigned even though there was already an employment contract? Why was a special 12–month severance allowed for Mr. David Kennedy when the norm was just 3 months in the company? If the e-mail from Mr. Kennedy to the CEO did indeed exist, should Mr. Kennedy not have been dismissed without any severance since he committed a big mistake by hiding information from the board? This severance agreement becomes very crucial in view of the e-mail from him to the CEO as mentioned in point 03.
Finally, what is the accountability of the Chair of the board, the Chair of the Remunerations Committee and the Chair of the Audit Committee for being responsible for these governance deficits?"
It is important to once again throw these letters into stark relief for they highlight his pain and anguish at what he reckons is tantamount to treachery. Again, you can argue that he shouldn't allow his ego to cling on to what he has created, but conversely it is true that middle class value systems on subterfuge and deceit should act as a firewall. What the Founders led by Murthy have built over the last 30 odd years is a blue chip – a $10 billion global enterprise – well respected and adulated. More than that, it is representative of Indian intellectual horse power, emblematic and a shining symbol. Murthy was clearly hurt that all this had been undermined.
sandeep.bamzai@mydigitalfc.com