,

Tuesday, 8 August 2017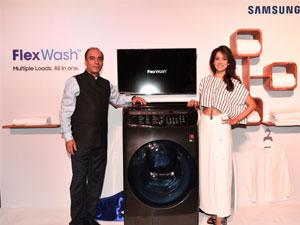 Samsung India, on Tuesday launched new imported FlexWash washing machine. The consumer durables and electronics firm is targeting to be number one in the washing machine business in the country nest fiscal.
"At present we are number two in the growing washing machines segment in the country with 24 per cent market share and we are targeting to be number one player in financial year 2017-18," Alok Pathak, vice president, consumer electronics at Samsung India told Financial Chronicle.
Samsung India's sales revenues stood at Rs 47,001 crore in 2015-2016. Its rival LG is the market leader in this segment in the country.
Priced at Rs 1.45 lakh, the new machine combines two washers and a dryer in one remarkably flexible system for handling multiple loads at once. It features three doors, including the novel AddDoor and offers users with the latest internet of things (IoT)-enabled and integrated smart control.
Equipped with two washers and one dryer in one system, it gives consumers more choices to do laundry the way they want, in all types of situations.
"No brand has this kind of machine till now and we are confident of big sales in the country," Pathak said.
This new FlexWash is available in 23 kg capacity to handle an optimal load. The IoT-enabled and integrated with smart control, it allows users to operate and monitor the machine anytime, anywhere via their smartphones.
michaelgonsalves@mydigitalfc.com