,

Tuesday, 25 July 2017
'Sex and the City' stiletto maker joins handbag brand; Deal comes amid consolidation in luxury-goods business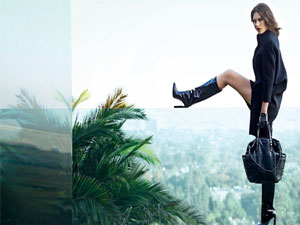 Michael Kors Holdings Ltd agreed to buy Jimmy Choo Plc for about £896 million ($1.2 billion), as the maker of handbags popular with the commuter set seeks to restore lost luster by adding "Sex and the City" stilettos.
The purchase of Jimmy Choo, Michael Kors' first deal to expand beyond its own brand name since its initial public offering in 2011, gives the New York fashion and accessories company a presence in higher-end luxury, in a move similar to Coach Inc's 2015 acquisition of shoemaker Stuart Weitzman.
London-based Jimmy Choo rose to prominence in the late 1990s, boosted by high-profile devotees including the late Princess Diana and the fictional Carrie Bradshaw in television series "Sex and the City". The deal comes amid consolidation in the US luxury industry, with Coach also agreeing to buy Kate Spade & Co this year.
"Again, Michael Kors follows the path of Coach – and again, on steroids," wrote Luca Solca, an analyst at Exane BNP Paribas. "After a meteoric rise and spectacular crash, it is now the time to recycle cash into other brands."
The company has been closing stores and reducing its exposure to department stores in an effort to boost its exclusivity. Alongside Ralph Lauren and Calvin Klein, Michael Kors has struggled to maintain its brand image after broadly distributing its products in discount stores and outlet malls. On the Macy's website, for example, the brand's signature $298 tote bags are currently sold for as low as $149.
Jimmy Choo competes with the likes of Manolo Blahnik and Christian Louboutin for the attention of fans of high-heeled women's shoes, selling models like the $800 Lance.
The brand gets its name from its Malaysian-born co-founder, who created it in 1996 with British designer Tamara Mellon and opened its first store in London a year later.
JAB Holding Co, owned by the billionaire Reimann family, has committed to sell its 68 per cent stake. The investment company bought Jimmy Choo for more than £500 million in 2011 and later pared its holdings in a 2014 initial public offering. Before that, Jimmy Choo has been bought and sold by private-equity investors three times.
In April, JAB said it was reviewing options for the shoe brand and leather-goods maker Bally International AG to step away from fashion and footwear. The company plans to focus on its food and beverage businesses, which has grown into one of the world's largest coffee sellers through acquisitions of brands such as Caribou Coffee Co, Krispy Kreme Doughnuts and Panera Bread.
Michael Kors will pay 230 pence a share for the luxury shoemaker, a premium of 18 per cent over Monday's close, the companies said. The price is equal to about 13 times Jimmy Choo's adjusted Ebitda for 2017, according to Bloomberg Intelligence analyst Deborah Aitken.
Michael Kors stock has lost about two-thirds of its value since peaking in February 2014. The stock had more than doubled in the two years prior. Jimmy Choo shares rose as much as 17 per cent in London Tuesday, coming within 1 penny of the bid price. Michael Kors rose 2.8 per cent to $35.90 in pre-market trading.
"Jimmy Choo is a higher-end brand that gives Kors a bit more diversity," said John Guy, luxury analyst and managing director at MainFirst Bank AG.
The deal could be susceptible to a counter-offer, Guy said, as some minority shareholders are likely to hold out for a better price.
BofA Merrill Lynch and Citigroup advised Jimmy Choo. Goldman Sachs and JPMorgan Chase & Co advised Michael Kors, said it would keep Jimmy Choo's existing management team, led by Chief Executive Officer Pierre Denis.