,

Wednesday, 2 August 2017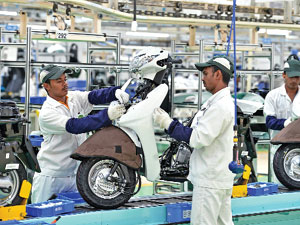 Honda's India connection is set to become the world's biggest.
Honda Motorcycle and Scooter India, the second biggest two-wheeler maker by sales in the country, added 6 lakh capacity production line at its Narasapura green factory near Bangalore. It makes it the biggest Japanese Honda plant globally.
"The growing Indian two-wheeler market is a top priority for Honda. To better meet dynamic market demand and to prepare for future opportunities, Honda today inaugurated the fourth assembly line in the Karnataka plant," said Shinji Aoyama, chief officer, regional operations (Asia & Oceania), at Honda Motor Co, adding: "With this, the Narsapura plant will now produce 24 lakh two-wheelers annually. This makes it the world's largest two-wheeler plant for Honda and also India the No. 1 production base for Honda globally.
Honda, the Japanese subsidiary, has employed over 7,000 people directly on its roll at its new fourth assembly line at the factory.
Honda's suppliers, the company said in a statement, have created another 15,000 indirect employment opportunities. With this fourth production assembly line, set up with an investment of Rs 600 crore, the plant's total capacity increased to a whopping 2.4 millions of two-wheelers annually.
With this expansion, Honda India's annual capacity from all its four plants increased from 5.8 million units to 6.4 million units, annually, the statement said.
Its rival and India's bigg­est two-wheeler maker by sales Hero MotoCorp, currently has an installed domestic capacity of around 8.9 million units at its five factories in Gurgaon and Dharuhera in Haryana, Haridwar in Uttarakhand, Neemrana in Rajasthan and Halol in Gujarat. The tally will go up to 10 million units once its plants in Gujarat and Andhra Pradesh become fully operational.
Hero Motocorp reported its highest-ever quarterly sales of 18.53 lakh units for the April-June 2017 quarter, while its highest-ever fiscal 2017 sales stood at 6.66 million units (66,63,903 units).
Honda Motorcycles' April -June 2017 quarter sales sto­od at 15.61 lakh units, while in fiscal 2017, sales crossed 5 million mark at 5,008,230 units. "Honda's two-wheeler business spans more than 120 countries worldwide and India is leading the demand," Aoyama said.
In 2016-17, India alone contributed 28 per cent to Honda's global two-wheeler sales, thus becoming the top contributor to Honda's two-wheeler business, he said.
The company and its 26 suppliers have so far invested over Rs 5,400 crore in this Narasapura factory.
While Honda cumulatively has invested over Rs 2,600 crore directly in the plant, the suppliers have put in an additional Rs 2,800 crore to set up ancillary plants in Karnataka.
Honda's other plants are located in Haryana, Raja­s­than and Gujarat. The Karn­ataka factory is a hybrid facility, which makes scooters as well as motorcycles. But the new fourth line is programmed to produce more scooters than motorcycles. Minoru Kato, president & CEO at Honda Motorcycle & Scooter India, said the latest expansion further fortified Honda's ability to serve the market faster. "In the long term, our steady and strategic investments will power our dreams to make India the export hub," he said.
At present, more than 50 per cent of volumes come fr­o­m scooters for Honda Ind­ia. Hero Motocorp is the big­gest 2-wheeler maker by sa­les in India followed by Honda, TVS Motors and Ba­j­aj Auto, in that order. Honda has a market share of 59 per cent in the scooter segment while its two-wheeler share stands at 28 per cent in the domestic market.