,

Wednesday, 3 January 2018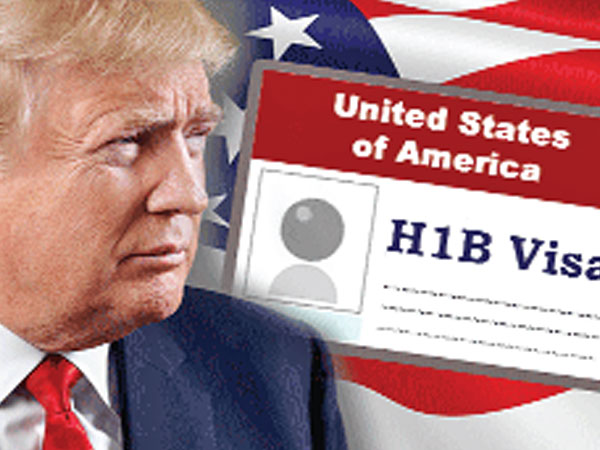 US President Donald Trump's 'Buy America, Hire American' initiative may soon hurt thousands of foreign workers in the US, a vast number of them Indians.
The US administration is considering a proposal that would prevent extensions of H-1B visa. This directly affects thousands of Indian immigrants working in the US on H-1B visa as they could be deported.
H-1B visa is a non-immigrant visa that allows US companies to employ foreign workers in niche occupations that require theoretical or technical expertise.
The department of homeland security (DHS), the body that looks after public security, immigration and citizenship is considering a measure, which could stop foreign workers from keeping their H-1B visas while their green card applications are pending.
Currently, the authorities can extend the H1-B visas beyond the permissible two or three-year terms even if the green card is pending, but if this so-called 'self-deportation' measure is implemented then 500,000 to 750,000 Indian H-1B visa holders could be deported.
"The idea is to create a sort of 'self- deportation' of hundreds of thousands of Indian tech workers in the US to open up those jobs for Americans," said a US source briefed by homeland security officials as reported by McClatchy DC Bureau.
Earlier, the Trump Administration had also considered revoking an Obama-era rule that gives work authorisation to the spouses of H-1b visa holders.
Former President Barack Obama, under H-4 dependent visas, made spouses of H-1B visa holders eligible to work in the US.
"DHS is proposing to remove from its regulations certain H-4 spouses of H-1B non-immigrants as a class of aliens eligible for employment authorisation," the agency said.
This move will not hamper job prospects of those with H-1B visas, but could affect their stay in the US as their spouses would not find work easily.
According to the notice, the changes are being made in light of President Trump's 'Buy American, Hire American' order issued earlier this year.